Giuliani Dangles Pardon After Manafort Flips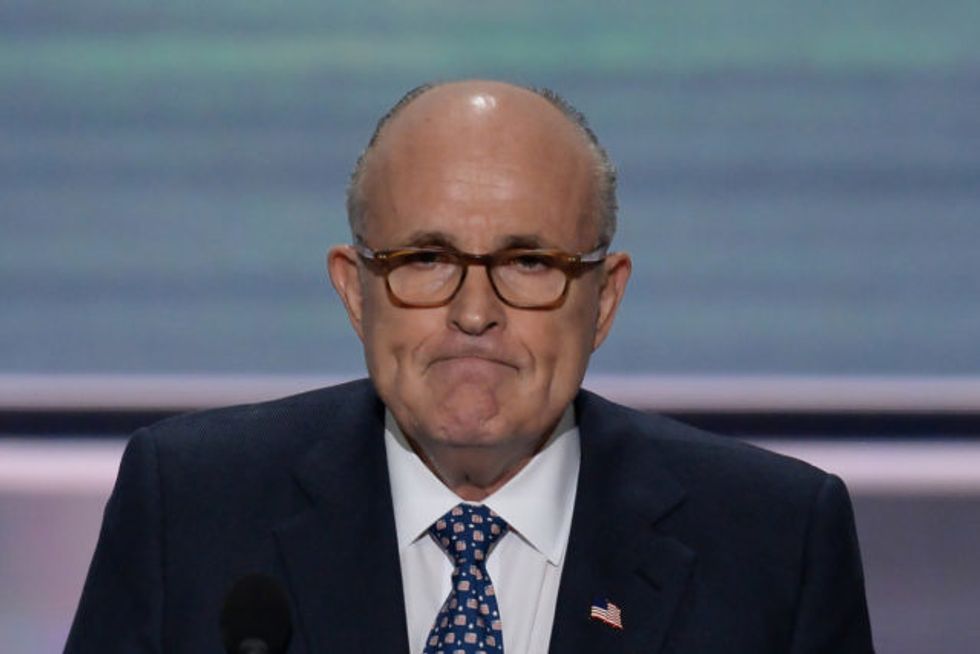 Reprinted with permission from Shareblue.
Trump attorney Rudy Giuliani made another naked attempt to influence Paul Manafort just hours after the former Trump campaign chairman entered into a plea deal that included a cooperation agreement with special counsel Robert Mueller.
On Friday night, Giuliani told the New York Daily News that Manafort was not "disqualified" from a pardon because of the cooperation agreement:
"He's not disqualified from it," Giuliani, Trump's top lawyer in the Russia investigation, told the Daily News hours after Manafort entered the cooperation agreement with Mueller. "I don't have any reason to believe it's happening now, but I also don't have any reason to preclude it in the future."

 

[…]

 

"I don't think the President is concerned about anyone flipping as long as they tell the truth, and certainly Paul would do that," Giuliani said. "The President never did anything wrong with him."
But Giuliani's confidence in Manafort is belied by a pair of statements issued by Trump's legal team just after the plea deal was announced.
The initial statement said that Trump "did nothing wrong and Paul Manafort will tell the truth." But within minutes, a new statement was issued that omitted the reference to Manafort telling the truth.
Trump's legal team, it seems, may have recognized that defending Manafort's credibility could hurt Trump down the line.
This is not the first time that Giuliani has dangled the possibility of a pardon for Manafort. In June, he suggested that "when [the Mueller investigation]'s over," Trump "retains his pardon power," and wouldn't rule out a pardon for Manafort at that time.
Trump himself has also frequently refused to rule out a pardon for Manafort.
"I don't talk about that," Trump demurred when he was asked in June about pardoning Manafort. But Trump also went on to praise Manafort as "a very good person," adding, "I think it's very sad what they've done to Paul Manafort."
As House Democratic Leader Nancy Pelosi has observed, Trump could also be signaling to would-be cooperators that "those who lie under oath may be rewarded with pardons."
Unfortunately for Trump, legal experts Paul Rosenzweig and Justin Florence explained in a Washington Post editorial, pardoning Manafort would likely be an unconstitutional abuse of power and an impeachable offense.
But even if Trump did take that risk and try to pardon Manafort now, it's probably too late to do Trump any good.
After all, Manafort has already started cooperating with Mueller, according to Manafort's lead attorney.
And the plea deal Mueller granted to Manafort "appears built to be pardon-proof," Josh Gerstein reported at Politico.
That doesn't mean Trump won't try to pardon Manafort anyway. But if he does, maybe that act of corruption would finally be brazen enough to convince elected Republicans that Trump needs to be removed from office.
Published with permission of The American Independent.