Giuliani Planning Rebuttal 'Report' On Special Counsel Probe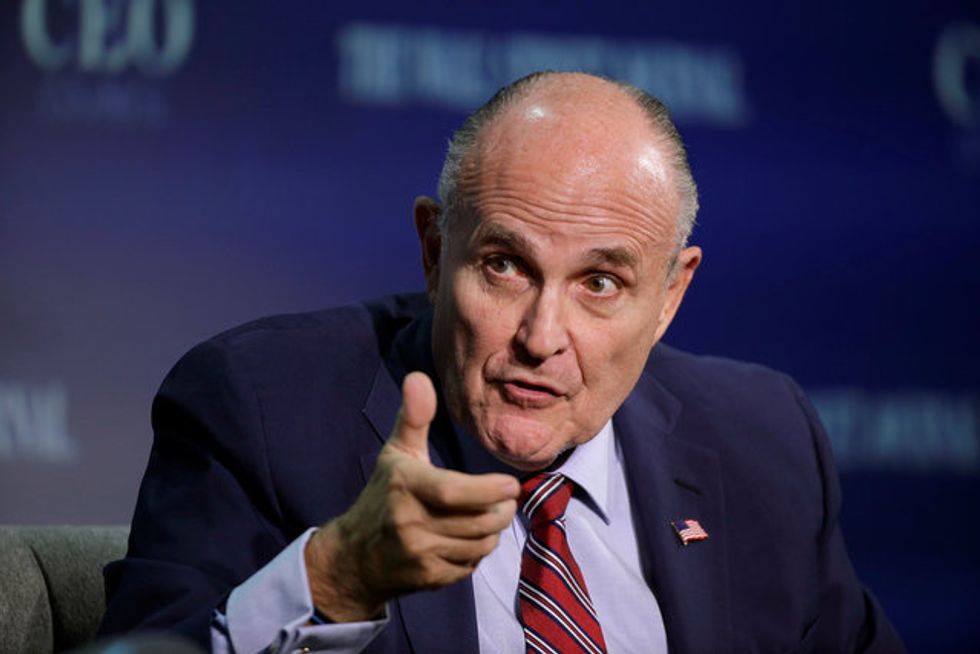 Reprinted with permission from Shareblue.
Led by Rudy Giuliani, Trump's legal team reportedly plans to write a "counter-report" that will aim to delegitimize special counsel Robert Mueller and the report he releases on the Russia investigation.
The counter-report will examine whether the "initiation of the investigation was… legitimate or not," Giuiani told The Daily Beast on Thursday.
He said he plans to divide the report into two sections, the first of which will focus on trying to undermine Mueller's credibility by bringing up supposed "conflicts of interest" — a tactic that has been in the works for months.
The second part of the counter-report will focus on rebutting the conclusions of Mueller's investigations into potential obstruction of justice and any collusion or conspiracy involving the Trump campaign and Russia.
However, as Giuliani acknowledged, Mueller has not yet reached those conclusions, which makes it a bit difficult to write a report rebutting them.
"Since we have to guess what it is, [our report so far] is quite voluminous," Giuliani told The Daily Beast, adding that he planned to spend much of the weekend "paring it down."
The report won't include any new information nor will it be based on any interviews or additional investigations conducted by Trump's legal team. All of the information contained in the report is already publicly available, Giuliani said, but they're repackaging it in a new format.
Part of that new format includes putting the information down on the right stationery.
Yes, you read that correctly: In discussing his plans, Giuliani specifically mentioned that the counter-report would be delivered on "personal stationery," apparently in the hopes that some fancy letterhead will win people over.
"There is no [secret] grand jury material here," Giuliani told The Daily Beast. "It'll be our report, put out on… personal stationery, and it would be in response to their report… We may have to use it in court, or [send to] Congress."
This is just the latest in a series of desperate maneuvers by Trump and his legal team, who are not very good at hiding how terrified they are of what Mueller will discover and put in his report.
In an absurd attempt to downplay the seriousness of Mueller's findings, members of Trump's inner circle have abandoned their initial claims that no collusion or obstruction took place, and are now claiming that it wouldn't be a crime if it did take place.
Meanwhile, when he's not ranting on Twitter, Trump is busy begging Attorney General Jeff Sessions to un-recuse himself from the Russia probe, fire Mueller (or prosecute him), and make the big, bad investigation just go away.
Trump and his team have only become more panicked in recent days, since Trump's former campaign manager Paul Manafort was found guilty of eight federal crimes and his former fixer and personal attorney Michael Cohen pleaded guilty in a case involving the payment of hush money to cover up Trump's affairs.
On top of that, David Pecker, the head of the media empire that owns the National Enquirer, was recently given immunity to talk to federal prosecutors after years of covering up Trump's scandals.
And to make matters even worse for Trump, it was recently revealed that White House counsel Don McGahn has been cooperating with Mueller for nine months, providing information on the inner workings of the White House — and the potential acts of obstruction committed by Trump during his time in the White House.
That Giuliani even feels the need to prepare a counter-report shows just how desperate Trump and his team have become as Mueller closes in on the highest ranks of Trump's inner circle.
Unfortunately for Trump, even the finest of stationery can't distract from the desperation of the words written on it. And, despite what Giuliani may want you to believe, truth is truth — even when it's delivered on plain old computer paper instead of fancy letterhead.
Published with permission of The American Independent.