GM Chief Barra Faces Tough Questions Over Recalls
@AFP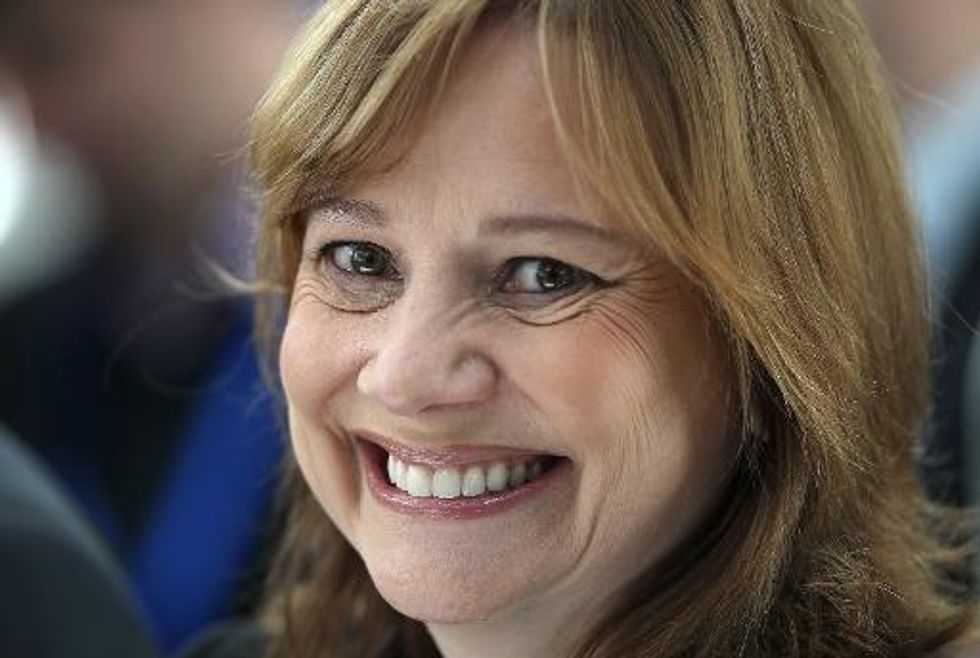 Washington (AFP) — General Motors Chief Executive Mary Barra faces tough questioning in Congress on Tuesday over why the company ignored a faulty ignition problem for a decade despite numerous accident reports and 13 deaths.
Also in the dock will be the U.S. auto safety agency, the National Highway Traffic Safety Administration (NHTSA), under attack for not acting on its own evidence that the ignitions posed dangerous risks to drivers.
The hearing is the first in what is likely to be a mounting pile of legal troubles for the U.S. auto giant, including a Justice Department probe and lawsuits from people injured and families of those who died in crashes allegedly tied to the ignition issue.
Analysts have already speculated that the trouble could cost the company billions of dollars in penalties and damages, on top of the huge costs of the recalls themselves.
In prepared testimony to the investigations subcommittee of the House Energy and Commerce Committee, Barra, a lifetime GM employee, said she still does not know why it took years for the automaker to act on the ignition problem.
But she pledged to find out, and to be "fully transparent" with the answers.
"More than a decade ago, GM embarked on a small car program. Sitting here today, I cannot tell you why it took years for a safety defect to be announced in that program," Barra said in her prepared remarks released in advance of the hearing.
"When we have answers, we will be fully transparent with you, with our regulators and with our customers."
She said management would be "fully accountable" for the issue, and that GM "will do the right thing," though what that entails is not clear.
Legally, GM's 2008-2009 rescue by the government and bankruptcy reorganization could protect it from liabilities before that, a possibility that has angered some lawmakers.
Since February, General Motors has recalled 2.4 million cars covering model years 2005-2010 over the faulty ignitions, which can abruptly switch into "accessory" or "off" position while driving, especially when the car is jolted.
That can turn off the car's electrical systems, including its safety airbags, preventing them from inflating in a collision.
GM says it has evidence of more than 30 accidents in which the airbags did not inflate, with the ignition apparently the problem, and 13 deaths as a consequence.
The independent Center for Auto Safety says it has tracked 303 accidents in the GM cars involved in which the airbags did not inflate.
GM's own documentation shows that it was first aware of a problem in 2001 when the cars involved were in the pre-production stage.
And it had its first complaints from drivers over the ignition shutting off while driving in 2004.
The problem has severely shaken the company and Barra as well, who only took over as CEO in January, the first woman to ever lead a major automaker.
To fend off criticism that the company ignores safety issues, Barra has been aggressive, giving sweeping power to a new vice president for global vehicle safety, and announcing a series of separate recalls for several million more vehicles.
Those recalls — including one for 1.5 million cars announced late Monday — deal with issues of various levels of danger from power steering failure to transmission problems.
"This latest round of recalls demonstrates just how serious we are about the way we will do things at the new GM," said Barra.
"We identified these issues. We brought them forward and we are fixing them."
Also appearing at the hearing will be NHTSA acting administrator David Friedman, who will be queried on why the agency did not force GM to take action on the ignition problem much earlier.
In prepared testimony, Friedman said the agency first investigated an ignition-related crash in 2005.
Despite subsequent similar reports that led to a deeper look in 2007, Friedman said the agency did not have enough evidence or information to link the ignition issue to the non-deployment of airbags.
"The data available at the time of this evaluation did not indicate a safety defect or defect trend that would warrant the agency opening a formal investigation," he said.
Daniel Roland via AFP