Go, Cavs, And Pass The Confetti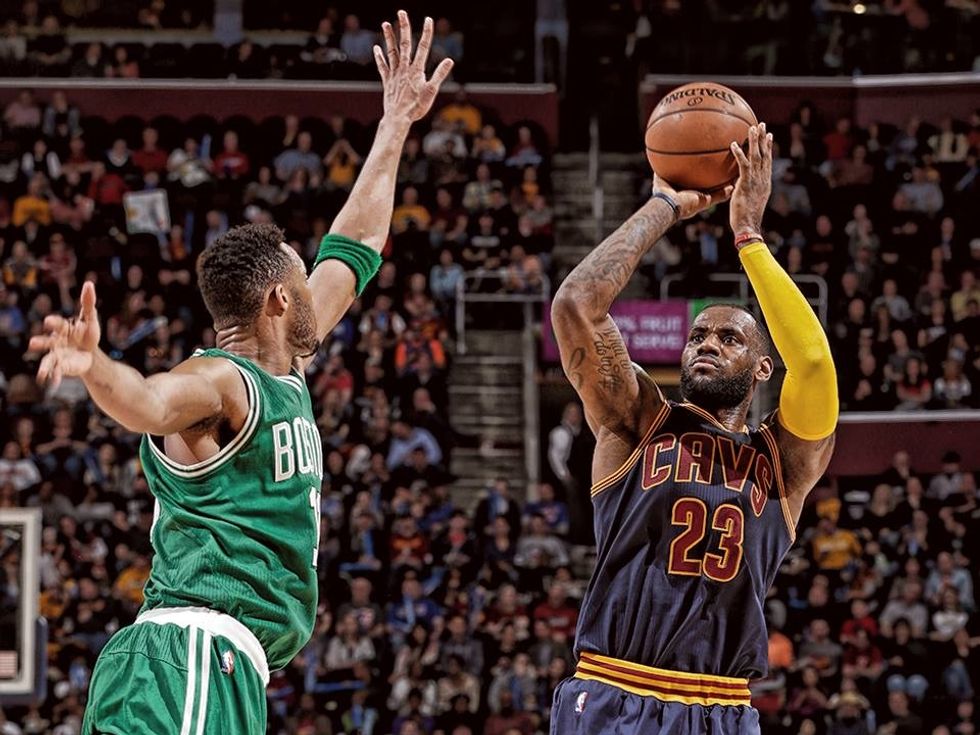 Now listen. We're not going to work ourselves into a tizzy here in Cleveland because a columnist in Boston decided to launch his fiction writing career with a hit job on us.
OK, maybe we are, but let's keep this meltdown brief, shall we? I love Boston and a few Boston sports fans, too, especially the one who is the father to two of our beautiful grandchildren. I've got the family peace to keep here. So go, Celtics — any time except right now.
After the Cleveland Cavaliers beat the Boston Celtics in Game One of the first round of the Eastern Conference playoffs, Boston Globe columnist Dan Shaughnessy made fun of us. A lot.
Our confetti-drop at the end of the game struck him as "a little needy." We do this after every game, which I guess makes us really, really needy. To someone who thinks confetti is a window into the soul, I mean. That's deep, man.
Shaughnessy also called us "a hungry place, peppered with people with hungry faces." I'm trying to imagine what a hungry face looks like. I keep seeing Joe McKenzie's hound dog eyes as he tried to talk me into a kiss in the summer between sixth and seventh grades. I'm going with that one.
On and on Shaughnessy went, describing us as a "sad" and "quiet" town that is either "dead or dying." Remind me never to count on him to call 911.
The "quiet" thing I don't get. My husband and I are still popping our ears after Saturday's Rock and Roll Hall of Fame inductions. The partying was so raucous and loud that we kept misunderstanding each other. During Green Day's performance, for example, I thought he turned to me and yelled, "Ice your fat hair." Turns out he said, "This is so great." If we were a quiet people, I would have known that.
Now, I imagine some of you readers who don't live in Cleveland might wonder why you should care about yet another out-of-town journalist's trash-talking our town.
This isn't just about Cleveland. This is about every misunderstood city in America that's had three professional sports teams without a national championship for more than 50 years.
Granted, that narrows the pool somewhat — to exactly one, maybe — but we're Midwesterners, and to make it all about us would suggest we're sports fans in Boston.
OK, I winced as I wrote that because I'm breaking rule No. 1 of the Manual of Midwestern Manners, which instructs us to smile on the outside even when our hearts are curdling with revenge fantasies on the inside. To assuage my guilt, I'm going to go bake a casserole for a potluck somewhere.
On Tuesday, Shaughnessy told Cleveland's WKYC-TV that he was sorry if we were offended. "There's no new ground in there," he said, referring to his column. "Nothing that hasn't been said before."
That's some standard you got going there, Dan.
What this is really about is what it means to be a columnist these days. We are so needy.
There was a time when we wrote our opinions and they were published for a single day in the print newspaper and that was that. We'd get some angry calls and maybe some mean mail, but no one posted the worst picture of us ever online for a caption contest.
And we're just not special anymore. These days, anyone with an opinion and a keyboard is a "columnist." Our job performance is now measured not by the depth of our intellect or the breadth of our brilliance but by the number of online clicks, comments, and "unique visitors."
By the way, dear readers, I want you to know I have always thought that each and every one of you is unique.
For most editors, any attention is better than being ignored. So we're supposed to celebrate whenever the comments sections under our columns explode with stuff you wouldn't say to a dog that has just lifted his leg over the toe of your Uggs. The new boots, the ones without the salt stains.
That stuff can play with your head. You might start to wonder: Maybe I do resemble my pug when I write about workers' rights. Maybe my politics really have earned me the nickname Commie Connie. Maybe it's true that I am a man-hating broom-flier with a closetful of sensible shoes.
Or not. Maybe you only worry about that if you're a columnist in Boston.
Which brings us back to Shaughnessy for the most fleeting of moments. How time flies. As I write, the Cavs are now up 2-0 against Boston and are headed to the fine city that spawned our just-this-side-of-perfect son-in-law.
Grandma's got her game on.
Go, Cavs.
Connie Schultz is a Pulitzer Prize-winning columnist and an essayist for Parade magazine. She is the author of two books, including …and His Lovely Wife, which chronicled the successful race of her husband, Sherrod Brown, for the U.S. Senate. To find out more about Connie Schultz (con.schultz@yahoo.com) and read her past columns, please visit the Creators Syndicate Web page at www.creators.com.
Photo: Cleveland Cavaliers via Facebook