What Good Is Ivanka Trump? The President's Daughter Is More Than Complicit—She's a Chip Off The Old Block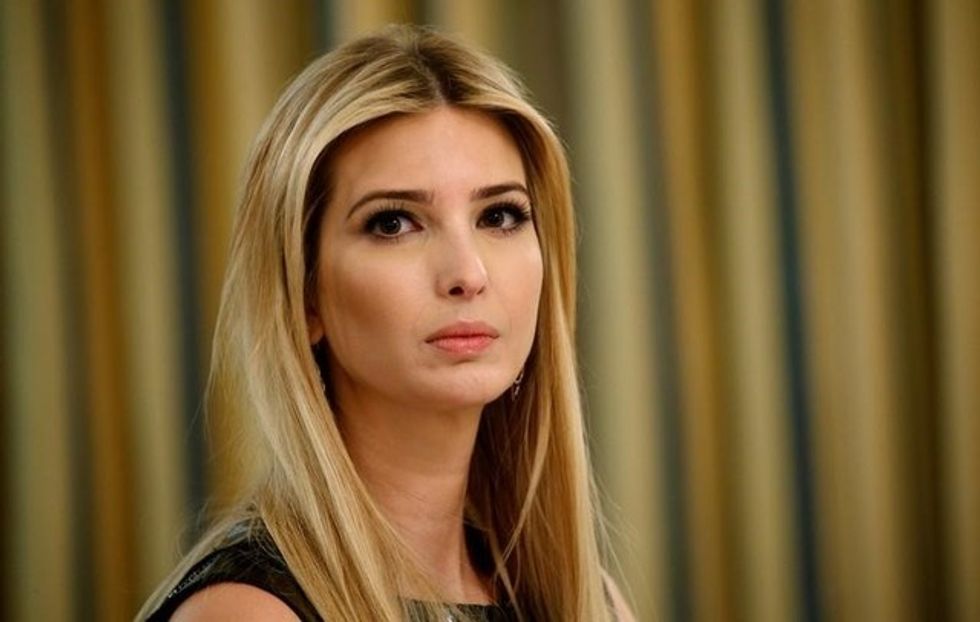 Reprinted with permission from Alternet.

The idea of Ivanka Trump as a secret liberal operative, embedded and awaiting activation, was always an illusion at odds with the material evidence. On the campaign trail, she was deployed as the genteel good cop to her father's uncouth—and unashamedly racist and sexist—bad lieutenant. It was an image almost solely built on the superficial appeal of pastel dresses and quasi-liberal aphorisms, coupled with the long-standing typecasting of rich, telegenic, media-trained white women as inherently trustworthy. Take away the hollow rhetoric, and it's clear that Ivanka is a loyalist wolf in her own fashion line's sensible sophisticate cloaking. Like every other aspect of her dad's campaign, the marketing of Ivanka as a force for good behind enemy lines is a lie that withers upon contact with observable reality.
Even as she has publicly stated support for feminist-lite tenets about workplace equality and closing the gender wage gap—as if capitalism will solve this whole sexism thing—Ivanka has never shown much interest in social justice as a passion or a hobby. She has definitely never addressed the virulent racism of her father's campaign or his followers, except to deny it exists. When her father's misogyny has been on full display, Ivanka has has mostly remained mum. She initially said nothing when the elder Trump went on a full-scale attack against Megyn Kelly, a sexist battle the candidate launched (he might have noticed if he recognized irony) when the then-Fox Host pointed out his history of sexist name calling. Pressed on the issue, Ivanka defended her father by claiming he was "not gender specific in his criticism of people," a confusing defense considering he'd labeled Kelly a "bimbo" and suggested that menstruation had made her crazy. "Look, my father is very blunt," Ivanka said in an interview with CNN, helping promote the dangerous idea that Trump's violent, bigoted speech is just honest straight talk. "He's very direct…I don't think that he's gender-targeted at all."
A year later, when Trump was busted bragging about criminal sex acts on an unearthed 2005 Access Hollywood video, Ivanka called his words "clearly inappropriate and offensive," but made sure to give him undue credit for "acknowledg[ing] this fact with an immediate apology to [her] family and the American people." On the heels of the footage release, no less than 12 women came forward with allegations of sexual harassment and assault against candidate Trump dating back decades, and a national conversation emerged about the triggering effect of his campaign on millions of survivors of sexual abuse. Ivanka addressed none of those issues, but remained on the campaign trail, essentially serving as a rebranding agent—the crude term here is "cleanup woman"—for her dad, overwriting his hate speech with soaring, squishy rhetoric. She pulled out the stops with her Republican National Convention speech, in which she called her father "colorblind and gender neutral," lauded his "empathy and generosity towards others" and claimed that she and he would fight together on behalf of women. If she hadn't already called her father "a feminist" a year prior, it would have been the most unbelievable remarks she'd given to date.
Perhaps the biggest problem with labeling Ivanka "complicit" in his father's racist, misogynist, destructive agenda—as a recent Saturday Night Live commercial parody did—is that the term isn't a rigorous enough indictment of the president's daughter and her role in this administration. She has cynically leveraged every aspect of her public self to get her father into office where he could assemble the most white and male cabinet in nearly four decades. She has put a well-coiffed, photogenic face on her father's transparently xenophobic, trans and homophobic, anti-Muslim policies. She has actively worked to help bolster a guy who launched his political career on the racist lie of birtherism, nurtured it on white supremacy, and all but publicly thanked Nazis and Klansmen for their support. This is a man who bragged about grabbing women by the crotch, yet Ivanka wants us to believe he made her, so he can't be all bad. There is no denying that you cannot choose your family. But when it's obvious certain members will probably devastate and displace millions, you don't hit the road to help them get the nuclear codes.
Ivanka is her father's daughter, and and like him, she has consistently looked out for number one, with her family close behind. "[M]y focus is to ensure that these successes continue for the next generation of Trumps," she writes in her 2010 book The Trump Card: Playing to Win in Work and Life. "After all…we play to win." Perhaps to that end, In 2013, according to the New York Times, Ivanka wrote a $500 check to the campaign of Florida Attorney General Pam Bondi, who was then in the midst of investigating fraud charges against her father's Trump University. The next year, just ahead of the election, Ivana donated another $25,000 to Republican Party of Florida. The University was suddenly out of hot water, until it wasn't, and Trump was ordered to pay $25 million to those bilked out of money by the school.
In The Trump Card, Ivanka writes that appearing on the Celebrity Apprentice gave her the chance "to integrate my role at the Trump Organization with my television persona in such a way that it reinforced my jewelry brand." She's still applying that lesson. By keeping her carefully manicured image intact and pretending that her father is an adorably gruff, rough-around-the-edges beta version of herself, she's now using his presidency to advance her bottom line. After her RNC speech, Ivanka tweeted a link directing shoppers to buy her $138 dress; following the first post-election interview with the Trump family, a televised image of Ivanka wearing a $10,000 bracelet was turned into an ad. Despite boycotts and being dropped by several retailers, her father's move to the White House has provided endless dividends for his oldest daughter, reportedly driving Ivanka's sales up to record levels. (Some sources have called those figures into question.) As the de facto First Lady, Ivanka is profiting off her position in a way Melania admits she hoped to. One company has even filed suit against Ivanka's label for unfair competition, complaining in court filings that she has "exploit[ed] the power and prestige of the White House for personal gain."
It seems that Ivanka has long exhibited a tendency to view business and ethics through the same warped prism as her father. According to a Los Angeles Times investigation, Ivanka helped convince luxury condo buyers to invest in a Trump licensing scheme in Baja California, going so far as to appear in a promotional video where she lied about buying in. ("I'm very excited about it," she reportedly states in the footage. "I actually chose to buy a unit in the first tower.") When the project fell flat in 2009, investors lost $32.5 million in deposits.
"We were conned out of $140,000 in cash," Sandra Sapol told the Times. "That was hard-earned money, down the drain."
Earlier this month, an investigative piece in the New Yorker noted that Ivanka oversaw  the building of a hotel in Azerbaijan that may have facilitated illegal money laundering by the Iranian Revolutionary Guard. Writer Adam Davidson suggests the property may have violated the Foreign Corrupt Practices Act. The Trump team, of course, has distanced itself from the project, but a lawyer involved with the hotel told Davidson that "Ivanka personally approved everything," including decor details. She even posted about the property on Instagram back in 2014, including photos of herself in a hard hat, pensively staring out over the cityscape.
In a lengthy article at the Huffington Post, Hannah Seligson takes apart a lawsuit facing Madison Avenue Diamonds LLC—a company better known as Ivanka Trump Fine Jewelry—charging the company has refused to pay a supplier more than $2 million in outstanding fees, despite being ordered to do so by New York State Supreme Court.:
When I told this story to someone who knows Ivanka in a professional context, he told me he wasn't surprised: "She's been trained in the Donald School of Business." I asked someone else who has known both Ivanka and [her husband and Trump senior advisor] Jared [Kushner] for years why they had thrown their lot in with Donald so whole-heartedly. "Power, power, power, power," he speculated. "Jared's got plenty of money, but the only way he can separate himself from his family is power. They're a great match because that's also what Ivanka is after." Ivanka and Jared appear to have made the calculation that, even with some bad press, the exposure provided by a presidential run will only make them more influential over time. "It's in the Trump DNA to capitalize on every opportunity," said someone who knows Ivanka both personally and professionally. "And Ivanka is taking this as an opportunity to build her brand with millions upon millions of people looking."
In The Trump Card Ivanka recounts how she and her siblings Eric and Donald Jr. came up with a "scheme" that involved selling fake Native American arrowheads to their friends. "We'd chip away at them until they looked somewhat authentic, like actual ancient arrowheads and then bury them in strategic spots so that we could come across them while we were running around with our friends," Ivanka writes. "At that point, we'd turn around and sell them for a nice profit—around five dollars or so, depending on the piece and what we thought the market could bear." It's not atypical kid stuff, but considering how infamous her dad has become for running cons and shortchanging thousands, it suggests the Trump kids absorbed their father's business outlook early on in life.
Another tone deaf story seeks to show how Ivanka's "entrepreneurial spirit" was on early display when she and her brothers launched a lemonade stand as kids. Forced to set up shop in front of their Greenwich, Connecticut mansion on a cul-de-sac with no foot traffic, the trio turned to their family's hired help, making their father's employees their "target market." She writes the kids used their "wily charms and persuasive marketing skills" to convince their bodyguard, driver and household staff to dig "deep for their spare change."
"We made the best of a bad situation, I guess," she notes, chalking up their success up to pluck and ingenuity, not the fact that her father's workers had to keep his kids happy. It's not odd that as a child Ivanka might not have realized the dynamics at work—that the help were probably less than ecstatic to have a portion of their paycheck returned to their millionaire boss. But the fact that adult Ivanka relays the story as a factor in her success indicates her multiple blindspots, and how out of touch she really is.
The irony of all this is the feminism that Ivanka has upheld is steadfastly retrograde and classist, perpetuating an image of womanly success as a kind that requires they both do and have it all. You can see it in her fashion line's Women Who Work campaign, which also happens to be the name of her forthcoming book. She measures women—and here she pretty much only means white women; the rest of us barely enter the picture except as occasional tokens—by the same yardstick used by the patriarchy and, not coincidentally, her father. Success is being rich, thin, attractive, the boss (at the office and in bed) and never once letting the difficulty of juggling it all make you bitchy. According to the rules of her brand of consumerist feminism, the first rule of fighting sexism—aside from living up to its every impossible expectations—is to never complain about sexism. In the Trump Card she suggests, for example, "separating the real [sexual] harassment from the benign behavior that seems to come with the territory." Learn to take unwanted advances as compliments, ladies!
"Frankly, I think the biggest message that Ivanka is espousing is that, sure, women can get a seat at the table … if they've already got a hefty leg up and they pander to the men above them," Teagan Walsh-Davis, co-artistic director of The Jades theater group, told the Chicago Tribune. "I can certainly appreciate the idea of using your privilege for good…But her goals seem to be a lot more shortsighted. When she talks about advocating for working women, she's talking about women who are already successful. She's seeing 'working women' as a monolith of her own class. In her mind, it's mostly women who have already made it. In the family leave plan she's tried to propose, most of the tax benefits go to families earning over $100k a year."
Trump voters get a lot of richly deserved derision for gullibly swallowing Trump lies despite all contradictory indications. The same might be said of Ivanka among (white) liberals, who've endlessly given her chance after chance, in the hope that the feminist glimmers they've seen will fully shine. It's not that 45 isn't listening to his daughter, who is pleading with her father to do the right thing. The reality is, Ivanka and her dad are on the same selfish, kleptocratic page. Despite all her up-with-women talk, Ivanka doesn't pay interns and reportedly required a full court press to offer maternity leave to employees. In her new role in the White House—which makes her a high-ranking member of her father's administration, but with no actual title so as to skirt anti-nepotism laws—she'll continue to offer no advocacy for the vulnerable and marginalized.
She never even pretended to care about issues facing black women or other women of color, and it's a safe bet that streak will remain unbroken. Expect her "deafening silence" on the destruction of Planned Parenthood to continue; her pushback on the GOP's anti-women's health care to be nonexistent. She'll keep putting out empty, faux-enlightened statements for as long as it serves the administration and her brand, which she still controls and has refused to put in a blind trust, conflicts of interest be damned. The goal is to keep a line open between the White House and the Trump Organization, and to keep downplaying the threat of this administration by outright lying about it in soothing tones. Ivanka is Rose, feigining innocence before betrayal in the horror movie "Get Out," she is the 53 percent of white women—the ones she was hired to speak directly to—who voted for Trump even though they knew deal but like the benefits of white supremacist patriarchy. Like those women, Ivanka has signed on to do the bidding of that system in exchange for personal gain.
It's more of the same that we've seen from Trump's team, and a reason to stay weary. Ivanka is a key part of the strategy. Start recognizing her as such.
This article was made possible by the readers and supporters of AlterNet.