Google To Deploy Drones With Internet-Emitting Payloads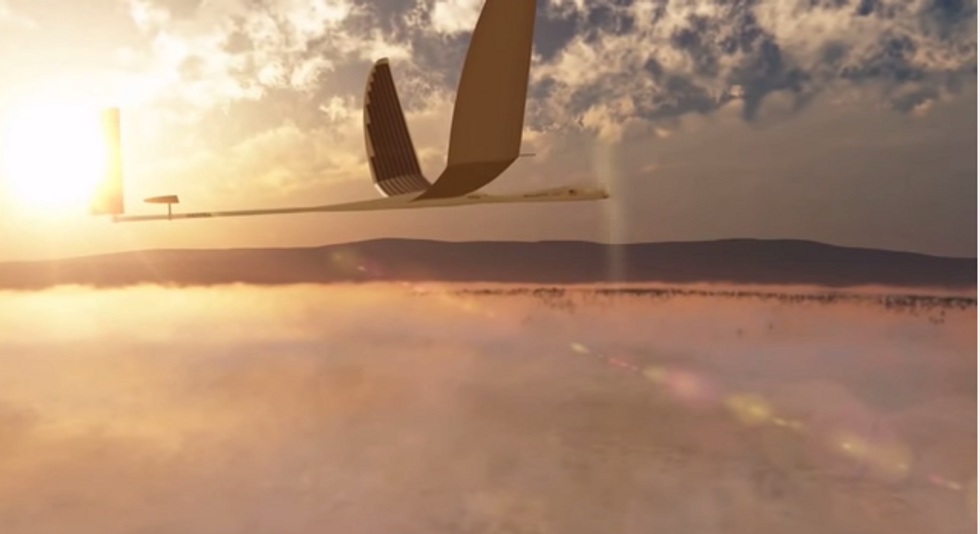 Last April, Google and Facebook engaged in a bidding tussle over the aerospace manufacturer Titan.
Google eventually won the battle, stating they would top all of the social media giant's bids. (What they officially paid has not been publicly disclosed, although Facebook's last offer was $60 million.)
As Ben Popper recently reported for The Verge, Google will begin conducting test flights of drones produced by Titan.
Invested in connecting people worldwide, whether in rural areas or in third-world population centers, Google looks to employ a "super-lightweight solar-powered airplane that would be capable of hovering in one area of the stratosphere," writes Popper.
The drones are a counterpart to Google's Project Loon — a program that develops high-altitude balloons that emit Internet-streaming signals. The extra bandwidth provided by the drones and balloons would deliver Internet access to underserved or disaster-struck areas on demand.
Google's senior vice president, Sundar Pichai, sees the Loon program and Titan drones complementing one another "as a mesh of flying cell towers circling overhead," according to The Verge.
Although it will take at least a few years of development and testing before the drones get off the ground, Google's hope to bring the world's four billion people under its umbra of "connectivity," looms just beyond the horizon.
According to a CNET report, the Federal Aviation Administration is looking into industry partnerships with drone operators. If the FAA loosens regulations — which currently prohibit the use of drone flights beyond the pilot's line of sight — big businesses and entrepreneurs are expected to flock to the opportunity.
Senator Cory Booker (D-NJ) supports the opportunities the technology presents for crop monitoring, railroad inspections, real estate scouting, and delivery services that airworthy drones would usher in.
Any changes in regulations would take at least two years to finalize, according to Forbes. But that isn't stopping businesses from trying to streamline the process.
"I don't know what triggered it. They're talking to us and we're collaborating," said Google executive Dave Vos, talking about the government's possible change of heart toward drones. It could be that the U.S. has more restrictions on unmanned flights compared to Canadian, Australian, or British policies, where commercial drone operators are permitted to practice long-range flights.
Yet even this amount of government cooperation pales in comparison to its expansive military use of drone technology. The feds are at once advocates of their own drone use abroad and opponents of the aircrafts' non-violent uses domestically.
Apart from death tolls we hear on the news and John Oliver's memorable jeremiad against the military use of drones, many of the notions of unmanned aircraft we receive come from car commercials, films, or short stories, preparing us for perhaps not-so-distant realities.
Screenshot via FlightBots/YouTube