Gov. Hutchinson: Trump 'Disqualified Himself' From 2024 White House Race
@next2godwin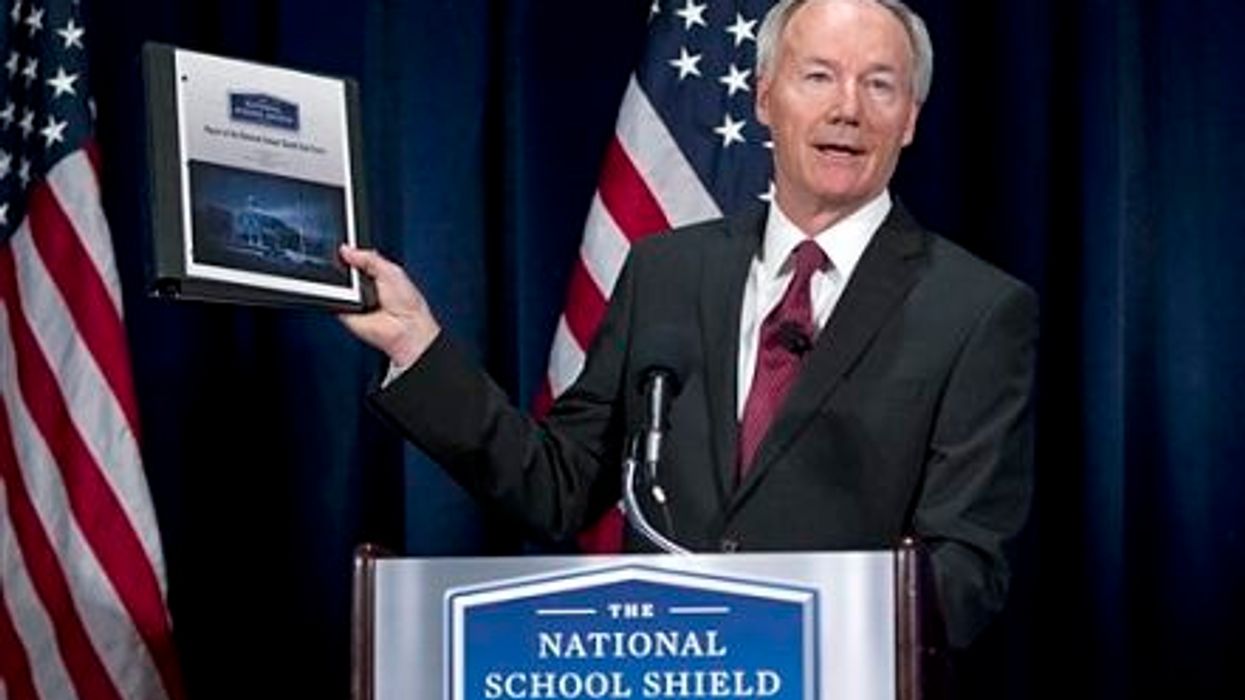 The Republican governor of Arkansas, Asa Hutchinson, ripped into former President Donald Trump on Monday, describing him as "derelict in his duties" and morally culpable for the attack on Congress by a mob of his supporters on January 6, 2021.
In an interview with the Washington Post on Monday, Hutchinson said the House Select Committee investigating the January 6 Capitol attack had achieved its goal of making a solid case that Trump was "derelict in his duties" during the attack on the U.S. Capitol.
"Well, I think [the January 6 hearings] had an impact," Hutchinson told the Post Live anchor Leigh Ann Caldwell. "They've made the case that he was irresponsible; he was derelict in his duties."
"This should be a concern of every American," Hutchinson continued. "We had a president during that time that allowed that to go on and threatened the peaceful transfer of power."
The governor confirmed he was speaking from a place of understanding because he had "tuned to the majority" of the select committee's public hearings.
Hutchinson echoed his previous comments that the select committee's case, while strong, didn't provide the "high burden of proof" needed to pursue criminal charges against Trump.
"I don't see how the January 6th hearings themselves are making the case against the president. That's a very high burden of proof. I think the attorney general's got a tough call there," Hutchinson said. "I haven't seen the actual case being presented effectively in terms of criminal conduct on the president."
Hutchinson, a former congressman, is one of the few elected Republicans to persist in criticism of Trump. Last month, the governor told CBS Mornings hat the January 6 attack was a "threat to our institutions of government" and that Trump's response was "not the behavior we want to see in a responsible president."
In the same interview, Hutchinson assailed Trump's 2024 bid for the White House, saying the ex-president had disqualified himself from running again with his actions before and on January 6.
"While we're totally focused on 2022, obviously there's talk about 2024, and I had to make it clear that Trump has disqualified himself, in my judgment, from his actions on January 6th and leading up to that," Hutchinson said.
"If we get sidetracked on a personality that is as divisive as Donald Trump, then that does not bode well for the outcome in November," he said. "We're going to do well, I have no doubt about that, but we lose ground whenever Donald Trump becomes the issue," he told CBS Mornings.
Hutchinson told the Post's Caldwell that he stood by his previous statement criticizing Trump. "I honestly answer questions when I'm asked. And so, yes, I stand by that. I believe that."
Hutchinson teased a bid for the White House in 2024, which might see him run against Trump. "I'm thinking about it, but not going to be… have any decision until next January."
"But 2024 is so critical in terms of shaping the Republican Party. And so whether it's as a candidate or whether it's in some other role, I certainly want to be a voice," Hutchinson said.
"Somehow people think that if you're not 100 percent pure behind Donald Trump, then somehow, you're a moderate," he lamented. "But I think the test in 2024, can a conservative that has a more optimistic view of America, that doesn't resort to personal grievances, can that person win, and that's what I want to be able to support in the fight for 2024."