GOP Blocks Democrats' Bid To Declare Darrell Issa 'Disrespectful'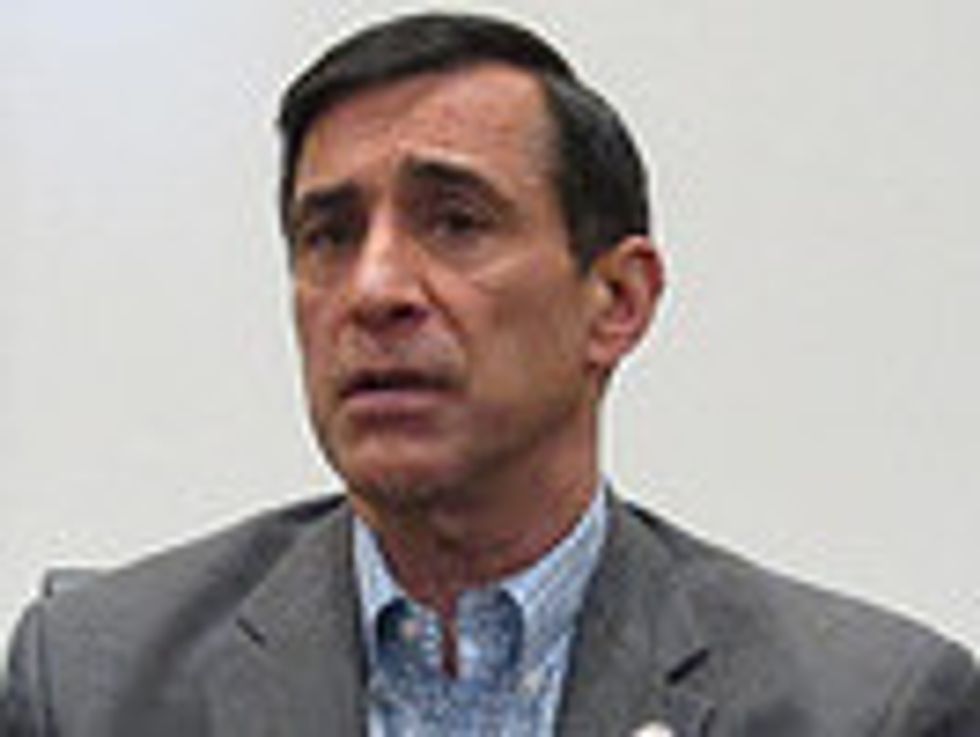 By Richard Simon, Los Angeles Times
WASHINGTON—The House Republican majority shot down a Democratic effort Thursday to condemn Rep. Darrell Issa, chairman of the House oversight committee, for the "disrespectful manner" in which he adjourned a hearing as the panel's top Democrat was speaking.
Wednesday's hearing heightened partisan tensions in the Capitol and revived a debate on whether Issa, the Obama administration's chief antagonist in Congress, has been working to root out government wrongdoing or pushing a partisan agenda.
Democrats criticized Issa (R-CA) for turning off the microphone of Rep. Elijah E. Cummings (D-MD) during a hearing in which a former Internal Revenue Service official invoked her Fifth Amendment right not to testify about the agency's alleged targeting of conservative groups.
Issa tried to question Lois Lerner anyway, without success. After Issa banged the gavel to adjourn the hearing, Cummings asked to speak.
"Mr. Chairman. Mr. Chairman, I have a statement. I have a procedural question, Mr. Chairman," Cummings said. "Mr. Chairman, you cannot run a committee like this. … We're better than that as a country. We're better than that as a committee."
Issa said Cummings could ask his question.
But after Cummings began to speak, Issa said: "We're adjourned. Close it down," and signaled the GOP staff, with his hand across his neck, to turn off the microphone.
On Thursday, Rep. Marcia L. Fudge (D-OH) introduced a resolution assailing Issa for his "abusive behavior," accusing him of violating House rules that require members to "behave at all times in a manner that shall reflect creditably on the House."
The Republican majority tabled the resolution on a party-line vote.
Fudge, chairwoman of the Congressional Black Caucus, also sent a letter to House Speaker John A. Boehner (R-OH) calling on him to remove Issa as chairman of the oversight panel.
Boehner said Issa was "within his rights to adjourn the hearing when he did."
"He's done an effective job as chairman, and I support him," Boehner said at his weekly news conference.

Issa spokesman Frederick Hill said Democrats' criticism "only underscores their vehement opposition to getting to the bottom of wrongdoing at the IRS. Chairman Issa is committed to continuing the investigation."
Every Democrat on the oversight committee has signed a letter calling on Issa to apologize. House Minority Leader Nancy Pelosi (D-CA) said Cummings was seeking to "elicit information that Mr. Issa supposedly wanted, except it might not have been what he wanted to hear, so he shut it down. It wasn't just about being rude. It's about not hearing what you don't want to hear."
Issa began his investigation after an audit found that IRS staff in Cincinnati had inappropriately flagged conservative organizations, pulling aside applications with keywords such as "tea party" and policy objectives such as "educating on the Constitution and Bill of Rights." The organizations were seeking recognition as tax-exempt social welfare groups, which are permitted to do a limited amount of political activity, as long as it is not their primary purpose.
Democrats say progressive groups were flagged as well as tea party organizations. They say the investigation has turned up no evidence that any extra scrutiny was given to applications from conservative groups for tax-exempt status.
Issa told reporters Wednesday that the hearing was a continuation of an earlier meeting where lawmakers had already made opening statements.
After the hearing, Issa told Fox's Greta van Susteren that Cummings "didn't have a question. He was endlessly slandering the efforts of the committee."
Issa has headed the House's top investigative committee since his party took control of the House in 2010. He must give up the gavel at the end of this session because of GOP-imposed term limits on chairmen.
Photo: StanfordCIS via Flickr