GOP Campaign Slogan: Be Afraid. Be Very Afraid.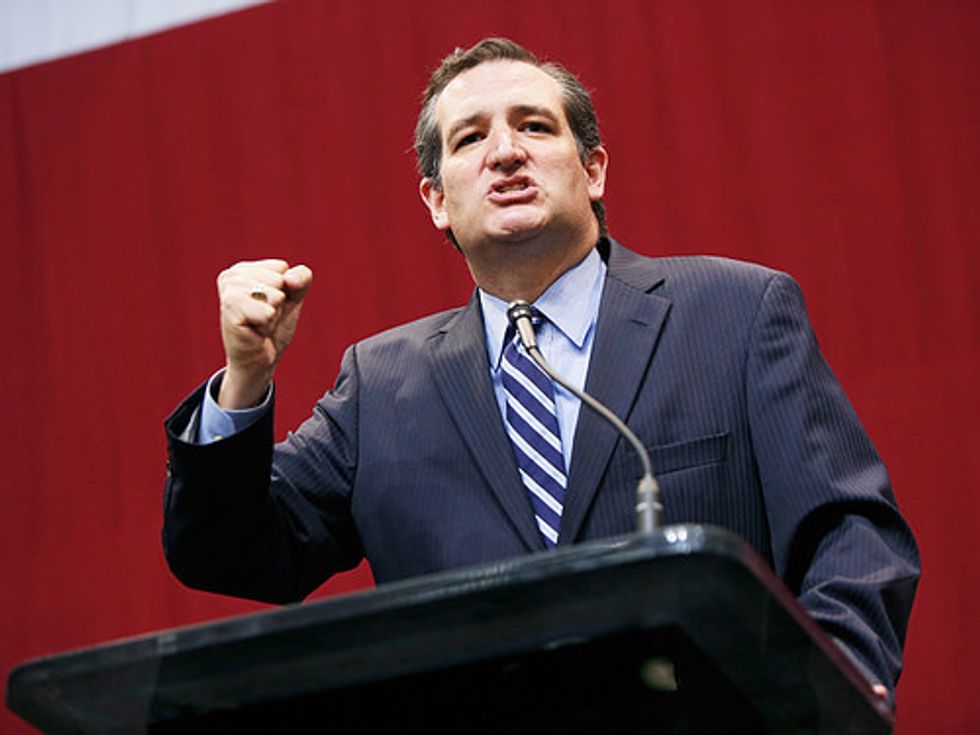 By David Lightman, McClatchy Washington Bureau (TNS)
WASHINGTON — Republican presidential candidates want to win your votes by scaring you.
Thanks to the national security lapses of the Obama administration, "we will pay a terrible price one day," says Sen. Marco Rubio, R-Fla.
"The next 20 months will be a dangerous time," warns Sen. Ted Cruz, R-Texas, but he offers this hint of hope: "January 2017 is coming."
And so on. Republicans think fears of terrorist attacks are a major issue, and a major political motivator.
"Republicans are looking for some issue where they have a clear advantage," said Ann Selzer, a Des Moines-based pollster who conducts Iowa and national surveys.
Selzer's April 6-8 national poll found the percentage of people who name terrorism or the Islamic State as the 2016 campaign's most important issue had nearly doubled since December.
Among Republicans, one-fourth said terrorism was their top concern. Democrats still listed unemployment as their first worry, with climate change next. Terrorism tied for fourth among Democrats.
Republicans see another big reason to keep pounding away on terrorism. If Democratic front-runner Hillary Clinton wins her party's nomination, they can conveniently brand her as a key architect of President Barack Obama's national security policy. Clinton was secretary of state in Obama's first term.
Republicans can also keep talking about the 2012 terrorist attack that killed four Americans in Benghazi, Libya. The House of Representatives has a special committee investigating the incident, and Chairman Trey Gowdy, R-S.C., said he'll call Clinton to testify. He also wants her to testify separately on conducting government business using email from a private computer server.
This campaign is all part of a narrative that's become highly popular among the Republican candidates in stump speeches and media appearances.
They tend to start with zingers aimed what they label the Obama administration's ineptness. "Barack Obama has never run a lemonade stand," says Sen. Lindsey Graham, R-S.C.
Former Florida Gov. Jeb Bush maintains that Obama is the first post-World War II president who "does not believe that America's presence in the world as a leader and America's power in the world is a force for good."
That's why, says Wisconsin Gov. Scott Walker, "We need a commander in chief in this country who, once and for all, will identify that radical Islamic terrorism is a threat to us all."
Their narrative usually continues with dire warnings.
"There are thousands of people around the world who are plotting to kill Americans here and abroad," Rubio said recently in New Hampshire. "This risk is real. This is not hyperbole. It needs to be confronted."
He didn't mention how the White House has tried to do just that. In February, the president hosted a summit on violent extremism, and cited U.S. involvement in a 60-nation fight against terrorism.
Republicans won't relent.
Sometimes, tough guy talk backfires, as when Walker said in February that he was equipped to fight terrorists because he fought labor union protesters in his state.
Finally, in the Republican pitch comes the message of hope. "There is a pessimism in the world, but it does not have to be that way," says former Texas Gov. Rick Perry
.
Sometimes Republicans are at war with one another. Sen. Rand Paul, R-Ky., labeled U.S. involvement in Libya a mistake and criticized U.S. policy toward Syria and the rebels. He called Graham and Sen. John McCain, R-Ariz., "lapdogs for President Obama."
McCain fired back, saying, "The record is very clear that he simply does not have an understanding about the needs and the threats of United States national security."
Democrats' response is that of course they want to combat terrorism. If Republicans are so intent on doing so, they ask, why did they stall Loretta Lynch's nomination as attorney general for months?
"With all that this country is facing from terrorism," asked Sen. Bernard Sanders, a Vermont independent, "How at this vital time can anyone elected to the Senate play partisan politics with something as sensitive as the head of the Justice Department?" On Thursday, Sanders announced his candidacy for the Democratic presidential nomination.
Whether the Republican assault on national security policy becomes a winning strategy depends largely on events. President George W. Bush was able to use the war in Iraq — and the votes of dozens of congressional Democrats for the war — to help himself win re-election in 2004, but war weariness hurt Republicans in 2008 and 2012.
This time, Republicans see the public as weary of Democratic policies, and that's a big potential plus. "Republicans have always been trusted more on national security," said Republican pollster Whit Ayres, "and Obama has been a weaker leader than people expected."
(c)2015 McClatchy Washington Bureau, Distributed by Tribune Content Agency, LLC.
Photo: Texas Senator Ted Cruz (Peter Stevens/Flickr)