GOP Candidates Court Southern Evangelicals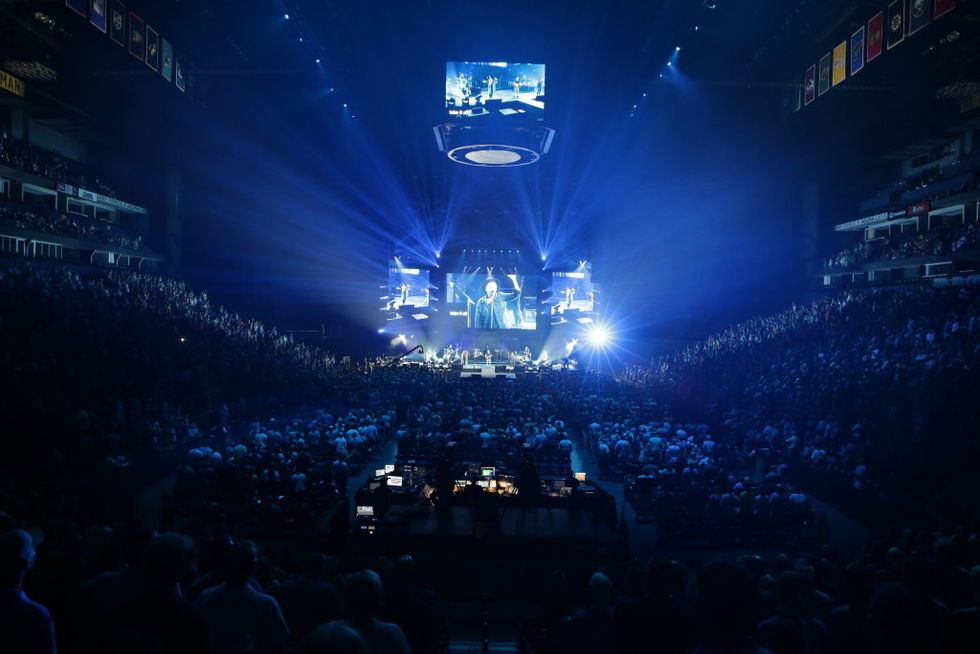 By Greg Bluestein, The Atlanta Journal-Constitution (TNS)
NASHVILLE, Tenn. — Evangelicals across the South say they are feeling alienated, even under siege, as they see the nation's politics tilting toward the left. And there were few places where those fears echoed more loudly than a conference here Tuesday that attracted more than 13,000 would-be missionaries.
In speeches, forums and interviews at the convention, more than a dozen evangelical leaders and rank-and-file supporters cast the Supreme Court's ruling to legalize same-sex marriage and failed efforts to outlaw abortion as a magnet that will draw more social conservatives to the polls.
They were echoed by two leading GOP presidential candidates who emphasized their faiths and promised to protect "religious liberty" proposals at the Send North America Conference, a two-day meeting of mostly Southern Baptist evangelicals aimed at inspiring the crowd toward embracing missionary work.
Both former Florida Gov. Jeb Bush and U.S. Sen. Marco Rubio cast themselves as vigorous defenders of religious liberty and pledged to fight for threatened Christian communities overseas, even if it meant committing more ground troops to combat the Islamic State's spread in Syria and Iraq.
"We need to stand up for people who are under attack like this," Bush said to applause from the crowd in the sold-out arena. "Who in the world considers this a value worth fighting for other than the United States?"
About 1 in 4 Americans identifies himself or herself as an evangelical Christian. The powerful bloc helped fuel George W. Bush's victories, but many Christian conservatives never warmed up in the same way to John McCain in 2008 and Mitt Romney in 2012.
Several of the 17 announced Republican candidates are jockeying to become the favorite of the evangelicals, who play an outsize role in the early voting states of Iowa and South Carolina. Yet the possibility of a fractured vote splintering their voice has grown with so many political candidates trying to curry favor with them.
Among their potential favorites: former Arkansas Gov. Mike Huckabee, the winner of Georgia's GOP presidential primary in 2008; former Pennsylvania U.S. Sen. Rick Santorum, a hero to some social conservatives in the 2012 race; and Texas U.S. Sen. Ted Cruz, whose combative rhetoric has made him a favorite of the crowd this year.
None of those candidates took the stage in Nashville, though. The rest of the GOP field, along with Democrat Hillary Clinton, either cited scheduling conflicts or were not invited to the event because of low polling numbers.
Both Bush and Rubio sought to appeal to the crowds with stories about the role of faith in their personal lives. Bush earned wild applause when he said the government should withdraw all funding for groups or clinics that offer abortions.
"Abortion should not be funded by the government — any government, in my mind," he said.
And Rubio, who spoke in a prerecorded interview, earned applause when he promised to fight "extremists" who want to expand abortion rights and a legal system that could punish those who refuse to participate in gay weddings.
"We've now entered a very tenuous moment in the relationship between church and state in this country," Rubio said. "We're now on the water's edge of an argument that some have begun that if you do not agree with same-sex marriage or whatever, that you're actually discriminating against people."
Bush and Rubio appeared before the conference two days ahead of the first Republican presidential debate and three days before they and eight other GOP candidates head to Atlanta for the RedState Gathering, which is also aimed at the trove of social conservatives in Georgia and the South.
The conference, held in the same arena where the NHL's Predators take the ice, featured glossy video presentations and flashy Christian rock bands strumming gospel tunes as the crowd sang along. Influential preachers led prayer services to swooning worshippers. Ex-NFL head coach Tony Dungy talked about the role of faith in his life.
Politics was a constant undertone throughout the event, which will feature a third day of activities on Wednesday designed for pastors who hope to get more involved in electoral activism.
Many were glued to their phones on Monday tracking the Republican-backed effort to end federal funding for Planned Parenthood, the women's health group facing questions about the group's use of tissue from aborted fetuses. Preachers warned of a coming new phase in the culture war and talked of the faithful facing renewed persecution for their beliefs.
"No one saw Rome falling. And it fell," warned Al Mohler, who heads the Southern Baptist Theological Seminary. He then urged the crowd not to be lulled into a false sense of security about the political muscle of Christian conservatives.
"There are folks right now who think we are in control," he said. "Folks, they've got same-sex marriage in Oklahoma right now. And in Utah. And if you're not safe in Utah, where are you safe?"
There was much discussion and debate urging the pious not to withdraw from the political process in frustration. Jessica Caspers of Thomaston, Ga., said she had many friends who retreated in 2012 — citing Jesus' line that "My kingdom is not of this world" — but were emboldened to plunge back into politics.
"We aren't going to get that candidate, the one we can get behind — unless we get involved," Caspers said. "I'm not a fan of playing the victim. We have to keep saying we believe what's in our heart is right, and we have to do that unapologetically."
(c)2015 The Atlanta Journal-Constitution (Atlanta, Ga.) Distributed by Tribune Content Agency, LLC.
Photo via SendConference.com