GOP 'Civil War' Pits Right Wing Against Right Wing In Alabama Special Election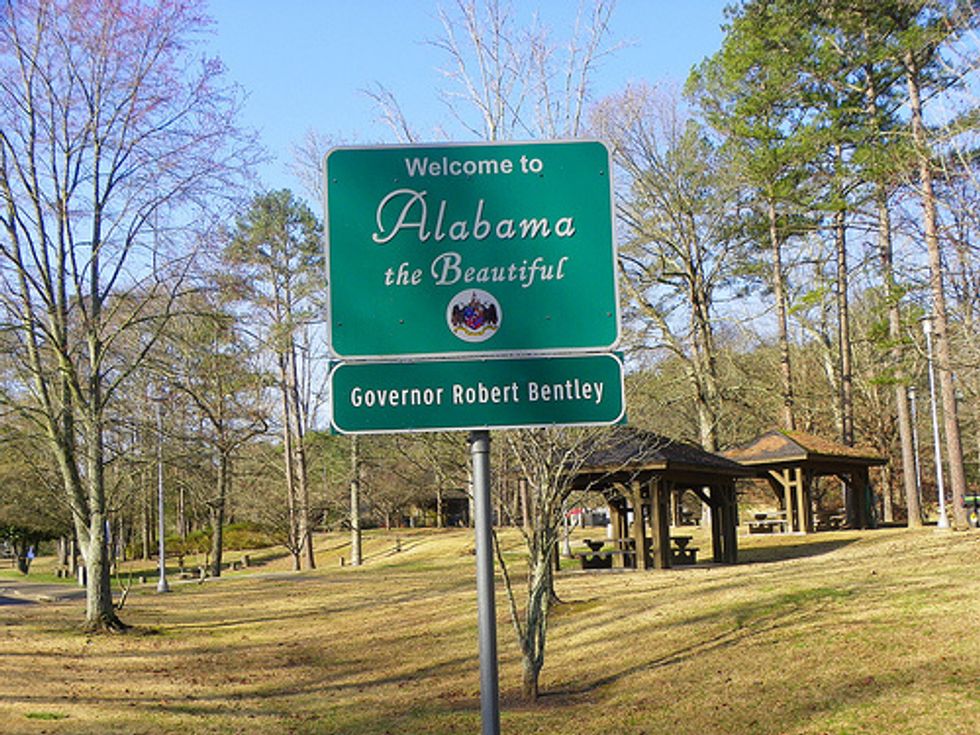 UPDATE: Byrne defeated Young, 52 to 48 percent.
In the contentious special election for the U.S. House seat in Alabama's 1st congressional district, an almost ubiquitous narrative has taken hold within the political media: that the campaign pits an "establishment Republican" — former State Senator Bradley Byrne — against a "Tea Party insurgent," right-wing activist Dean Young. That framework, which has provided a convenient template for countless reports on the Republican Party "civil war," overlooks one important factor: Byrne is just as far outside of the mainstream as his more-outspoken opponent.
Byrne's campaign platform is full of conservative boilerplate, promising to "balance the budget without raising taxes," "hold the line on spending," "fight for a simpler and fairer tax code that would virtually eliminate the need for the corrupt IRS," and determine what really happened in Benghazi, among other positions that would fit snugly within the House Republican caucus. He even opposed the last-second deal to avoid a catastrophic debt default, arguing that it contained inefficient spending cuts.
Byrne also is no more moderate on social issues. He claims to stand strongly for "traditional Alabama values" (which don't appear to include equal rights for the LGBT community or reproductive rights for women). As a member of the Alabama State Board of Education, Byrne voted for a science curriculum that taught, "Explanations of the origin of life and major groups of plants and animals, including humans, shall be treated as theory and not as fact," and as a congressional candidate he has declared that "I believe the Bible is the word of God, and it is 100 percent true."
The "establishment" Republican also has several endorsements that a Tea Partier would covet, including those of the National Rifle Association, and the Ending Spending PAC (a "dark money" group funded by billionaire Joe Ricketts, which is best known for considering an ad that would have labeled President Obama as a "metrosexual, black Abe Lincoln").
How could this right-wing Republican be considered the mainstream choice? First, he has the backing of some of the Republican Party's less-apocalyptic power brokers (including the Chamber of Commerce). Second, his opponent is as far out on the fringe as they come.
A quick glance at Dean Young's campaign website finds that his positions are almost identical to Byrne's. The bombastic Young stands out, however, for appearing to be completely out of his mind. As Mother Jones reports, over the past two decades Young has:
—Suggested that gay people should leave Alabama, and "go back to California or Vermont or wherever they came from."
—Told LGBT activists that "either you get your lives straight or you get back in the closet where you came from."
—Warned that "we are witnessing the end of a Western Christian empire," and "We will see the end of this nation if we don't do something, and do it fast."
—Failed to correctly identify the current Treasury Secretary (he guessed Hank Paulson, a Republican who has been out of office for over four years), or House Republican Whip.
For Young, becoming the Tea Party alternative was as easy as promising that "if you guys send me to Congress, it will be like sending Ted Cruz to Washington." That his platform contains no substantive differences from Byrne's is seemingly irrelevant.
Young's rise is an instructive lesson in how the Republican Party has moved further and further to the right. No matter how conservative a candidate is, there is always someone more extreme (even if the difference is more rhetorical than substantive). And that's why — even though polls consistently find that Americans reject the far right's governing philosophy — a right-wing Republican like Bradley Byrne can appear to be completely reasonable by comparison.
Polls suggest that the race is up for grabs going into Election Day, but it ultimately won't matter much who wins; in any case, the people of Alabama's 1st district will get a right-wing representative in Congress.
Photo: J. Stephen Conn via Flickr