GOP Congressman: Trump Should Force Whistleblower To Testify
@jeisrael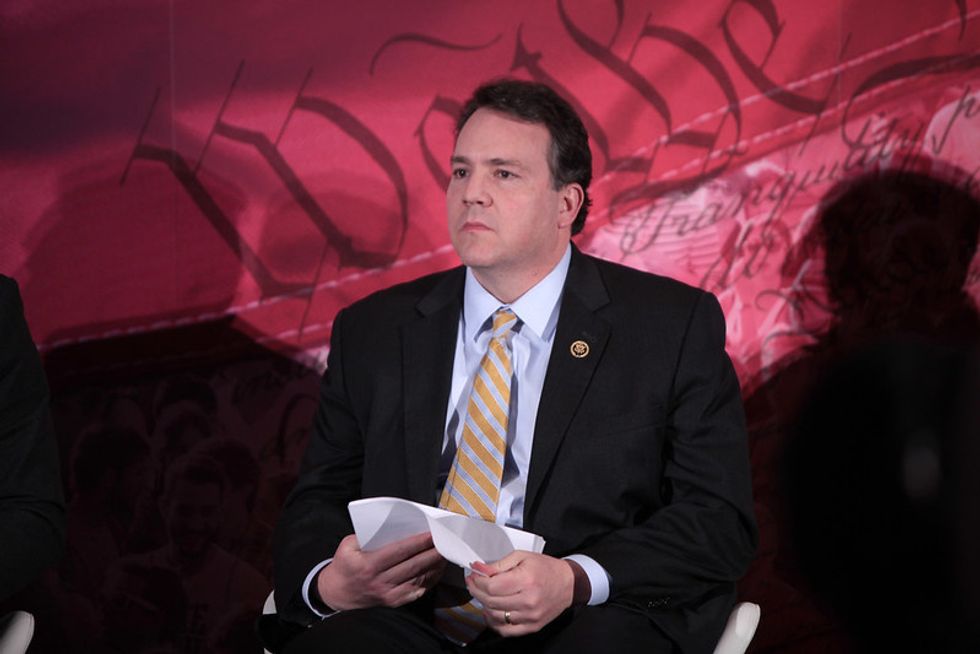 A Republican congressman wants Donald Trump to be able to force any defense witness of his choosing to testify before the House of Representatives' impeachment inquiry, including the anonymous whistleblower who first raised concerns about his attempt to condition Ukraine security aid for political opposition research.
Rep. Alex Mooney (R-WV), a staunch Trump defender, appeared on Eternal Word Television Network on Thursday to criticize the impeachment inquiry.
Asked whether administration officials, including acting White House chief of staff Mick Mulvaney, should testify before Congress, Mooney answered that he would "be welcome to hear from anybody who wants to talk about it and help show the president's side of the story." He complained that only Democrats have been able to call witnesses so far — though House Intelligence Committee Chair Adam Schiff has already allowed three GOP-requested witnesses to testify.
Mooney then said Trump should be able to force anyone — not just his acting chief of staff — to testify on his behalf, including an anonymous whistleblower who filed a report after Trump likely broke federal law in a July phone conversation with the Ukrainian president.
"It's not just Mick Mulvaney," he argued. "It's anyone who the president would like to speak on his behalf should be allowed to be subpoenaed and forced to testify. Including the whistleblower who started this whole thing."
But Mulvaney and numerous other Trump administration officials have refused to cooperate with the impeachment inquiry. When Mulvaney was subpoenaed to testify, he refused and sought to intervene in a lawsuit to challenge its validity. The White House said last month that it would provide no documents or witnesses because the House's "highly partisan and unconstitutional effort threatens grave and lasting damage to our democratic institutions, to our system of free elections, and to the American people."
A spokesperson for Mooney did not immediately respond to questions about whether the forced testimony should apply only to defense witnesses.
Though nearly every item in the whistleblower's complaint has now been independently corroborated, Republicans have repeatedly demand that he or she be publicly identified. House Republicans have even tried to unmask the whistleblower's identity during the public impeachment hearings. Trump himself has suggested the individual committed "treason" and the individual has already received numerous death threats. Mooney ignored Congressional rules and security procedures last month when he not only took part in a Republican invasion of a sensitive compartmented information facility, or SCIF, but also used his unsecured cell phone to share audio of a call inside the secure space.
Published with permission of The American Independent Foundation.
Photo Credit: Gage Skidmore