GOP Counsel Castor Raises Doubt About Vindman's Loyalty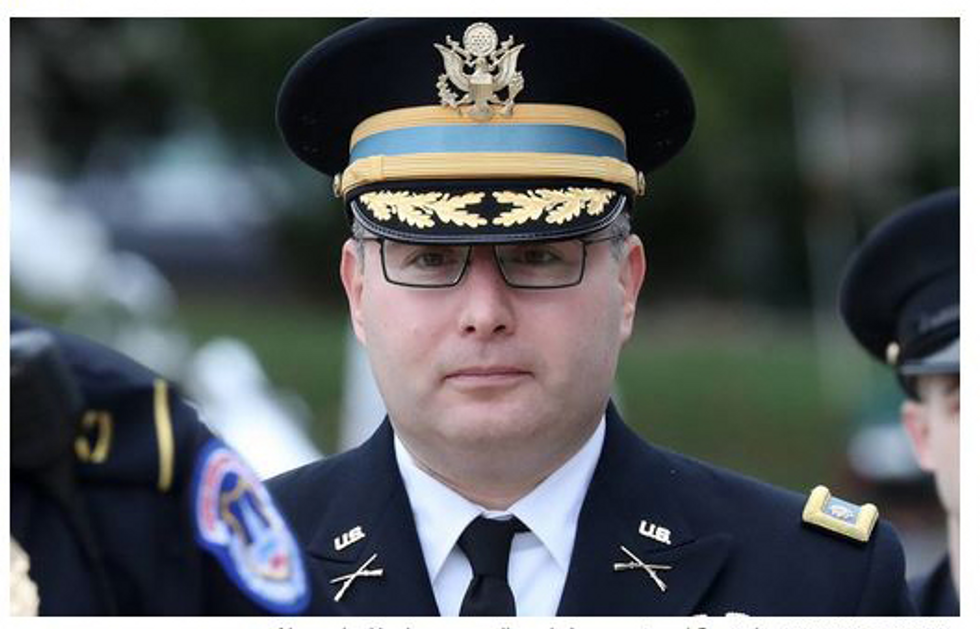 The GOP's efforts to smear Lt. Col. Alexander Vindman were on full display on Tuesday, when the legal counsel for the Republican members of the House Intelligence Committee tried to suggest Vindman is more loyal to Ukraine than he is to the United States.
Vindman is a key impeachment witness, providing firsthand knowledge of Donald Trump's alleged attempt to force Ukraine into investigating Trump's Democratic rivals by withholding military aid to the country.
And in order to call Vindman's testimony into question, Republicans tried to assassinate Vindman's character,  suggesting that because Vindman is a Ukrainian immigrant, he has conflicting interests. The attack is reminiscent of the anti-Semitic argument that American Jews — of which Vindman is one — cannot be trusted because they are more loyal to their religion and Israel than they are to the United States
Tuesday's effort was led by GOP counsel Steve Castor, who asked Vindman a series of questions about an incident in which a Ukrainian official asked Vindman to serve as defense minister for the Ukrainian government.
"Do you have any reason why he asked you to do that?" Castor asked Vindman, trying to probe at the dual loyalty smear.
"Every single time I dismissed it," Vindman said. "Upon returning, I notified my chain of command and the appropriate counter intelligence folks about the offer."
Vindman went on to say, "I'm an American. I came here when I was a toddler, and I immediately dismissed these offers. I did not entertain them."
The reaction to Castor's line of questioning against Vindman — a decorated American military officer who still carries shrapnel in his body from his service in Iraq — was not positive.
"My Republican colleagues can offer absolutely nothing to justify trump's treacherous behavior so they're smearing a decorated serviceman with disgusting insinuations," Rep. Bill Pascrell (D-NJ) tweeted.
"Castor shamelessly trying to suggest that Vindman has dual loyalties," Michael McFaul, the former United States ambassador to Russia, tweeted. 
This is not the first time Republicans have tried to smear Vindman and question his loyalties.
The attacks began on Fox News, when host Laura Ingraham questioned whether Vindman was a double agent for Ukraine the night before Vindman's close-door testimony to Congress in October.
Vindman seemingly came prepared for the smear, vowing his love and loyalty to the United States in his opening statement.
"I am humbled to come before you today as one of many who serve in the most distinguished and able military in the world," Vindman wrote in his opening remarks. "The Army is the only profession I have ever known. As a young man I decided that I wanted to spend my life serving the nation that gave my family refuge from authoritarian oppression, and for the last twenty years it has been an honor to represent and protect this great country."
Yet even that comment wasn't enough to ward off the GOP attacks on his patriotism and loyalty.
"I'm constantly shocked by the bottomlessness of the Republicans' cravenness in trying to defend Donald Trump," MSNBC's Nicolle Wallace said of the Republican smears on Vindman.
Rep. Jim Himes (D-CT) called Castor out for his smear of Vindman. "That was designed exclusively to give the right-wing media an opening to question your loyalties," Himes said at the hearing. "It's the kind of thing you say when you're defending the indefensible."
Published with permission of The American Independent.