Drive The Wedge, Democrats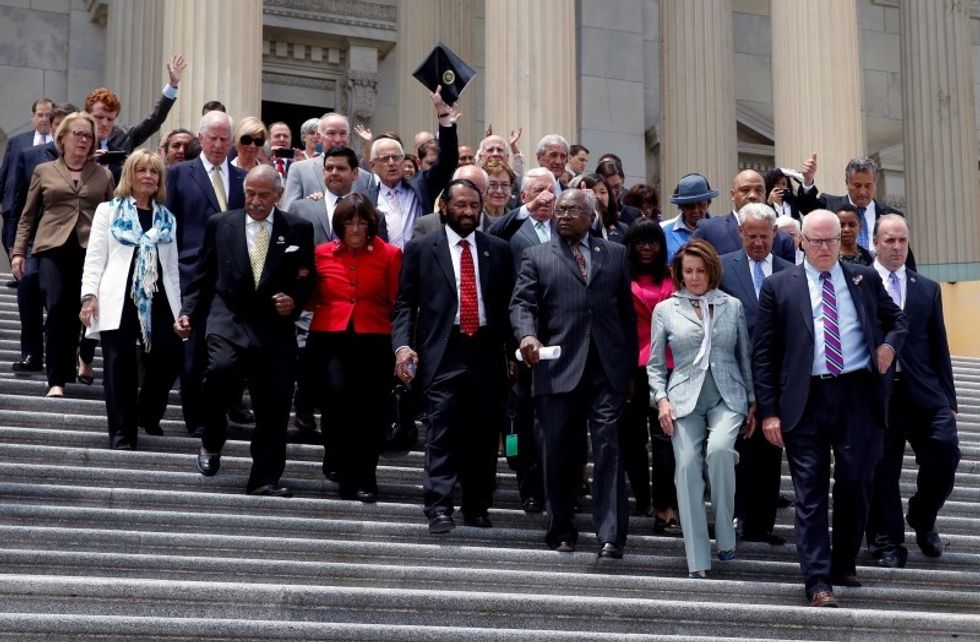 Reprinted with permission from USnews.
By John Stoehr
I find Steve King to be a insightful indicator of what's going on inside the far-right wing of the Republican Party. Not because he's smart. Not because he's important. But because the Iowa congressman tends to view politics in stark black and white instead of more opaque sepia tones.
King admitted in 2015 to the real reason hard-liners like himself are opposed to immigration reform: President Barack Obama, he said, "is importing millions of illegal aliens, who, when they arrive here, he thinks, and he's right, they are undocumented Democrats. The next phase of this is to document these Democrats so they can vote. This is a raw political power move."
Obama wasn't importing anybody. But otherwise King was right. Naturalized immigrants, or their natural-born children, would likely over time vote Democratic. A raw political power move, maybe. This was astute political analysis underneath a layer of racism.
King was equally helpful last week. On a conservative radio show, he warned President Donald Trump that he had better deliver on the anti-immigrant platform he campaigned on or risk losing his base. King noted that Steve Bannon, the president's chief strategist, appears to be increasingly marginalized. The millionaire former head of Breitbart News was the visionary behind the president's nationalist agenda.
Unfortunately, for him, Bannon picked a fight with Trump's son-in-law Jared Kushner. Blood is thicker than water to this president, so Bannon is now on the outside looking in. In his place is economist Gary Cohn, a former Goldman Sachs CEO and, according to King, Trump's "pro-immigrant" adviser. King told his interviewer: "People are policy. So whenever I see those kind of appointments come in place, I do get concerned about it."
It would be easy to dismiss King's remark as the racist drivel that it is. King has advocated for mass deportations, even of adults who were brought here as children and whose only country is the United States. But if we're really deeply listening, racist drivel can be politically insightful – and helpful to Democratic strategy. As with King's 2015 remark, there's more here than meets the eye.
Who is Trump's base? The answer is rooted in what nationalism means. Does it mean anti-immigrant or pro-white American worker? Or both? If purely anti-immigration, King has little reason to fret. Trump has had a lock on the hardcore racist vote since the day he first cast doubt on the legitimacy of the country's first African-American president. Trump's administration is eminently capable of executing a passel of nativist policies. Hardcore racists are going to support Trump no matter what happens to Bannon.
But without Bannon, there is no significant voice in the Trump administration that represents, or at least pretends to represent, the white working class, a key part of Trump's base. All that remains are the nativists like U.S. Attorney General Jeff Sessions and the billionaires like Cohn.
This is a huge problem for Trump, because without an economic message, the respective factions of his administration risk affirming everything the opposition is saying about the president – either he's a racist or his in thrall to moneyed interests.
Without Bannon's populist messaging, even if it's populist in name only, Trump's base risks being irreparably wedged, because white working-class voters did not support Trump due to racist appeals alone. They want something in exchange for for their support. They want good jobs and a return to prosperity.
This is the political danger of running an explicitly racist campaign. The "other" isn't real. It's a rhetorical device intended to inflame racial resentments. Even if Trump were to deport all 11 million undocumented immigrants, it would make no positive difference in the lives of his supporters, because the "other" isn't real. Deporting immigrants is to them like deporting an abstraction. Meanwhile, life continues to suck for the white working class, and Trump is too incompetent or too weak politically to do anything about it.
Despite much fanfare, the Trump administration's regulatory changes, especially dismantling Obama's environmental rules, are essentially a sop to the energy industry and the Republican Party's donor class. His rule-gutting may have some trickle-down effect, but hardly enough to mitigate the despair felt by Trump's white working-class base. The president's photo-ops with corporate heads are only that. Good public relations, not effective jobs policy.
About the only economic agenda Trump could pursue that would truly give the white working class what it wants is a massive and historic $1 trillion investment in the country's rapidly deteriorating infrastructure. That was Bannon's brain child from the get-go, but we have heard nary a word about it during the president's first 100 days.
Even if Bannon were not marginalized from the White House's sanctum sanctorum, his boss would need the Democrats to make infrastructure happen. But the Democrats have little need to compromise with a president increasingly weakened by scandal, incompetence and the baked-in insanity of his own party.
How can the Democrats appeal to the white working class without surrendering the hard-fought gains among women and minorities over two decades? This is how. Trump's base is increasingly wedged. The Democrats need to wedge it further. They don't have to return to their former days as the working man's party. But they do need exploit what is going to become a baneful wedge issue.
There is overlap, obviously, but there are serious differences between hardcore racists who support the president no matter what and the working-class white voters who are seeking tangible results from a candidate who promised far more than he could possible deliver.
Using a combination of policy proposals, like "Medicare for all," and messaging, like "health care is a right," the Democrats can drive the wedge down more deeply, picking off white working-class voters here and there as they rebuild their winning coalition.
The Democrats are already on their way to this end. They have proposed an alternative infrastructure bill, one that would truly empower the working class of all races. They have the policy. Now comes the right message and, more importantly, finding the right messenger.
As I said, Steve King isn't smart and isn't that important. But he's good at telling us what Republicans fear most. Time will tell if the Democrats are listening, and if the base of the party will allow it.