GOP Experiences Resurgence Of Racism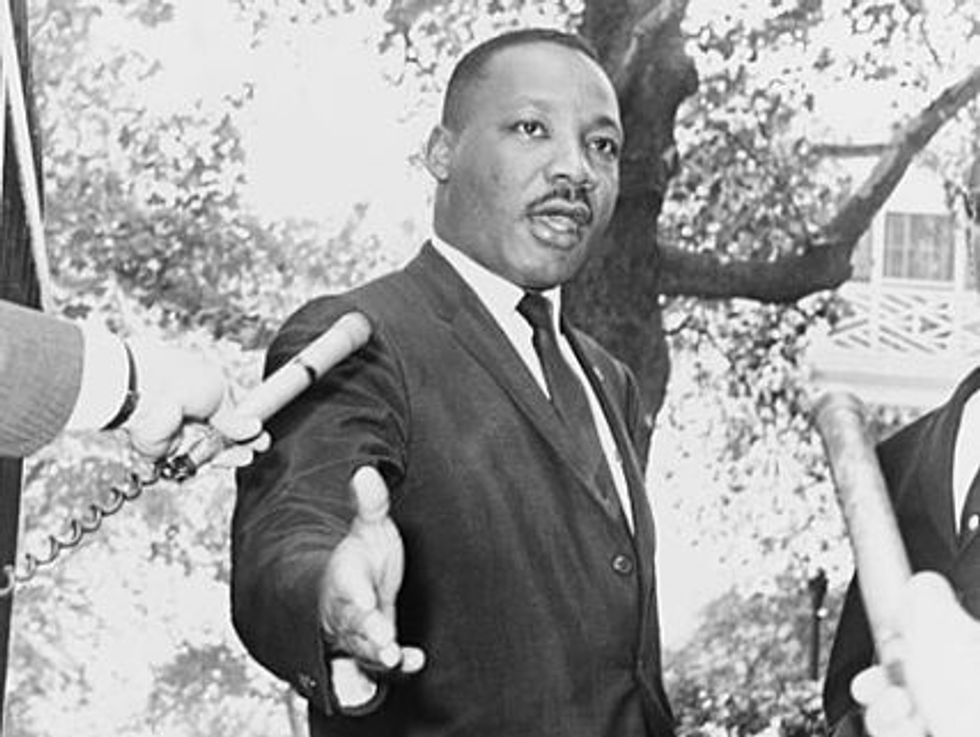 Reprinted with permission from Uexpress.com
In November 1983, President Ronald Reagan reluctantly signed a bill creating a federal holiday to celebrate the birth of the Rev. Dr. Martin Luther King Jr. Reagan had claimed a holiday would be too costly, but he gave in to the popularity of the proposal, which had passed Congress with a veto-proof margin.
That would be Coretta Scott King's greatest achievement. She and other civil rights activists, including singer Stevie Wonder, had to counter the ugly opposition of explicit racists such as North Carolina Sen. Jesse Helms, and more subtle skeptics, such as the president himself. They would spend years after that lobbying states to adopt the holiday, too; by 2000, all 50 states were officially celebrating King's birth. (Mississippi and my home state of Alabama choose to celebrate King and Robert E. Lee on the same day. King would likely laugh at that, though Lee, a Confederate general, likely would not.)
For decades after the passage of the holiday, the nation seemed on a stable trajectory toward justice and inclusion. As we ended the first decade of the 21st century, towering figures on the cultural landscape included Oprah, Beyonce and Barack. Black men and women were running top companies; elite universities were headed by black educators; script-writers were bringing authentic black characters to life on screens large and small.
But it turns out that there's no such thing as a stable trajectory in human history. The United States has now entered a period of racial retrenchment, an era of cultural backlash, a post-Reconstruction-like phase featuring explicit racial resentment and xenophobia. It is unlikely that the MLK holiday would pass Congress now.
A bitter partisan divide prevents the sort of cooperation that allowed then-U.S. Rep. John Conyers, D-Mich., and the late Edward Brooke, a Republican Senator from Massachusetts, to co-sponsor the King holiday bill. Moreover, an ugly racial resentment has swallowed up substantial portions of the Republican electorate. Their representatives are afraid to buck that tide.
And, quite frankly, some Republican lawmakers are emblematic of that racism. Earlier this week, a state lawmaker from Kansas was unabashed in his bigotry (though he later apologized) at a public meeting, when he was asked about Attorney General Jeff Sessions' hostility to legalized marijuana.
Said Steve Alford: "What you really need to do is go back in the '30s when they outlawed all types of drugs in Kansas (and) across the United States — what was the reason they did that? One of the reasons why, I hate to say it, the African-Americans, they were basically users and they basically responded the worst off to those drugs just because of their character makeup, their genetics, and that."
It's tempting to blame our current ugly era on President Donald J. Trump. After all, he entered the political stage as the pre-eminent birther, insisting that President Barack Obama was not born in the United States. That was a way of saying that Obama was a usurper who didn't belong in the White House, an illegitimate president.
And Trump's prejudices became more explicit in his presidential campaign as he bashed Muslims, denigrated Mexicans and described black urban neighborhoods as crime-ridden dystopias. He abandoned the dog whistle, long employed by conservative politicians, for a full-throated battle cry to return to a time when white men were fully in charge.
But Trump did not create this moment. He merely understood it (better than most political analysts) and took advantage of it. He promised working-class whites a return to their former glory, a triumphant journey back to a time when well-paying factory jobs guaranteed a middle-class lifestyle and people of color were kept in their place. Trump has delivered none of that, of course. But he has allowed an atmosphere in which bigots are free to spew their hatred, and — judging from the president's poll numbers with GOP voters — that's enough.
Dr. King adopted a lovely line from a 19th-century preacher named Theodore Parker: "The arc of the moral universe is long, but it bends toward justice." That may be true, but the arc needs help in the bending.