GOP Family Values? Grabbing Children From Parents And Losing Them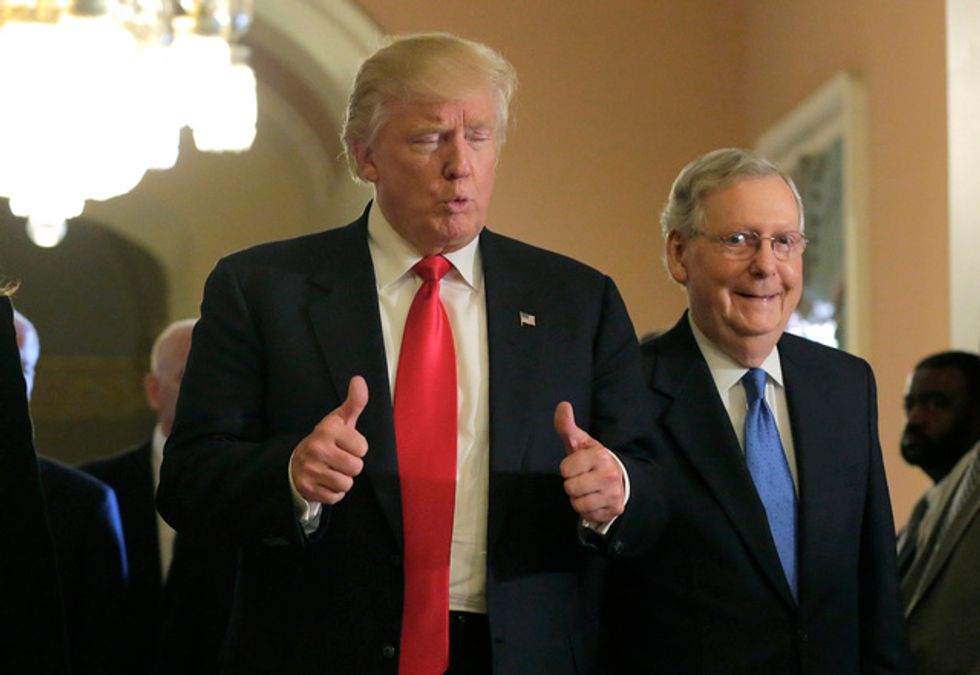 Reprinted with permission from DCReport.
In a weekend tweet, Trump criticized Democrats for a law that calls for separation of immigrant families who cross the border illegally, sending children into detention centers to assure that parents will show up for deportation meetings.
It is a horrible practice, but the policy is that of the Trump administration, not the Democrats, and it's not a law.
In a tweet on Saturday, Trump urged Americans to "put pressure" on the Democrats to "end the horrible law that separates children from there [sic] parents."
This is the separation policy that Trump's own administration put into effect last month, and was underscored in a speech in early May by Attorney General Jeff Sessions.
It is true that the policy has run into criticism for the dehumanization of people, and even as bad immigration policy. It has led to court confrontations over medical treatments for minors under detention, including at least two cases involving directed overturning of attempts by the government to stop to unwanted abortions. But mainly it is seen as an unseemly way to force parents to show up for deportation hearings.
On top of all that, the government apparently has lost some of its detainees in the mix. In Senate testimony, last month, Steve Wagner, acting assistant secretary of the Health and Human Services department charged with housing under-age immigrants along the border, said the government was unable to locate nearly 1,500 children who had been released from its custody. Wagner insisted that the federal agency is "not legally responsible for children" once they have been handed over to a sponsor.
Rep. Ted Lieu (D-Calif.) took Melania Trump to task in light of her new "Be Best" mission for children. "Separating toddlers from parents is definitely not a 'Be Best' policy," he tweeted. "Are you going to do anything about it?"
White House chief of staff John Kelly, who called the harsh new policy a "technique" and a "tough deterrent," explained earlier this month to NPR: "They'll be sent to foster care—or whatever. But the big point is they elected to come illegally into the United States."Until recently, families that illegally crossed the Mexican border together generally faced civil deportation proceedings. But as of May, the Trump administration is sending all parents to jails run by the U.S. Marshals Service. Because migrant children cannot be held in jails, they are placed elsewhere by the HHS Office of Refugee Resettlement. Before the Trump administration, the office handled children who crossed the border alone.
Senate testimony that was released last month but came to light more recently details how the Office of Refugee Resettlement (ORR)—part of the Department of Health and Human Services—"was unable to determine with certainty the whereabouts of 1,475 [children]." Wagner said the ORR was tasked between October and December 2017 with checking on the welfare of the more than 7,000 children supposedly placed into the homes of a sponsor or guardian. Along with the nearly 1,500 missing children, an additional 28 ran away and 52 were living with someone other than their initial sponsor, according to the testimony. In 2017, more than 40,000 children were taken from the U.S.-Mexico border by the Department of Homeland Security and handed over to the ORR. One of those problems apparently included a terrifying 2014 mistake in which the ORR released several minors to human traffickers.
"This is as horrific a policy as I've seen in 25-plus years doing civil rights work," Lee Gelernt, an attorney with the ACLU's Immigrant Rights Project, told The Huffington Post, adding, "No child should be sent to these government facilities if they don't have to be, especially with all these problems in the ORR system." What happens when a child can't be located by the ORR? Nothing, if the system continues to stay in place.
Wagner said he would be taking a "fresh look" at whether the office should have more responsibility to protect the children it takes and gives away. But he also clarified to the subcommittee that if the office were to more rigorously keep track of the immigrant kids, the ORR would need "a significant expansion of the current program structure and an increase in resources."
All this comes as reports mount of a growing unhappiness between Trump and Kirstjen Nielsen, secretary of Homeland Security, over the beginnings of seasonal rises in the numbers of illegal border crossings. "As illegal crossings are once more on the rise and Trump hears a cascade of criticism from conservative allies, Nielsen finds herself on the receiving end of the president's visceral anger about immigration," according to The Washington Post.
It seems clear that the president has little regard for facts or for preparation, and is quick to blame someone, anyone, for whatever he finds makes him unhappy. The question this time is whether he can hear himself—and just stop what seems like cruel separations of immigrant families.