GOP Gets What It Deserves With Trump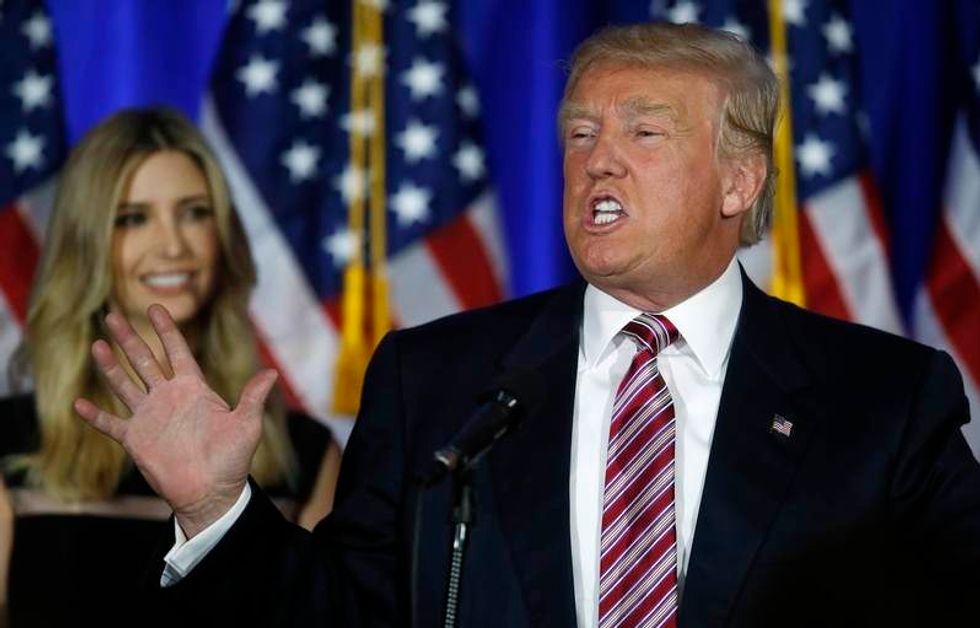 Republican establishment figures are feigning surprise over their nominee's racism, misogyny, narcissism and contempt for the rule of law, but they are being disingenuous. They've known for years the sort of man Donald Trump is. And they welcomed him and his money.
Now that the contemptible Trump is the titular head of the GOP, he threatens to destroy it — to so taint the party of Abraham Lincoln that it will never again appeal to a majority of American voters. That's especially true of voters of color, most of whom Trump has treated to an egregious litany of contempt. But it's also true of women, upward of 70 percent of whom regard Trump unfavorably, according to recent polls.
Even now, though, most leading Republicans lack the moral courage to reject him as a possible president of the United States. Despite their earlier criticisms of the celebrity TV host, they've fallen in line behind him.
The hypocrisy has been cringe-inducing, the gravity-defying reversals revolting. During the Republican primaries, Marco Rubio called Trump a "con artist" and predicted that having Trump as the nominee would "shatter and fracture the Republican Party and the conservative movement." You may recall that Chris Christie, who joined Trump's claque ahead of the stampede, once dismissed the real estate mogul's lack of preparation for office with this dead-on critique: "Showtime is over. … We are not electing an entertainer-in-chief." Lindsey Graham characterized Trump, accurately, as a "race-baiting, xenophobic, religious bigot."
At least Graham has had the decency to suggest that his fellow Republicans reconsider their support for Trump. Sen. Mark Kirk, R-Ill., has done just that, rescinding his earlier endorsement and saying that Trump "does not have the temperament" to be president. That may not hold up in the history books as the sort of stinging rebuke that Joseph Welch issued to Joe McCarthy — "At long last, have you left no sense of decency?" — but it has gained attention because it goes against the grain.
Most leading Republicans are hanging on, claiming that a President Trump would be better than his rival, Hillary Clinton. That's true, apparently, even if he's a racist who would upend the Constitution, ban Muslims, berate and intimidate judges and mock people with disabilities.
Perhaps the most embarrassing case of spinelessness is that of House Speaker Paul Ryan, who has long been touted as the party's best hope for a youthful rejuvenation. Ryan rightly called out Trump for his awful smear of a sitting federal judge, characterizing it as "the textbook definition of a racist comment."
So did Ryan then turn his back on Trump and suggest Republican voters do the same? Oh, no. Trump's remarks were racist, but Ryan is still supporting him.
While this has been dispiriting to watch, it is hardly surprising. The GOP has had Trump-ism in its bloodstream for decades now, and the party's leaders have nurtured and fueled it. They have pandered to the nativists and xenophobes among the party's core voters, fueled the paranoia of the anti-government crowd and cozied up to the racists. When President Barack Obama was elected, spurring an intense backlash from racially antagonistic white voters, Republican leaders rushed to surf the waves.
They were silent as conservative talk-radio hosts and pundits mocked and disparaged first lady Michelle Obama, with some, including conspiracy theorist Alex Jones, insisting that she's a man in drag. They said nothing as tea partiers mounted protests with ugly signs depicting the president as a witch doctor. They were complicit when the so-called birther movement swept certain corners of the conservative constituency.
And who was one of the leaders of that cult of fringe lunacy that insists that the president was not born in the United States?
Why, a certain Donald Trump was, whipping up a ludicrous idea that was nothing more than an attempt to delegitimize the first black president, to paint him as non-American, to claim he was a usurper to the Oval Office. So there is nothing surprising about Trump's current views.
Still, it's discouraging to watch a once-great political party poison itself with the bile of bigotry, even if its members have been sipping from the vial for some time.
Cynthia Tucker won the Pulitzer Prize for commentary in 2007. She can be reached at cynthia@cynthiatucker.com.
Photo: Republican U.S. presidential candidate Donald Trump speaks as his daughter Ivanka (L) looks on at a campaign event on the day that several states held presidential primary elections, including California, at the Trump National Golf Club Westchester in Briarcliff Manor, New York, U.S., June 7, 2016.   REUTERS/Carlo Allegri