GOP Majority Leader Told Colleagues In 2016: "Putin Pays" Trump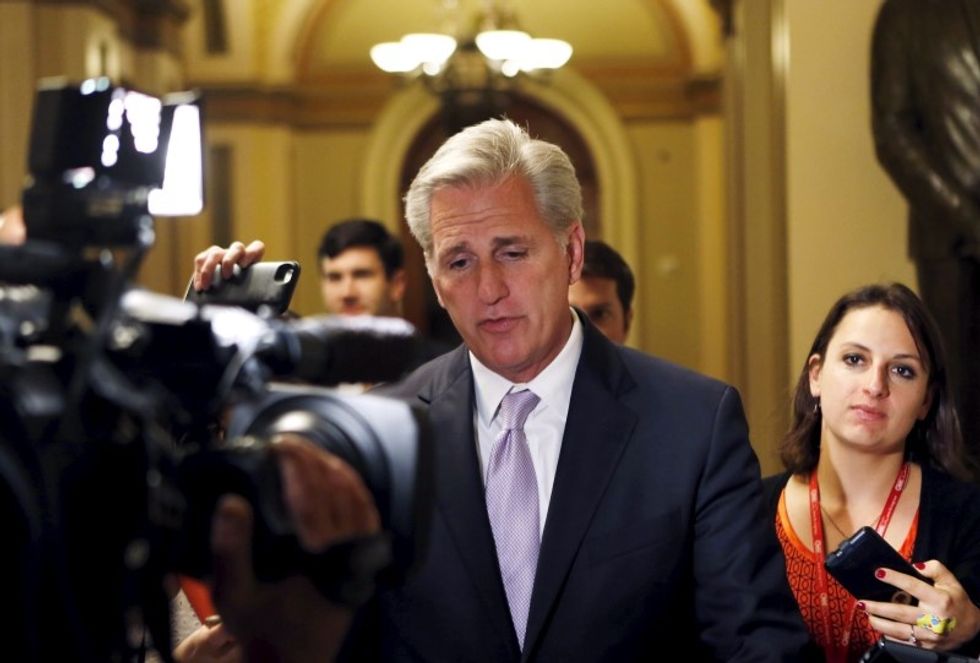 America got a glimpse today of the cynicism that infects Paul Ryan and the Republican leadership in Congress — even as the Speaker expressed his continuing support for Donald Trump, whose campaign is now officially under investigation by special counsel and former FBI director Robert Mueller.
In remarks about the deepening Russia scandal that threatens to engulf Trump's presidency, Ryan cautioned against a "rush to judgment," urged a search for "facts," but added: "It is obvious that there are some people out there who want to harm the president." And when a reporter asked whether he maintains "confidence" in Trump, Ryan replied "I do."
Only Ryan can explain why he would still trust Trump after learning that the president fired FBI director James Comey to kill the Russia investigation, after asking Comey last February to bury the Michael Flynn case. But it is now clear that the House leadership realized Trump was untrustworthy and unfit no later than last summer — and concealed those suspicions for purely partisan reasons.
According to Washington Post national security reporter Adam Entous, Ryan and his deputy, Majority Leader Kevin McCarthy (R-CA), engaged in a frank discussion of Trump's suspected ties to the Kremlin last June, immediately following news of the Russian hack of the Democratic National Committee.
On June 15, 2016, both Ryan and McCarthy held separate meetings at the Capitol with Ukrainian Prime Minister Volodymyr Groysman, who described Russia's aggressive interference in European politics and how Moscow was "financing our populists, financing people in our governments to undo our governments."
. Later that day, Ryan and McCarthy met with other members of their leadership group — including Cathy McMorris Rodgers, Steve Scalise, and Patrick McHenry — and talked about the Ukrainian official's warning. Soon the discussion turned to the news of the DNC hack.
"I'll guarantee you that's what it is," blurted McCarthy with a laugh. "The Russians hacked the DNC and got the opp [opposition] research that they had on Trump." When Ryan wondered who had received that oppo research from the Russians, McCarthy said, "There's . . . there's two people I think Putin pays: [California Republican Rep. Dana] Rohrabacher and Trump." When his colleagues laughed, he added, "Swear to God."
At that point Ryan admonished them all, "This is an off the record…No leaks, all right? This is how we know we're a real family here."
"That's how you know that we're tight," chirped Scalise.
"What's said in the family stays in the family," Ryan reiterated, sounding like a mob capo (and unaware, like so many actual Mafia bosses, that one of his soldiers was recording his comments and would eventually rat).
So House leaders suspected Trump of being compromised in the worst possible way for a future president — and supported him anyway. And they wanted to be sure that voters had no clue to their suspicions.
When Entous told spokespersons for Ryan and McCarthy that the paper was preparing a story about that meeting and read the quotes, they denied that the House leaders had ever said those words. Then when Entous told them that he had a recording of the meeting that the Post had verified, the spokespersons came back with a new explanation: McCarthy had been making "a joke."
It's all just too hilarious —  except that these are the clowns who control Congress at a time of grave peril for democracy, in our capital and in the world.
(The full story by Entous provides valuable context, which includes a sidebar transcript, is well worth reading.)
IMAGE: House Majority Leader Kevin McCarthy (R-CA) leaves after a meeting with Rep. Paul Ryan on Capitol Hill in Washington, October 21, 2015. REUTERS/Yuri Gripas.