GOP Males On Senate Judiciary Hire Woman To Question Ford
@KailiJoy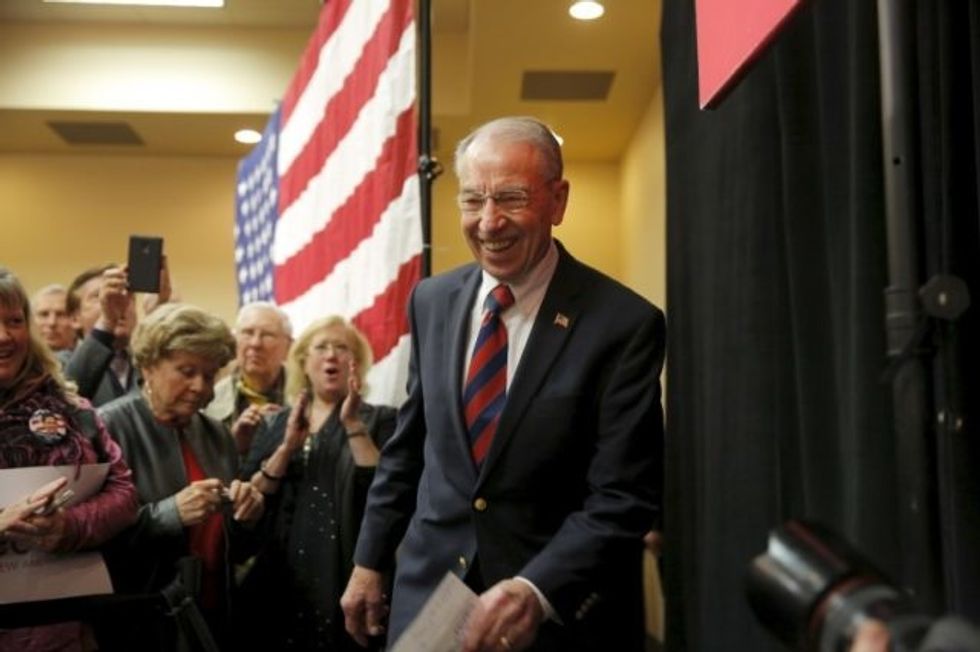 Reprinted with permission from Shareblue.
(UPDATE: On Tuesday evening, Senate Republicans identified the woman they will bring in to question Christine Blasey Ford as Rachel Mitchell, a deputy county attorney and sex crimes prosecutor in Maricopa County, Arizona, where she once worked for Joe Arpaio, the county's sheriff later convicted on felony charges and then pardoned by Trump. Before her name was released, Senate Majority Leader Mitch McConnell described the outside counsel on Twitter as a "female assistant," drawing wide derision.)
Republicans on the Senate Judiciary Committee know they have a serious problem. A woman problem. As in, they don't have any.
Republicans have been attacking, smearing, and undermining Dr. Christine Blasey Ford and her very credible allegation that Brett Kavanaugh tried to rape her when they were both in high school. And that's exactly what they intend to do more of Thursday, when Ford and Kavanaugh testify before the committee.
Letting a group of Republican men viciously attack a woman testifying about sexual assault is a bad look, and they know it. But with only six Republican women in the entire U.S. Senate — and none of them on the Judiciary Committee — the men have taken the incredibly unusual step of hiring a woman to do their dirty work for them.
Committee chair Chuck Grassley of Iowa acknowledged Tuesday that his team had indeed hired a woman to question Ford during Thursday's hearing. But he's refusing to say who she is.
"We aren't announcing the name for her safety," Grassley said. Not that Grassley has any reason to be concerned for the mystery woman's safety, he admitted. They're "just being cautious" anyway.
Last week, Texas Sen. John Cornyn, who also sits on the committee, floated the possibility of hiring a woman, since the Republicans on the committee have none of their own.
Since then, Sen. Bob Corker of Tennessee came right out and said what the fear among those male Republicans is.
"Inadvertently somebody will do something that's insensitive," Corker said. Corker isn't wrong to be concerned. The men in his party have already demonstrated plenty of insensitivity toward Ford.
Utah Sen. Orrin Hatch, another member of the committee, has dismissed Ford's story, saying she is "mistaken." Worse, though, he has said that even if she is not mistaken and Kavanaugh really did try to rape her, he is still a "good man" who belongs on the Supreme Court.
South Carolina Sen. Lindsey Graham, also on the committee, complained over the weekend that denying Kavanaugh a seat on the Supreme Court because of an allegation of sexual assault would unfairly "ruin" Kavanaugh's life.
Graham has expressed no concern for Ford, who has spent more than three decades living with her assault, has sought therapy because of it, and was forced to leave her home because of the threats she and her family have received since she went public with her story.
Despite the Republicans' obvious plan to shove Kavanaugh on the court, regardless of the testimony against him or any other allegations that have come out, they desperately want to avoid looking sexist. They're even complaining about how bad they look — and trying to blame Democrats for it.
But they have only themselves to blame. The GOP has a problem with women, something that has been made worse by making an admitted sexual predator the leader of their party.
Now Republicans are running an ugly and unbelievably misogynistic campaign to put an alleged sexual predator on the highest court in the land. And they're hoping they can fool the American public by hiring a woman to hide behind.
Published with permission of The American Independent.