GOP Reacts To Clinton's Economic Policy Speech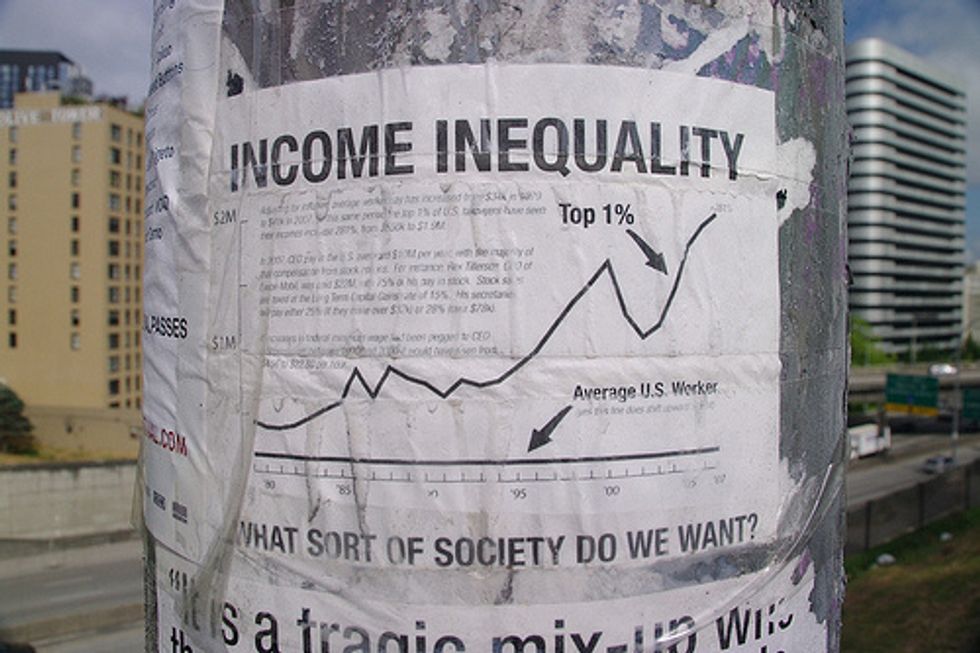 Hillary Clinton's speech on Monday morning outlined her intention to make closing the income gap the cornerstone of her economic policy. Raising incomes for the middle class, she said, is the "defining economic challenge of our time."
You can imagine how that might have rubbed the right wing the wrong way.
Clinton's remarks were an apparent rebuke to GOP candidate Jeb Bush, who said last week that Americans needed to work longer hours, but made no mention of raising wages. "He must not have met many American workers," Clinton said in her speech, which acknowledged that growth is important, but GOP promises of "growth" leave middle-class Americans behind.
In a video released by his campaign Monday afternoon, entitled "4 percent," Bush called Clinton and her Democratic allies "defeatist" and asserted his own plan to achieve 4 percent economic growth and create 19 million jobs, while decrying the "deeply pessimistic view that is embraced by the progressive liberals in our country."
Defeatist @HillaryClinton doesn't believe we can grow at 4% and create 19m jobs. I do. http://t.co/9oKDEFB5IB

— Jeb Bush (@JebBush) July 13, 2015
The National Review's Charles C. W. Cooke accused Clinton and her ilk of being "stuck squarely in 1938." Cooke took particular issue with what he characterized as her Luddite and statist attitude toward the so-called "sharing economy" or "gig economy," in which people patch together their income from a series of self-employed side jobs. The gig economy is powered by a host of websites (like Airbnb, Uber, and Etsy, to name just a few) that make it possible for anyone to become an independent contractor as a hotelier, cabbie, or stay-at-home tchotchke maker — but without any job security, insurance, or full-time benefits. Hers is an "intolerably prescriptive perspective," Cooke says, that unfairly cracks down on would-be freelancers.
The country of the "Clinton-Sanders-Warren-O'Malley project," Cooke writes, is one "in which our heinously outdated, grossly illiberal, neo-Prussian educational system is to be set more firmly in place — even as it crumbles and falls. It is a country in which the state must determine which firms are Good and which firms are Bad, and reward or punish them according to its whim. It is a country in which Upton Sinclair is an up-and-coming writer, and in which anybody who doubts the efficacy of federal control is in danger of falling headfirst into a rendering vat."
Stephen Moore from Fox News accused Clinton of caving to pressure from far-left Democratic candidate Bernie Sanders (I-VT), and "slamming the door on the successful centrist agenda of her husband" in favor of recycling a tired, bankrupt economic agenda that has no chance swaying "everyday Americans."
Clinton had said in her speech that she intended to strengthen regulation "beyond Dodd-Frank," and Republican presidential candidate and former Hewlett-Packard CEO, Carly Fiorina, took this as an indication that Clinton "doesn't actually understand how the economy works."
In a video posted on Breitbart, Fiorina said that Clinton's speech was "a bundle of contradictions and a litany of progressive prescriptions," which exposed Clinton as a "card-carrying member of the political class" since she failed to call out the federal government for its incompetence and corruption. Clinton's proposals, she said, were an example of "crony capitalism at its worst."
 Photo: mSeattle via Flickr