Controversy Hampers Rising GOP Star Wehby As Primary Approaches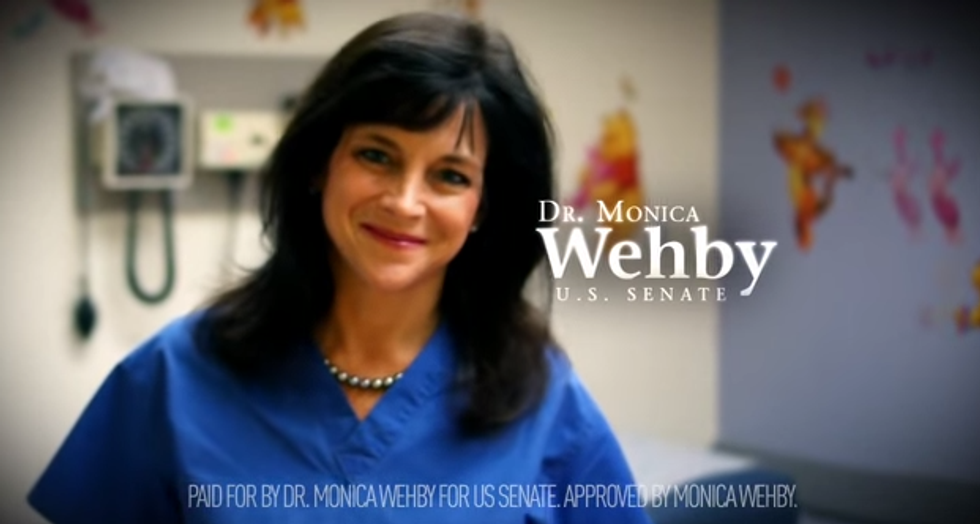 Republicans in Oregon were hopeful that Salem-based pediatric neurosurgeon Monica Wehby could give Democrats a run for their money in the state's 2014 Senate race. But the spotlight that has shone on the first-time candidate may have them rethinking whether Wehby is the formidable candidate they hoped for.
On Friday, Politico reported that Wehby was accused of stalking her ex-boyfriend Andrew Miller in April 2013. According to a police report, Miller claimed that Wehby entered his home without permission and even harassed his employees. He claims he now regrets calling the police, and that he and Wehby remain friends to this day.
Complicating matters, Miller's company, Stimson Lumber, is one of the Wehby campaign's primary donors. Miller also teamed up with Nevada businessman and sex hypnotherapist Loren Parks to create "If He Votes That Way in Salem, Imagine What He Will Do in Congress," a committee directly dedicated to challenging Wehby's primary opponent, state representative Jason Conger. The team privately funded attack ads against Conger, with Miller providing over $30,000 and Parks offering $70,000.
This prompted the Democratic Party of Oregon to file a formal complaint with the Federal Election Commission. The complaint alleges that given the relationship between Wehby and Miller, it is impossible that she did not know about their plan to release the ad. Whether Wehby was aware of the ads prior to their release, or if Miller — a private donor — is privy to campaign strategy, she may be in violation of election law and could be required to pay a fine.
Wehby's troubles don't end there. On Monday, she appeared before a judge to defend surgeries she performed on children under the care of Katherine Parker. Parker is accused of 18 counts of criminal mistreatment or first-degree assault for convincing doctors her children needed unnecessary surgery.
Conservative-leaning groups Wenzel Strategies and the Taxpayer Association of Oregon PAC both released polls in early May showing Wehby leading Conger by 21 and 20 points, respectively. But a mid-April survey from Democratic pollster Benenson Strategy Group found Conger leading by 2 percent, with most Oregon Republicans undecided.
Since Oregon employs a vote-by-mail system, many ballots were mailed and returned before the negative accusations against Wehby broke. But even if the incidents create only a minor backlash in the primary election, they could hurt her already difficult bid to unseat the Democratic incumbent, Senator Jeff Merkley.
In a general election matchup, a Daily Caller poll finds Wehby ahead of Senator Merkley 45-41 percent. Alternatively, Benenson shows Merkley leading by a 20 percent margin.
In any case, unseating the incumbent will be a challenging task in Oregon, where voters haven't elected a Republican in a statewide election in 12 years.
Screenshot: Monica For Congress YouTube
For more midterm election news, sign up for our free daily newsletter.