GOP Senator Bought Defense Stock After Pushing Record Pentagon Budget
@FAWFULFAN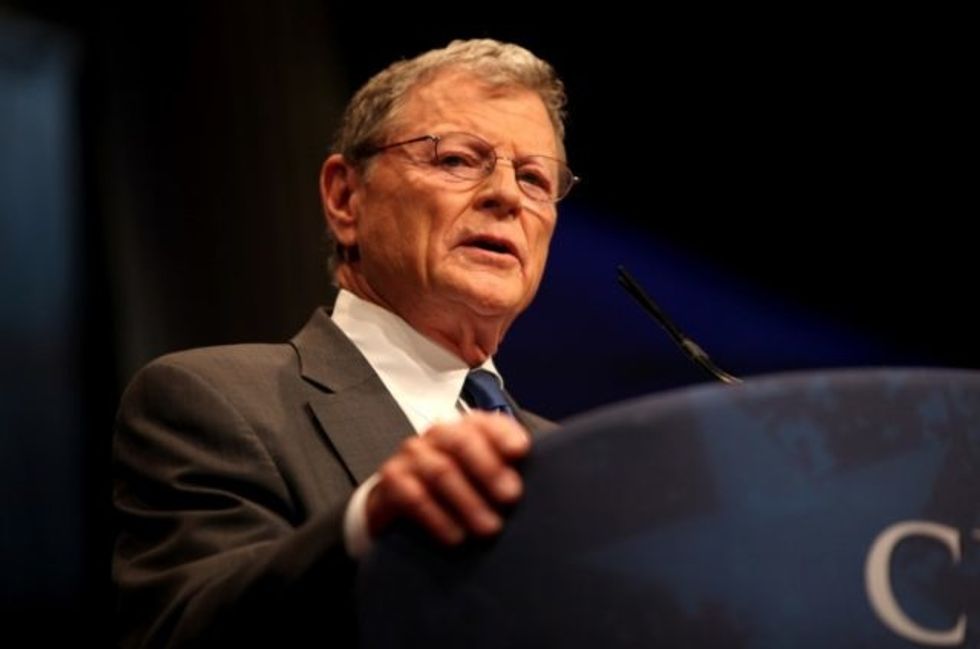 Reprinted with permission from AlterNet.
On Wednesday, The Daily Beast reported that Sen. James Inhofe (R-OK) made a massive purchase of stock in a defense contractor shortly after the negotiation of a massive increase in Pentagon spending:
Inhofe, who took over the top spot on Armed Services after the death of Sen. John McCain (R-AZ) in August, has repeatedly pressed President Donald Trump to dramatically scale up the Pentagon's annual budget, which currently stands at $717 billion. Last week, after Trump hinted he would like to scale back parts of that budget, Inhofe met with the president and Defense Secretary James Mattis, after which it was announced that the administration would seek even more defense funding: a record $750 billion in spending for fiscal year 2020.
News of that budget request broke on Sunday. On Tuesday, Inhofe's financial adviser bought him between $50,000 and $100,000 in stock in defense contractor Raytheon, according to documents filed with Senate ethics officials.
Moreover, when The Daily Beast reached out to his staffers to inquire about the purchase, "Inhofe's office said the senator had contacted his financial adviser to cancel the transaction and instructed him to avoid defense and aerospace purchases going forward."
Inhofe's purchase was probably not a violation of insider trading laws, which state that members of Congress are allowed to trade stocks based on public information. Because the budget request was made public two days before the purchase, the information was public.
Nevertheless, it raises serious ethical red flags, given that Inhofe, as a powerful senator with control over defense spending, by extension had some power over where the stock price was headed. And social media responded to the news with outrage.
I'm gonna go out on a limb and suggest that if you're chairman of the Senate Armed Services Committee, best practices would dictate that you not buy stock in defense contractors. https://t.co/pSzqVtubqm via @thedailybeast

— Robert Wright (@robertwrighter) December 13, 2018
Typical compromised pig at the trough. Ethics is a foreign word to them. https://t.co/ULAU8cvvRP via @thedailybeast

— Walter Kennedy (@WalterWKennedy) December 12, 2018
Thank you @lachlan for calling out my senator @JimInhofe.

This kind of blatant corruption is incompatible with a functioning democracy.https://t.co/CEpLuEW5L5

— Alex Shirley (@AlexMShirley) December 12, 2018
Going forward, a safer approach to ethics law might be to simply ban members of Congress from buying and selling individual stocks altogether for as long as they are in office. As it happens, Sens. Sherrod Brown (D-OH) and Jeff Merkley (D-OR) have a bill to do precisely that.
Matthew Chapman is a video game designer, science fiction author, and political reporter from Austin, TX. Follow him on Twitter @fawfulfan.