GOP Senators Angered By Trump's Lurch From Tariffs To Farm Bailouts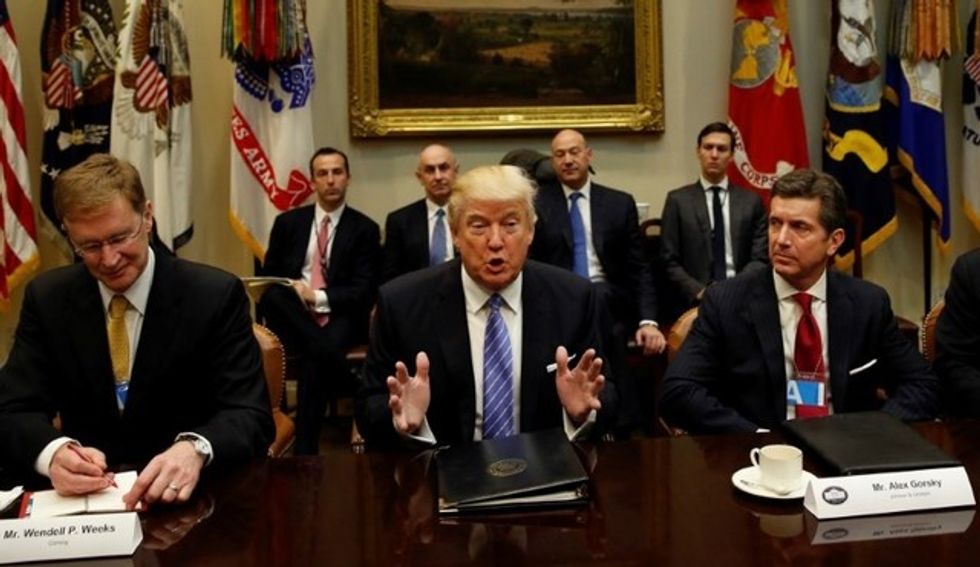 Reprinted with permission from AlterNet.
President Donald Trump's administration is reportedly planning to provide $12 billion in aid to farmers struggling as the result of his trade war, and many of his fellow Republicans are furious.
Historically, of course, Republicans have been ideologically oriented against tariffs and direct industrial subsidies, and many fervent free-market advocates see Trump's move as a betrayal.
"America's farmers don't want to be paid to lose – they want to win by feeding the world," said Sen. Ben Sasse (R-NE) in a statement. "This administration's tariffs and bailouts aren't going to make America great again, they're just going to make it 1929 again."
Sen. Ron Johnson (R-WI) even compared the policy to Soviet Union-style market controls.
"This is becoming more and more like a Soviet-type of economy here: Commissars deciding who's going to be granted waivers, commissars in the administration figuring out how they're going to sprinkle around benefits," he said, according to Politico.
Sen. Bob Corker (R-TN), who has become a prominent Trump critic within the party, said he was surprised that the party wasn't acting more strongly against the plan.
"You have a terrible policy that sends farmers to the poorhouse, and then you put them on welfare, and we borrow the money from other countries," Corker told Bloomberg reporter Sahil Kapur.
He added: "It's hard to believe there isn't an outright revolt right now in Congress."
"Where do you draw the line?" Sen. Lisa Murkowski told Kapur, wondering what other groups might be eligible for government support. "I've got some real concerns."
At the same time, it remains unclear whether congressional Republicans are actually prepared to do anything to stop Trump. Even when they talk tough, they remain cowards when it comes to actually challenging and checking his authority.
Cody Fenwick is a reporter and editor. Follow him on Twitter @codytfenwick.