GOP Still Struggling With Outreach Initiative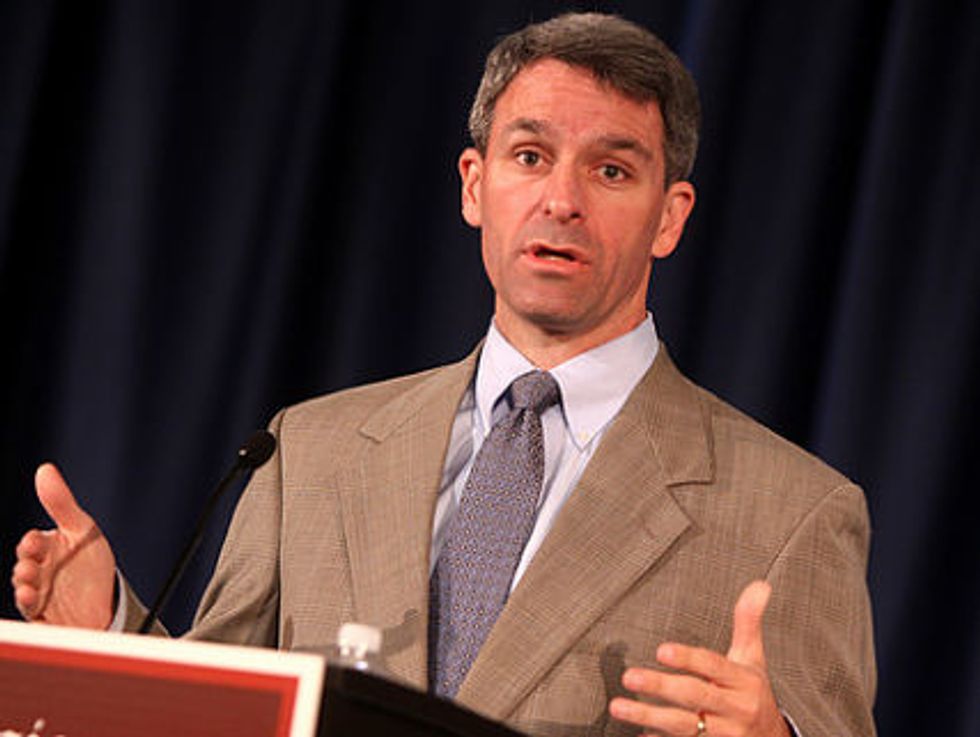 The Republican Party's "outreach" initiative is still struggling to gain traction, as major party figures can't seem to stop themselves from offending the party's target audience at every available opportunity.
Soon after the Republican National Committee suggested that the party expand its tent, Congressman Don Young (R-AK) fondly reminisced about the "wetbacks" who used to work on his father's ranch, while the chairwoman of the Georgia GOP explained that gay marriage is just an Adam Sandler movie come to life.
This week, two major party figures are making the problem worse. First, there's RNC Chairman Reince Priebus. On Wednesday, Priebus took a break from "developing a forward-leaning vision for voting Republican that appeals to women" — as his own GOP "autopsy" prescribed — to lecture women about killing babies.
In an op-ed for Erick Erickson's right-wing RedState blog, Priebus railed against the media's apparent coverup of the "Democrat-Backed Planned Parenthood's Support for Infanticide."
The op-ed recounted the testimony of Alisa LaPolt Snow, a Planned Parenthood lobbyist, before the Florida state legislature. Snow, who is not a medical professional, was unable to answer several hypothetical questions about botched abortions to the satisfaction of her Republican inquisitors. To Priebus, this represents a high crime — and the fact that the media doesn't share his outrage represents a coordinated coverup.
"The president, the Senate Majority Leader, the House Democratic Leader, and the Chair of the Democratic National Committee (in whose home state this hearing occurred) made funding Planned Parenthood an issue in the 2012 campaign. They should now all be held to account for that outspoken support," Priebus wrote. "If the media won't, then voters must ask the pressing questions: Do these Democrats also believe a newborn has no rights? Do they also endorse infanticide?"
Of course, Planned Parenthood's primary goal is not infanticide — in reality, 97 percent of its services are preventive care such as breast exams, STI screenings, and providing contraceptives. But hey, surely accusing the millions of women who rely on the organization for their basic health care needs of being accessories to child murder will turn them Republican in no time.
Priebus isn't alone in botching the GOP's charm offensive. On Wednesday, it was reported that Virginia attorney general and gubernatorial candidate Ken Cuccinelli had filed a petition with the 4th Circuit U.S. Court of Appeals, hoping to reinstate Virginia's sodomy law. The law, which was ruled unconstitutional in March, made it a felony for consenting adults to engage in oral or anal sex.
While this type of moral crusade is nothing new for Cuccinelli — who famously fought to cover up the exposed breast on Virginia's state seal — it seems unlikely to help the GOP expand its base. After all, as Mother Jones points out, if Virginia's sodomy law were applied nationwide, 90 percent of men and women between the age of 25 and 44 would suddenly become felons.
Priebus, Cuccinelli, Young, and all of the other Republicans who can't seem to contain their extremism demonstrate why the GOP's rebranding was doomed from the start. The Republican National Committee can talk about improving its messaging all it wants, but until further notice, the GOP still seems more like the party of Rick Santorum than a party that can win a national election.
Photo: Gage Skidmore via Flickr.com