GOP Surge Crushes Democrats' Hopes Of Taking Governors Races Nationwide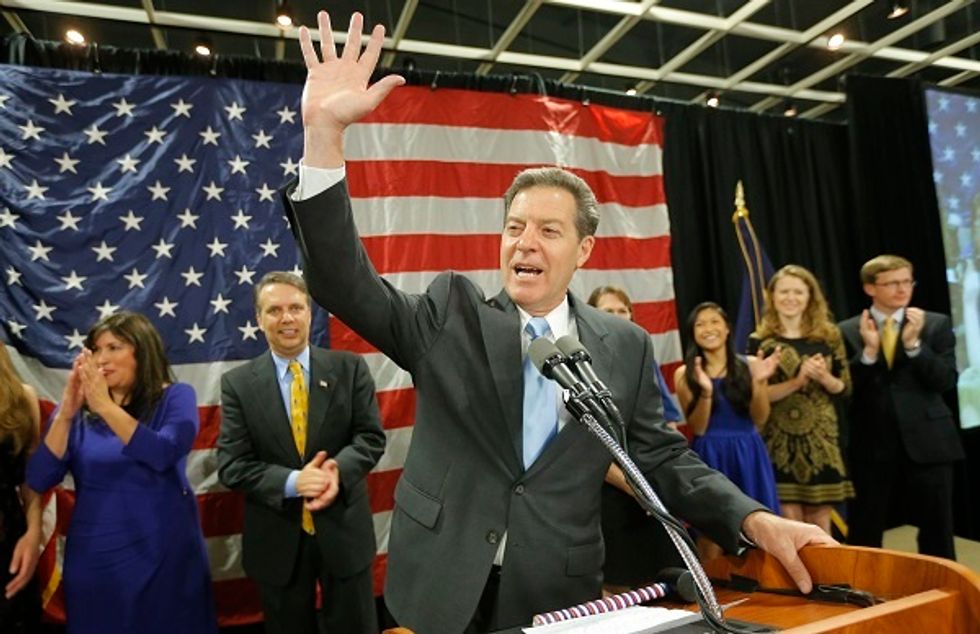 By Lindsay Wise, McClatchy Washington Bureau (MCT)
WASHINGTON — Democrats' hopes of ousting a number of beleaguered Republican governors on Tuesday were crushed by the GOP wave that also flipped control of the U.S. Senate.
Democratic governors from Connecticut to Colorado were at risk of losing their jobs, too, adding to the party's Election Day woes.
Democrats had aimed to win many of the 14 toss-up gubernatorial races, out of a total of 36 nationwide. By late Tuesday, they had prevailed in just two.
In deep-blue Massachusetts, Republican businessman Charlie Baker defeated state Attorney General Martha Coakley, a Democrat, in a race to replace outgoing Democratic Gov. Deval Patrick.
Republicans also captured Democratic-held governor's mansions in Arkansas, where Rep. Asa Hutchinson beat out Blue Dog Democrat Rep. Mike Ross; in Illinois, where Democratic Gov. Pat Quinn lost to Republican Bruce Rauner, an investment banker; and in Maryland, where Republican businessman Larry Hogan upset Democratic Lt. Gov. Anthony Brown.
Democrats did manage to pick up a governorship in Pennsylvania, where Republican Gov. Tom Corbett lost to Democratic businessman Tom Wolf. Corbett is the first incumbent governor in the state's history to fail to earn a second term. His chances for re-election were damaged by his handling of the Penn State sex-abuse scandal, as well as his support for big cuts to public education funds.
Pennsylvania turned out to be a rare bright spot for the Democrats.
Kansas Gov. Sam Brownback, the subject of early buzz as a possible presidential candidate in 2016, had to battle to keep his job after deep tax cuts he championed were followed by projections of a big budget shortfall. But in the end, the Republican governor defeated Democrat Paul Davis, the state House minority leader.
In Wisconsin, Democrats had targeted Republican Gov. Scott Walker for defeat after he clashed with the state's labor unions over collective bargaining rights. Walker hung on Tuesday to win a tougher-than-expected race with Democratic candidate Mary Burke.
Michigan Republican Gov. Rick Snyder also had made himself a target of the unions when he signed right-to-work legislation in 2012. But Snyder fended off his Democratic rival, Mark Schauer, a former congressman, to win re-election.
Florida voters, deluged by negative ads in a bitter race that smashed records for campaign spending, elected Republican Gov. Rick Scott for a second term, edging out Charlie Crist, a former Republican governor who was trying to return to office as a Democrat. Crist's campaign lost a bid to keep polls open late in heavily Democratic Broward County.
Nathan Deal, the Republican governor of Georgia, secured re-election against Democrat Jason Carter, a state senator and grandson of the former president, Jimmy Carter.
Paul LePage, the Republican governor of Maine, won a three-way competition with independent Eliot Cutler and a Democratic challenger, Rep. Mike Michaud.
In Alaska, Republican Sean Parnell took over as governor when Sarah Palin quit in 2009. Now he's running against a fusion ticket made up of independent candidate Bill Walker for governor and Democrat Byron Mallot as lieutenant governor. Palin has endorsed Walker and Mallot.
Colorado's first-term governor, John Hickenlooper, a centrist Democrat, was locked in a tight battle with his Republican opponent, former Rep. Bob Beauprez. Hickenlooper had hoped he could eke out a victory if voters credited him for the state's economic recovery. But Hickenlooper was vulnerable. He suffered a backlash from both Republicans and Democrats after he signed gun control laws last year, only to apologize in remarks to law enforcement officials this summer. He also took criticism for granting a temporary reprieve to a convicted killer on death row.
The gubernatorial race in Vermont was among those close to call early Wednesday as Democratic Gov. Peter Shumlin of Vermont clung to a thin lead over Republican Scott Milne.
Although most Democrats had kept their distance from Obama this election cycle, the president traveled to Connecticut on Sunday to rally voters in a last-minute attempt to boost the prospects of Democratic Gov. Dannel Malloy. Malloy was locked in a close race with Republican opponent Thomas Foley, a former private-equity executive.
In South Carolina, incumbent Republican Gov. Nikki Haley handily defeated Democrat Vincent Sheheen; in Ohio, Republican John Kasich won re-election as governor. Alabama Republican Gov. Robert Bentley also was re-elected, as were Republican Govs. Bill Haslam in Tennessee, Dennis Daugaard in South Dakota, Terry Branstad in Iowa, Matt Mead in Wyoming, Jim Risch in Idaho, Brian Sandoval in Nevada and Susana Martinez in New Mexico.
The GOP also won easily in Texas, where Republican Attorney General Greg Abbott beat state Sen. Wendy Davis; in Oklahoma, which re-elected Gov. Mary Fallin; in Arizona, where Doug Ducey won; and in Nebraska, where Republican Pete Ricketts was elected governor.
Among Democrats, New Hampshire Gov. Maggie Hassan triumphed in her bid for another term, beating Republican businessman Walt Havenstein, and Rhode Island Democrat Gina M. Raimondo, the state's treasurer, defeated Republican opponent Allan W. Fung, the mayor of Cranston.
The odds look good for Democrats in Hawaii, where state Sen. David Ige is expected to defeat Democrat-turned-independent Mufi Hannemann.
Democrats also won re-election in Minnesota and Oregon, and Democratic incumbents coasted to victory in California, where Gov. Jerry Brown won a fourth term and in New York, Andrew Cuomo swept to re-election by a large margin.
(Lesley Clark of the Washington Bureau contributed to this article.)
Photo: Kansas Gov. Sam Brownback waves to a cheering crowd in Topeka , Kan., on Tuesday, Nov. 4, 2014, after he was re-elected. (Travis Heying/Wichita Eagle/MCT)