The GOP Tax Bill Rammed Through Congress Paves The Way To Dismantle Government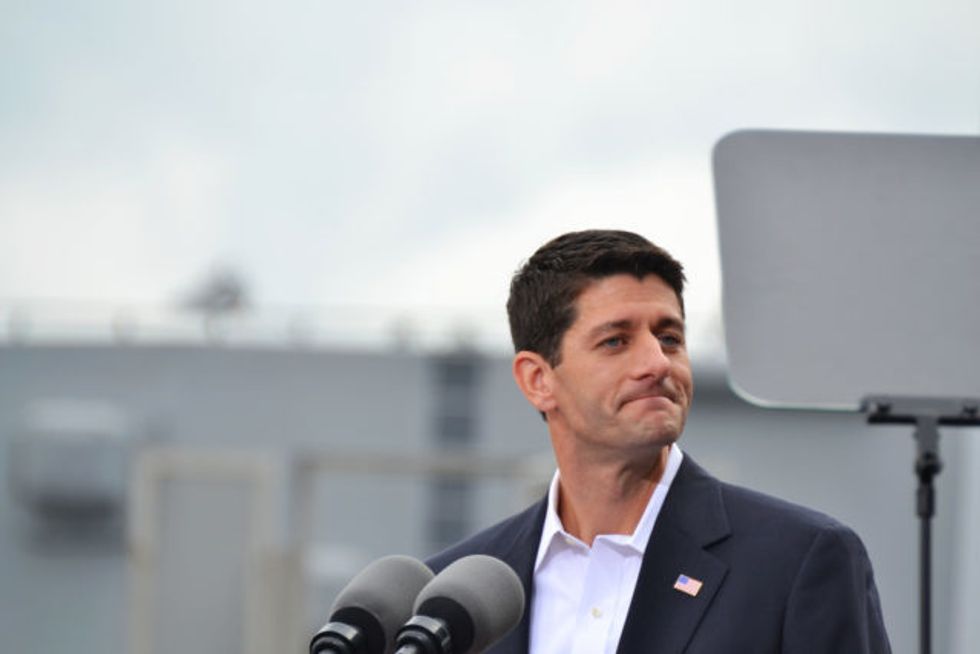 Reprinted with permission from AlterNet.

As the GOP tax bill raced through both chambers of Congress Tuesday, hurtling like a runaway train toward President Trump's desk, Americans should see this GOP effort for what it is in the sweep of history—the Republican dismantling of federal government.
The tax bill's specifics, with almost all of the benefits going to the very rich, confirm that the GOP's lock on federal power is as bad as many predicted before the 2016 election. But the tax bill is also Republicans' opening move to defund government—apart from national security, the military, infrastructure, and corporate welfare.
"The United States Senate should be doing more than providing 83 percent of the benefits in a tax bill to the top 1 percent," Sen. Bernie Sanders, I-VT, said during the Senate debate Tuesday. "We cannot go home unless we address the very serious crises facing the working families and the middle class of this country."
Sanders cited a long list of ignored crises—including some intentionally created by President Trump and the red-run Congress—that show the GOP is bent on destroying social safety nets. That unfinished business includes legalizing 800,000 Dreamers, or young people raised here who are the sons and daughters of non-citizens; funding community health centers that serve 27 million people; funding the Children's Health Insurance Program serving 9 million children; real disaster relief for Puerto Rico and the Virgin Islands; fixing a multi-employer pension fund that has 1.5 million retirees at risk of losing 60 percent of their anticipated income; reforming student loan debt for 40 million people; addressing a nationwide opioid epidemic; filling 30,000 vacancies in the Veterans Administration; and funding the Social Security Administration (in 2016, 10,000 people with disabilities died while awaiting review of their benefit applications).
"And on and on it goes," Sanders said, without citing specifics from the tax bill, such as how its cost, triggering past legislation controlling spending, will cut Medicare's budget by 4 percent. (Congress still has to pass a 2018 federal budget, which envisions cuts to social welfare programs, science and the environment.)
The thread that ties together this willful neglect is simple. Republicans want to devolve government back to the local level. That's been the political right's rallying cry ever since Franklin D. Roosevelt created Social Security in the 1930s and Lyndon B. Johnson created the Great Society's health safety nets in the 1960s.
The tax bill gives the GOP a way to do this. Most everybody knows the bill's fiscal benefits accrue to the already rich. But the tax bill has also been called unworkable by academics specializing in tax law.
On Tuesday, before the House passed it, business reporters noted the bill was moving so fast that the IRS would not be able to implement it when it goes into effect. For example, employers won't know how much to withhold from January payrolls. That "puts the onus on workers to make adjustments later in the year if too much or too little of their money is being withheld," Patricia Cohen wrote in the New York Times.
The New Yorker's John Cassidy noted the bill is likely to bring in less revenue than projected, because it will launch an avalanche of new loopholes to exploit.
"What isn't yet fully appreciated is how porous and potentially unstable the rest of the tax code will be after the bill is passed," he wrote. "With a corporate rate of just 20 percent, and a big new break for proprietors of unincorporated businesses and certain types of partnerships, the new code will contain enormous incentives for tax-driven restructuring, creative accounting, and outright fraud. Every tax adviser and scammer in the country will be looking for ways to reclassify regular salary income."
Cassidy noted these contortions are destined to undercut federal revenues, which many Republicans welcome as an avenue to shrinking the federal government.
"The shortfall in tax revenues could be enormous. Perhaps that is what Republicans want to happen," according to Cassidy. "Undoubtedly, there are some in the party who would like to see the tax base decimated, the I.R.S. crippled, and the federal government forced to slash spending on domestic programs, particularly entitlement programs. But, for anybody who believes in a properly functioning government, a rational, clearly defined tax system is essential. The Republican reform doesn't meet that standard."
But today's Republican leadership doesn't want a functioning government outside the security state, military and infrastructure that buoys corporate America.
It's hard to know what they are thinking as one looks ahead to the 2018 elections. If the GOP doesn't want to talk about character—which seems to be the ascendant issue, as seen by Roy Moore's loss in Alabama and the widespread backlash against male predatory sexual behavior, driven by suburban women who are voting in droves this year—then all the Republicans can point to is their tax bill. While the GOP's opponents will emphasize intentionally widening inequality, don't be surprised if Republicans recast their only major legislative achievement in 2017 as a victory against the phantom enemy they love to hate: big government.
Unfortunately, as Sanders pointed out on the Senate floor Tuesday, millions of Americans are getting hurt and are going to be hurt by this needless legislation and similar moves that are sure to follow.