GOP Tax Plan Will Send Health Costs Soaring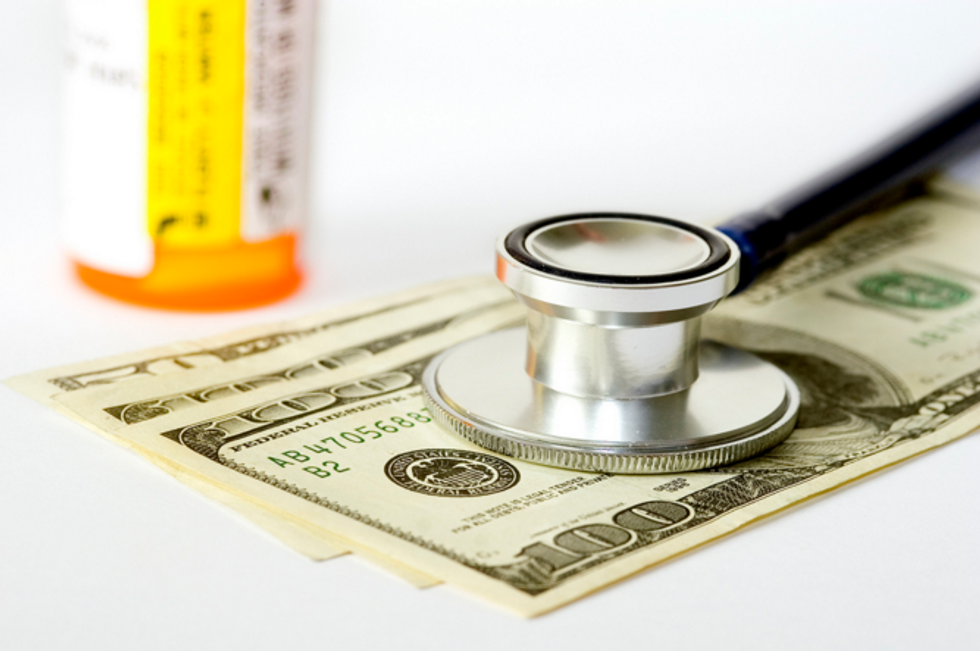 Reprinted with permission from AlterNet.
Of all the reasons the Republican tax bill will be a mugging of the majority of non-wealthy Americans, one reason stands out above all else—the bill will seriously set back everyone who has struggled to pay for health insurance and medical expenses.
Repealing the Obamacare coverage mandate is likely to prompt insurers to raise premiums by an estimated 10 percent annually into the foreseeable future, according to the nonpartisan Congressional Budget Office. Why? Because as up to 13 million people drop their policies—CBO's estimate—the remaining policy holders will end up paying more. (Those dropping coverage will revert to pre-Obamacare days of postponing treatments and hoping for the best.)
That's just the start of the dire news affecting health care costs, as anticipated increases will more than offset any tax break. Not that most Americans were going to see tax cuts anyway—the bottom 50 percent of wage earners will see their after-tax incomes shrink by 2 percent; the middle 40 percent's after-tax incomes will shrink by 0.6 percent; while the top 10 percent will see their incomes grow by 1.5 percent or more, the New York Times noted Monday.
There's more bad health care news. The tax bill's $1.5 trillion cost also preys on seniors, triggering spending cuts of 4 percent annually for Medicare, the federal health program for those 65 and older.
Currently, before Congress has its final votes on the bill, there's no shortage of physicians who do not accept Medicare, due to  reimbursement rates. The result is people needing to see some physicians have to pay cash up front, if they can, and then fight with supplemental insurance providers to be reimbursed. This downward spiral will only worsen as Congress cuts Medicare.
The GOP bill also trashes preventive health care for the poorest households, a majority of which are single mothers with children. The same budget pressures that trigger automatic cuts for Medicare will also apply to the food and nutritional assistance programs. Additionally, the bill's authors have swapped in a stingier formula for cost-of-living index increases—the so-called chained CPI. That new metric translates into less assistance, not more, for the needy in coming years.
The punishment of the poor and vulnerable doesn't stop there. The tax bill's changes in the earned income tax credit will divert an estimated $19 billion from poor families. The bill's new requirement that families seeking child tax credit provide a Social Security number will translate into higher taxes for undocumented immigrants, who work and pay taxes but lack that paperwork.
But the bill's biggest negative impact is that it will take bigger bites from paychecks and savings for health care spending. The bill's GOP authors will counter that they lowered the threshold for deducting medical expenses from 10 percent of annual income to 7.5 percent. However, like many GOP tax breaks, it can only be claimed after spending the money in the first place—if you have it.
The coming shocks to the health care system have prompted industry experts and insiders to beseech Congress to vote no on the bill this week.
"In the wealthiest country on earth, 40 million people live in poverty," tweeted Andy Slavitt, who ran the Medicaid and Medicare programs for the Obama administration. "The GOP tax bill would dramatically increase the wealth of the very wealthy & begin a cycle of cuts to poverty & health programs… Uneasy Rs have one last chance."
"This is a horrid bill," John Baackes, chief executive of L.A. Care, a public plan covering 2 million mostly poor residents of Los Angeles County, told the L.A. Times. "They haven't been able to repeal and replace [Obamacare], so they'll attack it through the budget by looking for ways knock down the money that's needed to cover people."
But high-ranking Republicans, like House Speaker Paul Ryan, have told conservative radio that cutting health care programs is their top federal budget priority—with Ryan saying he will be targeting welfare, Medicare and Medicaid (state-run care for those under 65) in 2018.
Meanwhile, neither Ryan nor his Senate counterparts have taken action to continue funding CHIP, the federal health care program that covers 9 million poor children. (On Monday, Alabama announced it was freezing 2018 CHIP enrollment.)
The GOP bill is poised to cause real pain and suffering to people who struggle to pay for health care.
As Slavitt wrote late Monday, "BREAKING: Trump Administration announced it is ending program to pay differently to improve quality in Medicaid, as happens in Medicare & everywhere else. I've run these programs. This is tragic bigotry."
Yes, more bigotry against the middle class and working poor. Despite GOP campaign trail rhetoric, there's no tax simplification, fairness, economic growth or fiscal discipline in the Republicans' tax bill. It transfers money up the ladder to those already making six-figures and into corporate profits. Almost everyone else pays more—starting with their health care (or lack of it).