GOP's Cruel 'Health Care' Bill Goes After Children, The Poor And Veterans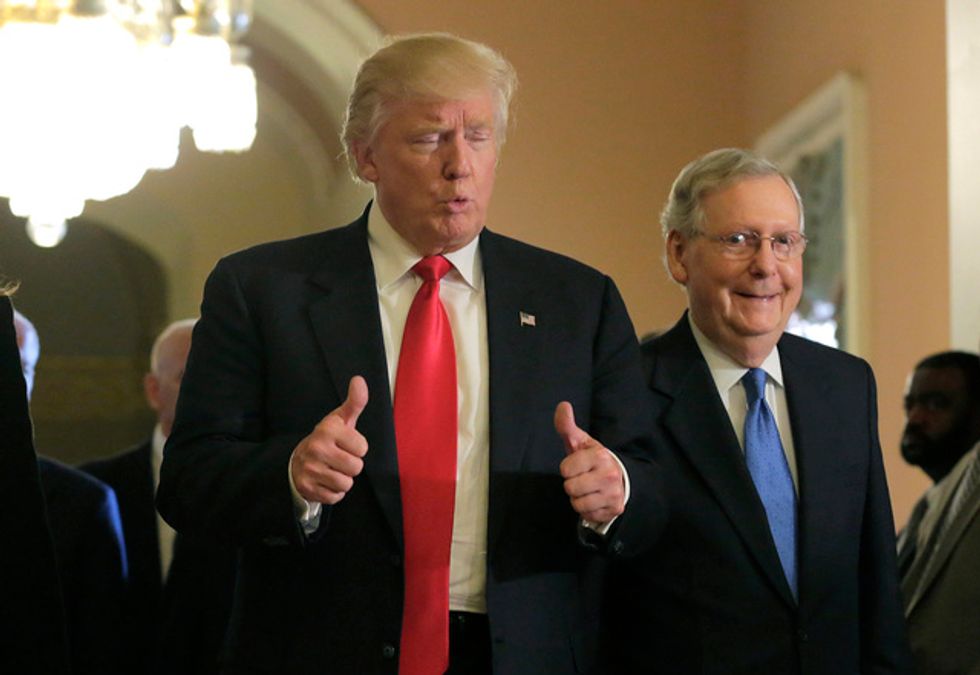 Reprinted with permission from Alternet.
Soon after Senate Majority Leader Mitch McConnell released his Obamacare repeal legislation Thursday, the verdict by health policy experts was the Senate GOP bill was a disaster like the House-passed bill. Then they started discovering its hidden features.
"The ACA is not repealed," tweeted Andy Slavitt, who ran Medicaid and Medicare for the Obama administration. "Health care for poor people, kids, the disability community and seniors is. The ACA income based tax credits stay—due to Senate rules. They just get bulldozed. More accurately, the people receiving the help do."
That's right, after years of railing against Obamacare, McConnell's bill doesn't repeal the Affordable Care Act. Instead it damages private insurance markets, seriously dismantles state-run Medicaid, leaves millions of women and children and vets without care, and further roils the private sector as business and personal healthcare costs will rise—as what is covered by insurers will shrink.
"Older people will be charged much more," Slavitt continued. "People over 350% of poverty [line household income] won't get any support. Insurance will only cover 58% of someone's needs… Millions of families lose coverage. Those with insurance will get a lot less."
Most people in America know what a disaster the GOP's health safety net slashing jihad is. Only 16 percent favor the GOP's bill, compared to 41 percent who favor Obamacare and another 28 percent who want to improve that law, The Wall Street Journal reported Thursday. But they don't know the hidden disasters.
This goes beyond playing politics to playing with people's lives—a point ex-President Obama said in a long FaceBook post on Thursday. This is deeper than the GOP yelling and screaming for years about how horrible Obamacare is and now making it worse. McConnell's spin is that the Senate is making improvements to the House bill, which doesn't hold up to scrutiny. But what McConnell wants the Senate to pass must be compared to current law and the current system, as imperfect as it is.
What's hidden in the bill, according to a joint statement from the American Academy of Pediatrics, Children's Defense Fund, Children's Dental Health Project, March of Dimes, First Focus, the National Association of Pediatric Nurse Practitioners, Family Voices, and the Children's Hospital Association. The Senate bill will permanently harm children, if its proposed spending cuts and dismantling of Medicaid were implement.
"Over time, capping Medicaid would likely force states to ration care, reduce eligibility levels, reduce benefits for children, or reduce provider reimbursement rates even further—all of which will result in diminished access to care for children and pregnant women," the eight patient care organizations said.
"Maternity, mental health, cancer treatments, not required," Slavitt tweeted. "Insurers won't cover expensive HIV & cancer meds if they are the only ones. Coverage will devolve. That's the point, not a side effect. The main event in the Senate bill is the destruction of Medicaid. Far, far worse than even the House bill. Medicaid's cuts of 25% in the House increase much more in the Senate. Hundreds of billions more cuts. Medicaid cuts spike further in 2025. The year baby boomers turn 80. And Medicaid pays half of nursing home care in the country. This bill is awful for anyone planning on aging. Age tax, nursing home cuts, robbing Medicare Trust Fund."
An analysis by Jeanne Lambrew, Senior Fellow, and Ellen Montz, Fellow, at The Century Foundation, had the following summaries from a chart that compared the Senate bill to current law: "Increases premiums by up to 20 percent; Raises premiums for people over age 60 by more than 20 percent and lowers their tax credit; Allows states to reduce benefits and remove limits on annual out-of-pocket costs, affecting people with pre-existing conditions; Limits services for 2.4 million who use these [Planned Parenthood] clinics; Cuts [opioid addiction] treatment spending by a large fraction of the $183 billion provided under current law; Provides over $170 billion in ten-year tax breaks to [drug and insurance] industries with over 20 percent of the highest-paid CEOs."
That last point—on who wins and who loses—was echoed in Obama's Facebook post.
"The Senate bill, unveiled today, is not a health care bill," the ex-president wrote. "It's a massive transfer of wealth from middle-class and poor families to the richest people in America. It hands enormous tax cuts to the rich and to the drug and insurance industries, paid for by cutting health care for everybody else."
Next among the bill's hidden disasters is the impact on veterans and rural areas. As Emily Blair, manager of military and veterans' policy for National Alliance on Mental Illness wrote in The Hill, dismantling of Medicaid will hurt vets, families and rural hospitals.
"Only 40 percent of America's approximately 22 million veterans are enrolled in and receive all or part of their care through the Veterans Health Administration," she said. "Eligibility depends on minimum service requirements, disability ratings, and discharge status. Additionally, millions of veterans living in rural areas find it impossible to access care at a VA facility. These factors combined leave a significant gap in access to healthcare. For approximately 1.75 million veterans—nearly 1-in-10—Medicaid fills this gap and for many, is the sole source of coverage for primary and specialty healthcare."
The Senate legislation is also filled with internal contradictions, Slavitt noted, starting with its unregulated dismantling of Medicaid.
"They completely get rid of the guardrails," he tweeted. "States have to submit a description of 'alternative means' for 'increasing access to comprehensive coverage, reducing average premiums, and increasing enrollment' but they have gotten rid of the requirement to actually offer coverage that is as comprehensive and as affordable to as many people." And The Senate bill creates incentives for states to do this, such as a $2 billion fund to seek federal waivers, which once awarded cannot be revoked for 8 years.
Another hidden feature in the legislation is the likely economic chaos that will ensure as people lose their health care and health care options. This twitter dialogue from Rodney Whitlock,a "Long time Congressional health care staffer turned consultant" who is a Republican, laid out what's likely to follow after insurers are allowed to only pay 58 percent of policyholder health care costs:
Whitlock began, "Guaranteed issue, 58% AV [actuarial value or how much of average costs the plans will cover] and no coverage requirement is pretty much the definition of a death spiral. The only takers are users."… "Most of the bill is about Medicaid & tax cuts, but yes, as written this will instantly destroy the individual market" …  "Individual users small business & self employed. Bye entrepreneurship America. Uninsured millions will hurt hospital systems. Elderly care!!!" … "Not just small business. I worked for big corporation, but rely heavily on freelance talent. Gonna suck to lose them." … "Add to that insurance companies have been explicitly allowed to charge those users more."
This is not idle speculation. This week, insurance companies were required to submit to federal officials the anticipated rate increases in 2018. According to a detailed report by the Center for Budget and Policy Priorities, some of the same insurers made multiple filings, where prior to Capitol Hill Republicans and President Trump creating chaos specifically by refusing to say what 2018 federal subsidies would be, they anticipated significantly lower premium increases. The CBPP labeled this intentional chaos "GOP market sabotage" and noted in North Carolina and Pennsylvania, insurers filed 2 sets of proposed rate increases. They were less than 10 percent prior to the GOP sabotage, and then three-to-four higher with it. They chronicled this sabotage since January.
The Center also sought to put the House-passed tax cuts in perspective, which were not changed in the Senate legislation. The tax cuts for the "richest 400 families" roughly is equal to federal cost of maintaining Medicaid expansion in Nevada, West Virginia, Arkansas and Alaska, they noted.
Other hidden disasters were noted by hospital executives like Kaiser Permanente CEO Bernard J. Tyson, who wrote on LinkedIn: "This is not forward progress. The evidence shows that under the AHCA [GOP American Health Care Act], we will have 51 million uninsured individuals in America within the next decade, and those who can least afford the cost will pay more. The Senate should not aim to simply make the number of people losing insurance smaller than it would be with the AHCA. We can achieve better health for all if we deliver on the three-part test for access, affordability and outcomes. It will take time, and our country must reflect that we, as individuals and communities, must do better.
Obama made much the same case on Facebook.
"I hope our Senators ask themselves—what will happen to the Americans grappling with opioid addiction who suddenly lose their coverage?" he wrote. "What will happen to pregnant mothers, children with disabilities, poor adults and seniors who need long-term care once they can no longer count on Medicaid? What will happen if you have a medical emergency when insurance companies are once again allowed to exclude the benefits you need, send you unlimited bills, or set unaffordable deductibles? What impossible choices will working parents be forced to make if their child's cancer treatment costs them more than their life savings?"
"To put the American people through that pain—while giving billionaires and corporations a massive tax cut in return—that's tough to fathom," he continued. "But it's what's at stake right now. So it remains my fervent hope that we step back and try to deliver on what the American people need."
You can be sure that McConnell isn't on this wavelength. What he's looking at is making whatever deals are necessary to get 51 votes in the Senate. Meanwhile, don't be surprised if even more hidden disasters from his legislation emerge in coming days. After all, the Republicans are more than tinkering with one-sixth of the economy and real life issues affecting every American household.
Steven Rosenfeld covers national political issues for AlterNet, including America's democracy and voting rights. He is the author of several books on elections and the co-author of Who Controls Our Schools: How Billionaire-Sponsored Privatization Is Destroying Democracy and the Charter School Industry(AlterNet eBook, 2016).
This article was made possible by the readers and supporters of AlterNet.
IMAGE: Senate Majority Leader Mitch McConnell (R-KY), REUTERS/Joshua Roberts