GOP's Last Shot At Iran Deal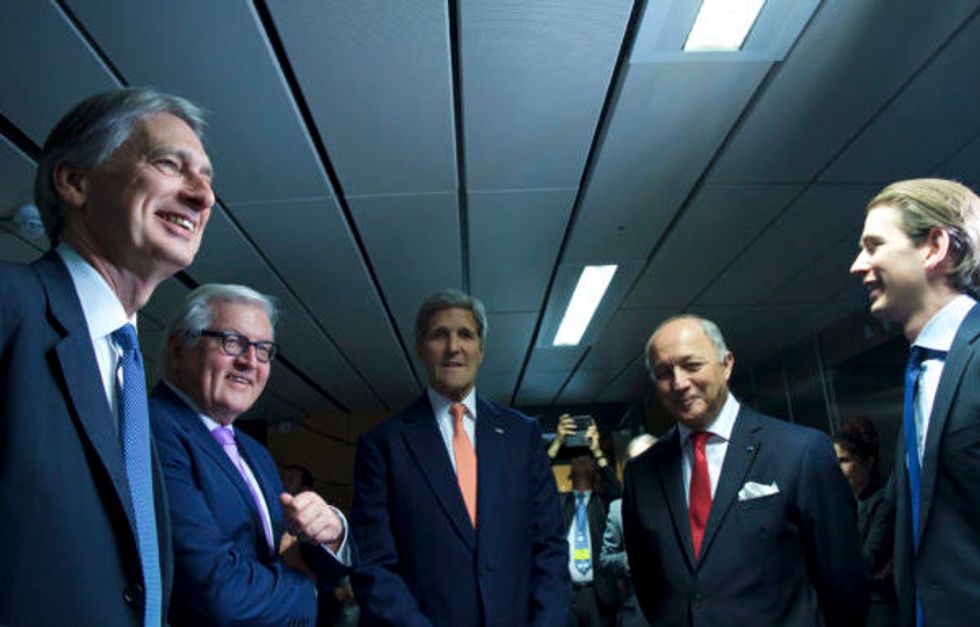 Since he began his campaign for the presidency, Donald Trump has repeatedly promised to undo the multi-national agreement that has frozen Iran's ability to build a nuclear weapon.
"My number one priority is to dismantle the disastrous deal with Iran," Trump said recently.
In June, Iran's supreme leader Ayatollah Ali Khamenei responded with his own inflammatory rhetoric, referring specifically to Trump's most recent attack on the agreement. "We do not violate the deal, but if the other party violates it, if they tear the agreement up, we will light it on fire," Khamenei said.
Iran's foreign minister Mohammad Javad Zarif was more circumspect. The accord, Zarif said, "is not an Iran-U.S. agreement for the Republican front-runner or anybody else to renegotiate. It's an international understanding annexed to a Security Council resolution."
It's unclear whether Trump knows the accord was negotiated by the permanent five members of the United Nations Security Council—the United States, China, Russia, France, and the United Kingdom—plus Germany. His grasp of foreign policy seems tenuous, at best.
It's also unclear if he is aware of what the accord means to the U.S. economy.
In mid-June Boeing reached a tentative agreement to sell 80 commercial airplanes, and to lease an additional 29, to Iran Air. The agreement would have the American company building and delivering planes for 10 years (beyond the end of Trump's second term in office) and is valued at $25 billion.
President Obama made the commercial aircraft deal possible, as officials in the Treasury Department issued a special permission for Boeing to negotiate with Iran, to avoid handing over the entire Iranian market to the European consortium Airbus.
Would President Trump deliver on his campaign promise if it forced the abrogation of a $25 billion deal and surrendered a lucrative market to a European business rival?
Perhaps. Absolute opposition to improved relations with Iran has been a canonical position for Republicans since Vice President Dick Cheney slapped down a 2003 proposal the Swiss ambassador delivered on behalf of Iran—to begin bilateral negotiations with the United States on Iran's nuclear program, its hostile posture toward Israel, and handing over terrorist suspects then in Iranian custody.
Like Cheney, congressional Republicans believe "you never negotiate with your enemy." They went to unprecedented extremes to derail the agreement, including inviting Israeli Prime Minister Benjamin Netanyahu, an implacable opponent of the accord, to address a joint session of Congress.
They narrowly lost, despite a $40-million campaign attacking the accord. Progressive organizations including J Street, Women's Action for New Directions, the Ploughshares Fund, and MoveOn organized a national effort that built a Democratic majority in the Senate to support the President's initiative.
With time running out, the Republicans in Congress have one last shot at Barack Obama's most significant foreign policy achievement. (They failed in May, when the Senate voted down an amendment to an Energy Department spending bill by Arkansas Republican Tom Cotton, which would have prohibited U.S. purchase of heavy water from Iran. Heavy water is a key component in nuclear weapons development, and its purchase is part of the denuclearization of Iran.)
Republicans will now target the Iran Sanctions Act, which provided the leverage for the negotiations that led to strictly monitored limits on the fissile material Iran is allowed to possess. The act expires in 2016.
Congress is certain to extend the law, Barbara Slavin, the director of the Atlantic Council's Future of Iran Initiative, said at a WAND webinar on the one-year anniversary of the negotiated agreement. The sanctions act is critical, Slavin said: "What will it look like and what other sanctions will be added?"
The accord with Iran is based upon a simple premise: "Iran will shrink its nuclear program and we will shrink out sanctions."
Republicans will attempt to add sanctions, or to extend the sanctions bill beyond a "transition day" written into the accord. On transition day, if the International Atomic Energy Agency monitoring Iranian nuclear activity issues a clean bill of health, all nuclear-related sanctions will be lifted.
Extending sanctions beyond the October 2023 transition date, or adding sanctions, will be read by the Iranians as a signal that Congress isn't serious about the United States honoring the agreement it negotiated, Slavin said.
Iran, thus far, has honored its obligations. There have been no violations detected by the IAEA onsite, or by U.S. and European intelligence agencies monitoring from afar. Two IAEA reports have described Iran as in full compliance with all conditions stipulated in the accord.
Look for several congressional Republicans to get behind an amendment intended to kill the agreement.
If the amendment passes, look for Ayatollah Khamenei to light the agreement on fire.
Image Credit: European External Action Service