Why The GOP's Vote To Repeal Obamacare Could Send A Democratic Majority To Washington In 2018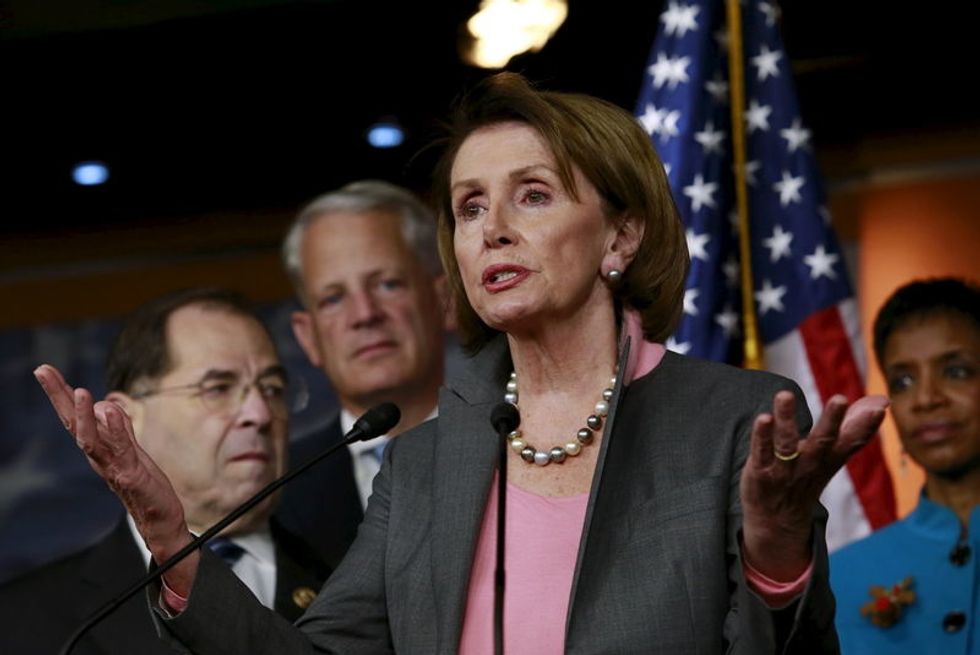 Reprinted with permission from Alternet.

Moments before the House's Thursday vote to destroy Obamacare and its protections affecting all private health insurance policies, House Minority Leader Nancy Pelosi warned Republicans that voting for the draconian bill would imperil their careers.
"You have walked the plank from moderate to radical," she said. "And you're walking the plank for what—a bill that will not be accepted by the United States Senate? Why are you doing this? … You have every provision of this bill tattooed on your forehead. You will glow in the dark on this one."
Twenty Republicans sided with every Democrat and voted no—nine were from districts where Hillary Clinton beat Donald Trump. They seem to know how a yes vote would be received. The rest, 217 of them, voted yes. But with the November 2018 elections 18 month away, how much will the House vote help Democrats retake 24 additional seats for a majority?
"The Cook political report is moving 20 races toward Democrats," wrote the Daily Kos' pollwatcher. "It doesn't mean they are in the Democratic column, they just are a little closer now. This is a great opportunity for us if we can keep the enthusiasm up and spread that enthusiasm to the 37% of people who thought voting doesn't matter."
Kos is in the cheerleading business. Its conclusion "this is how a wave starts" is unsurprising. It copied Cook's list and ended, "If we can keep up the enthusiasm, work hard, and stay focused on where the real threat is coming from, we might just survive this fascist attack on our democracy and end up changing the world."
The author of the Cook Report's new assessment, David Wasserman, has a more precise idea of the uphill climb Democrats face to retake the House. He's one of the few analysts who understand how the GOP's extreme partisan redistricting after 2010 resulted in states that might be evenly split when it comes to voting for president but end up sending twice as many Republicans to the House. That's because they drew political boundaries that effectively segregated voters.
Wasserman's analysis post-Thursday's vote said three Republicans faced likely defeat in 2018. They were, as summarized in his report:
• CA-25: Rep. Steve Knight (R) – Northern LA County: Santa Clarita, Palmdale
Toss Up. Knight prevailed with 53 percent in 2016 while Trump lost this rapidly suburbanizing seat 50 percent to 43 percent.
• CO-06: Rep. Mike Coffman (R) – Denver southeast suburbs: Aurora, Littleton
Toss Up. Coffman ended up voting against the AHCA, but his hesitation to announce his position likely won't assuage voters who want to send a message to President Trump next year.
• MN-02: Rep. Jason Lewis (R) – Twin Cities south suburbs: Eagan, Burnsville
Toss Up. Lewis prevailed by one of the slimmest margins of any GOP freshman in 2016, 47 percent to 45 percent – and followed it up by casting a vote for Republicans' AHCA bill.
That's only three seats, not the 24 needed. He moved three Republican incumbents from "lean Republican" to "toss-ups." He also moved 11 incumbents from "likely Republican" to "lean Republican." And he moved six from "solid Republican" to "likely Republican."
"In light of the vote, we are shifting our ratings in 20 districts, all reflecting enhanced opportunities for Democrats," Wasserman said. "The major caveat is that 18 months is an eternity in politics and that as always, we will continue to adjust our outlook as events unfold and the landscape develops."
Kos and Wasserman are both correct in their tentative characterizations. What the House GOP did on Thursday could be the start of a blue wave. But it would have to be a very big wave, as Wasserman notes, because the most vulnerable GOP incumbents still are on semi-solid red ground. Of the three new toss-up races, Colorado's Coffman—elected as a Tea Partier—voted no on Obamacare repeal. He may have delayed his decision, as Wasserman noted, but he voted no. You can be sure he'll tout that.
Where are the other 17 races with potentially vulnerable Republicans? Of the 11 "lean Republican" seats, three are in California, two in Texas, and the rest single seats in Arizona, Illinois, Iowa, Kansas, Minnesota and New Jersey. Of the six Wasserman moved to "likely Republican," two are in Illinois, and the rest single seats in Kansas, Michigan, New Jersey and Ohio.
Statistical handicapper Nate Silver, at fivethirtyeight.com, also sounded an upbeat but cautionary note. He wrote, "27 Republicans voted for AHCA [the House bill] and won their races by <15 points last time around. They're in the danger zone."
On closer inspection of his data, one sees that it does not quickly add up to 24 seats needed to retake the House. Only four GOP incumbents who voted for the ACHA won their 2016 races by less than a 4 percent margin of victory. Most of the 27 that Silver cited were won by Republicans with at least 10 percent margins of victory.
Could the House's Obamacare repeal be the start of a blue wave taking the House in 2018? Yes, but it's going to have to be a very big wave where dozens of Republicans are defeated by double-digit margins. That's no ordinary landslide
This article was made possible by the readers and supporters of AlterNet.