Governor Ridicules Trump's Plan For Arming Teachers To His Face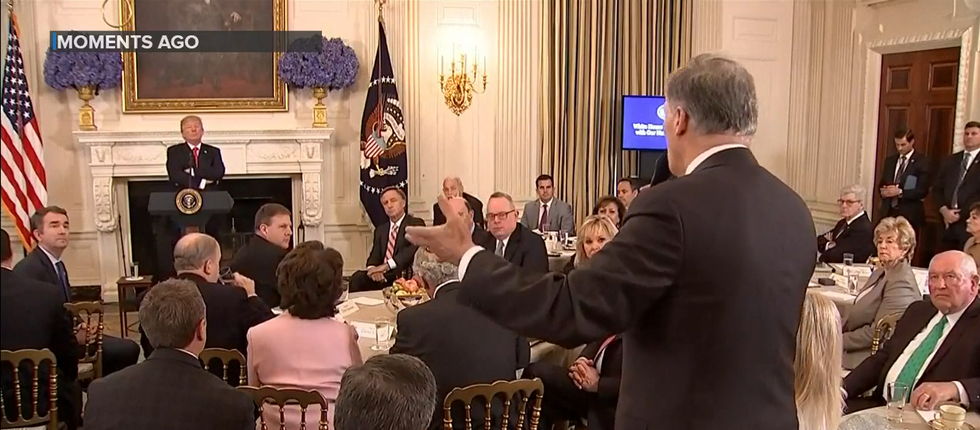 Reprinted with permission from Shareblue.com
At a White House meeting with governors from across the country, Trump rambled for nearly an hour about his plan to arm teachers after the Parkland school shooting.
But Washington Democratic Gov. Jay Inslee quickly shut him down, telling Trump exactly what his constituents think of that plan.
Trump claimed only a "very small" number of teachers would be armed. But Inslee pointed out that Trump had recommended 20 percent of all teachers be given weapons.
"I have listened to the people who would be affected by that," Inslee said. "I have listened to the biology teachers, and they don't want to do that at any percentage."
He recalled "the first-grade teachers who don't want to be pistol-packing first-grade teachers." And he noted that law enforcement officers don't have the time or ability to spend months training teachers to use guns.
"Educators should educate, and they should not be foisted upon this responsibility of packing heat in first-grade classes," Inslee said.
And he suggested that "we need a little less tweeting here, and a little more listening."
Despite his protestations to the contrary, Trump has actually suggested arming up to 40 percent of teachers. Everyone from a teacher who survived the Parkland shooting to the Republican governorof Florida has rejected that idea.
Trump's obsession with arming teachers puts him right inside the NRA's pocket. And it provides a dangerous distraction from real action to prevent gun violence.
But Inslee isn't buying it, and neither are most Americans.