Governors Play It Both Ways — Bipartisan Except When They're Not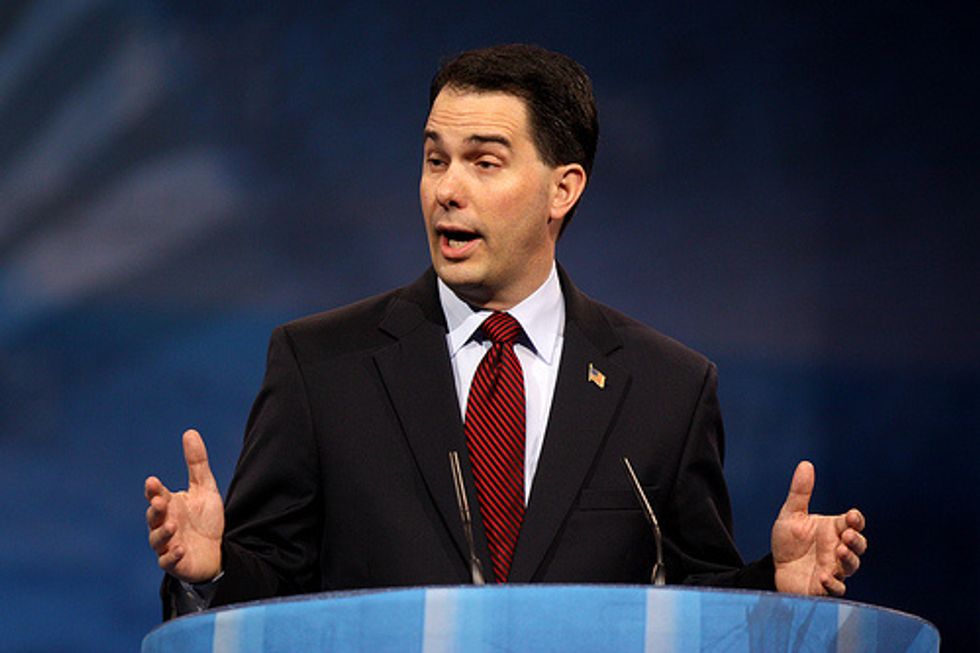 WASHINGTON — Governors are displaying split personalities as they launch their 2014 election campaigns: Bash the other party as divisive and wrong about the big issues, but also calmly vow to solve the day's biggest problems as they work diligently with others.
That dual focus — feisty partisans and thoughtful policymakers — was evident all weekend at the National Governors Association winter meeting.
After a dinner at the White House Sunday evening, the governors plan to meet Monday morning with President Barack Obama and members of his Cabinet. Problem-solving, rather than politics, is expected to dominate the agenda.
This less flashy aspect of this four-day conference, which ends Friday, has been apparent during forums on everyday problems confronting governors. The discussions have been civil, the disagreements polite.
One area of agreement involved avoiding expected National Guard cuts.
"We need to keep the guard and not cut the guard. This is something the governors are united on and something that's important," said Iowa Gov. Terry Branstad, a Republican.
Differences were most obvious on health care. No issue so clearly divides Democrats, who enthusiastically support the Affordable Care Act, and Republicans, who generally want it repealed and replaced.
Disagreements, though, were expressed gently. "They didn't come to the states, they didn't come to the governors" when the act was being considered in 2009 and 2010, complained Utah Gov. Gary Herbert, a Republican.
Missouri Gov. Jay Nixon, a Democrat, countered that the act was carefully crafted and will eventually be popular.
"What I tell your grandmother, her Medicare works pretty well," he said. Though controversial when it was created in 1965, he said, it's now widely accepted.
But the talk often turned to common ground. "Regardless of how you feel about the policy," said North Carolina Gov. Pat McCrory, a Republican, Washington is providing "absolutely no flexibility to the 50 states' unique needs," he said.
Much of the discussion was about sharing ideas. "We look at health care in Mississippi as an economic driver," said Mississippi Gov. Phil Bryant, a Republican. He talked about "health care zones" where health-care related businesses create jobs in certain areas and receive state incentives.
At another forum, Nixon set a serious tone as governors discussed disaster response.
"It is often important for us to learn lessons from each other," he said. They then heard from Gen. Frank Grass, chief of the National Guard Bureau, who methodically described strategy and readiness.
"We're concerned about the worst night in America," he said, a catastrophe like a major earthquake. He outlined an elaborate plan to be ready for such catastrophes.
In the halls, at news conferences and on television shows, though, the tone was different. Thirty-six governors' seats are up for election this year — 22 Republicans and 14 Democrats — and the rhetoric got heated.
Governors ripped each other on the Sunday talk shows. "I think the greatest disconnect is really between the ideologues that have taken over the once-proud party of Abraham Lincoln and made it impossible for our Congress to do things that the vast majority of us, Democrats and Republicans throughout the country, agree make sense," Maryland Gov. Martin O'Malley said on CBS's Face the Nation.
O'Malley, who is considering running for president in 2016, blamed Republicans for the government's partial October shutdown. "Shutting our country down does not help job growth," he said.
Appearing on the same program was Louisiana Gov. Bobby Jindal, a Republican mentioned as a possible presidential candidate.
"You see Republican governors embracing school choice and tenure reforms. You see Republican governors cutting taxes, creating good jobs, balancing our budgets, doing fiscally responsible things," he said. "If you want to see conservative principles being applied, you will see them outside of Washington, D.C."
Much of the media attention has focused on Wisconsin Gov. Scott Walker, another possible 2016 candidate. A few days before these meetings began, reports surfaced that tied him to two investigations of political work by aides. Thousands of pages of documents from one of them were released.
He called the furor "old news" on Fox News Sunday.
Democrats fired back.
"Just because Scott Walker isn't behind bars today doesn't mean he is not guilty of unethical behavior that has broken the public trust," said party spokesman Michael Czin.
There's more of this to come this year, said James Hodges, a Democrat and former South Carolina governor. "Eighty percent of being a governor involves not being partisan," he said. "But we have a polarized electorate, and the two sides are farther apart than ever on the biggest issues."
Photo: Gage Skidmore via Flickr