Graham Urges Appointment Of Special Counsel To 'Look At' Clinton, Comey
@KailiJoy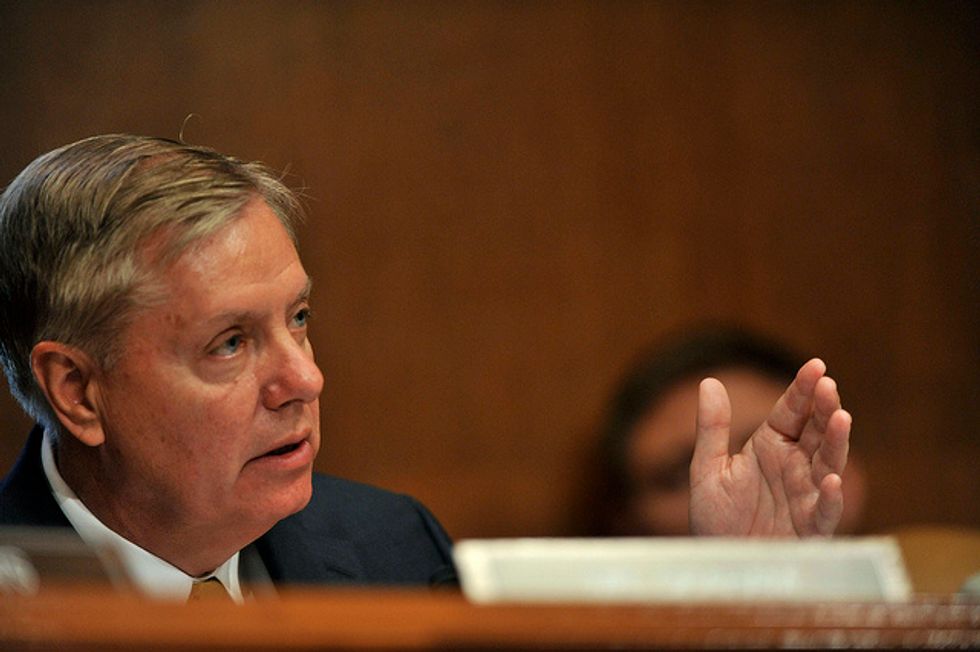 South Carolina Republican Lindsey Graham, one of Trump's most vociferous defenders in the Senate, has declared that he will use his power as chair of the Judiciary Committee to pursue his greatest obsession: Hillary Clinton's emails. But that's not enough for the senator. He wants Trump's attorney general, William Barr, to join in his obsession.
"I know Bill Barr pretty well, and he's pretty upset about the way all this was handled," Graham said in a Sunday interview on Fox News. "I don't know if he's going to have a special prosecutor to look at the probability of criminal misbehavior."
Graham's "evidence" of suspicious behavior is that "nobody in the Clinton investigation went to jail for lying about the process because there was no process." That doesn't suggest to Graham that Clinton and her campaign were innocent, as the exhaustive investigations of her concluded.
Instead, it suggests something far more nefarious at the FBI. That's why Graham also wants to talk to former FBI Director James Comey to see if Comey was "in the tank for Clinton and gave her a pass."
The "pass" Clinton got was a very public announcement, just two weeks before the 2016 election, that the FBI was reopening its investigation of her emails — a move that, as many analysts have observed, may have cost Clinton the election. That's some "pass."
But because special counsel Robert Mueller thoroughly investigated Trump and his campaign and the serious allegations of collusion and obstruction, Graham thinks Clinton deserves a fresh round of investigations too.
"I'm going to look at what happened from an oversight role," Graham said. "But I hope there's a special counsel appointed to look at DOJ corruption and political bias, you know? Because Mueller did his job against Trump."
This is the kind of petty retribution Trump has often talked about, mostly on Twitter. Because he and his campaign have been investigated, he thinks "the other side" — Clinton, her campaign, various congressional Democrats, career FBI workers, and sometimes even President Obama — should be investigated as well.
Graham, who holds himself out as a serious person with great respect for the rule of law, is now pursuing this Trumpian pettiness. He has made no secret of his desire to be "relevant," and he's willing to do and say just about anything to for Trump to be "good" to him so he can have "influence." That apparently includes using his authority to chase Trump's revenge fantasies and to call on the nation's top law enforcement official to do the same.
Barr hasn't made any public statements about reinvestigating Clinton since he became attorney general. But before he got the job, Barr said there was a stronger case for investigating Clinton than for investigating Trump's collusion with Russia. While Barr has made his objections to the investigation of Trump abundantly clear, it's less clear whether he thinks Clinton should face a whole new round of scrutiny.
But it is indisputable that Trump and his enablers want revenge. They think the investigation — which resulted in several convictions and guilty pleas of top Trump advisers — was a "hoax" and they want someone to pay.
So Graham will be spending taxpayer dollars to yet again investigate Clinton, and he's very strongly suggesting he wants the attorney general of the United States to do the same.
Published with permission of The American Independent.