Grand Banks Oyster Bar Draws Diners To The Hudson River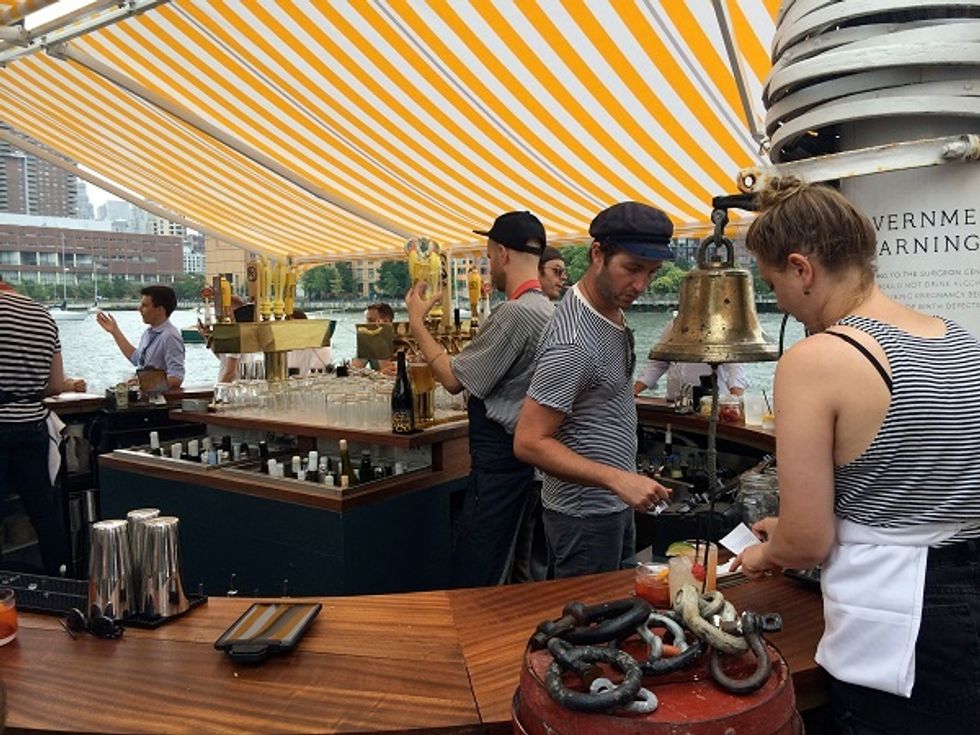 By Shayne Benowitz, Miami Herald (MCT)
It's easy to forget that Manhattan is an island surrounded by water and one of the country's earliest port cities when you're tucked inside a cozy West Village bar or caught in the bright lights of Times Square. Yet one of the hottest additions to Manhattan's dining and cocktail landscape is actually tied to a pier in TriBeCa and floating on the Hudson River.
Step aboard the F/V Sherman Zwicker, built in 1942, she's a restored 142-foot wooden schooner-turned-oyster bar. Named Grand Banks (Pier 25 at North Moore Street and West Street; http://www.grandbanks.org) for the shallow waters off the coast of Newfoundland where she once fished for cod, the vessel was effectively salvaged from the scrapyard for this venture.
"She'd been for sale for seven or eight years," said Adrien Gallo, part-owner. "We were gifted her by the (Grand Banks Schooner Museum Trust based in Boothbay Harbor, Maine) and we created the Maritime Foundation to preserve her."
Gallo, a New York City nightlife veteran whose previous ventures include Double Happiness and Happy Endings, along with professional sailors and brothers Alex and Miles Pincus (the duo behind the development firm Arts & Leisure), have created a unique venture combining the nonprofit Maritime Foundation with the for-profit Grand Banks oyster bar aboard the same vessel.
The well-edited menu by executive chef James Kim consists of sustainably sourced oysters ($3-$4 per oyster), seafood small plates ($17-$25, like, fluke crudo with slab bacon, Asian pear, grapes and olive oil) and nautical-inspired riffs on classic cocktails ($16 each) that change daily (like, El Diablo made with tequila, ginger, lime, vermouth and club soda), along with wine and beer.
Shaded by a yellow and white-striped awning, shackles are tossed atop barrels, a brass mermaid sculpture leans against a mast and dock lines are coiled in ship shape on the wooden deck. Below decks you're enveloped with the earthy scent that can only come from a wooden boat. A mini exhibition by New Draft Collective is on display covering the history of the Sherman Zwicker and the Atlantic Ocean's cod fishing industry. The heads (toilets) even keep with the maritime aesthetic, offering varnished wooden seats in a chevron pattern and toilet paper hanging from lines.
The waitstaff dons chic nautical striped T-shirts, each accessorized to showcase personal style (a vintage Yankees cap, an arm stacked with brightly beaded bangles, a nose ring) creating the feel of a motley — and very hip — crew.
With a capacity of 145 people and a no reservation policy, New Yorkers have thronged the gangway ever since it swung on deck in early July, oftentimes waiting in line to snag a seat at the forward and aft bars or midships tables.
So what is it that kept Manhattanites flocking to Grand Banks all summer?
"It's unique. There's nowhere else like it in the city," said Gallo. He quickly amended his answer with the exception of the Frying Pan (530 W. 26th St.; 212-989-6363; http://fryingpan.com/site), a historic lightship-turned-bar-and-grill, which has long held court (albeit under the radar) further up the Hudson River at Pier 66 in Chelsea. "We're different, though, because we're more intimate," he adds, noting the Frying Pan's capacity of over 700 people.
This summer, the North River Lobster Company (Pier 81 at W. 41st St.; 212-630-883; http://www.northriverlobsterco.com) has also made a splash at Pier 81 in Hell's Kitchen as a "floating lobster shack" that actually leaves the dock for half-hour sails at regularly scheduled intervals.
Perhaps, in the case of Grand Banks, New Yorkers are making their way waterward because it's a beautifully restored wooden boat offering sweeping views of Lower Manhattan, the Statue of Liberty and sunsets over the Hudson River and Jersey City. Combine that with a dozen fresh oysters and a seasonal cocktail, and you've got a winning formula.
As most ships do (and seasonal bars, for that matter), Grand Banks will be sailing on after Oct. 31 when its permit is up. According to Gallo, it may very well raft up to a slip in Miami or the Keys during the winter season. "That's still all in the works," he said. Until then, you can step aboard in Manhattan from noon to 11 p.m. on weekends and 4 p.m. to 11 p.m. on weekdays.
Other Novel Ways To Enjoy New York On The Water
Sail On
For a bastion of New York's maritime history, visit the South Street Seaport Museum (12 Fulton St.; http://southstreetseaportmuseum.org) where you can even set sail on the historic tall ship Pioneer built in 1885. Likewise, the Schooner Adirondack (212-913-9991; http://www.sail-nyc.com/schooner-adirondack-sails) departs Chelsea Piers for regularly scheduled sails and dinner cruises.
Kayak & SUP
While there was a time in not so distant memory when New Yorkers wouldn't dream of risking submersion in the Hudson River, kayaking and standup paddleboarding has grown in popularity. Try Manhattan Kayak Company (Pier 84 at W. 44th St.; http://manhattankayak.com) in Hell's Kitchen or New York Kayak Company (40 N. River Piers; 212-924-1327; http://www.nykayak.com) in SoHo.
Explore
Taking a cue from Hudson River Park and the Highline, Governors Island (http://www.govisland.com/html/home/home.shtml), the long abandoned 172-acre island (formerly a military base) just south of lower Manhattan has become the city's newest green space. With bike rentals, hammocks and a variety of food and drink vendors, as well as hip music and cultural events, the island is accessible by ferry from Lower Manhattan and Brooklyn Bridge Park. Open seasonally through September 28.
Surf's Up
Urban surfers flock to the Rockaways in Queens (about an hour's journey on the A train from Manhattan) where many hip spots have cropped up, including Rockaway Beach Surf Club (302 Beach 87th St., Queens; http://www.rockawaybeachsurfclub.com). Here, you can store your board after a morning session, grab a bite to eat (anything from Carolina pulled pork sandwiches to a vegan lobster roll) and stay for live music or a movie screening late into the evening.
Shayne Benowitz covers hotels and travel for Miami.com.
Photo: Shayne Benowitz/Miami Herald/MCT