The Great Trumpkin Rises From The Trumpkin Patch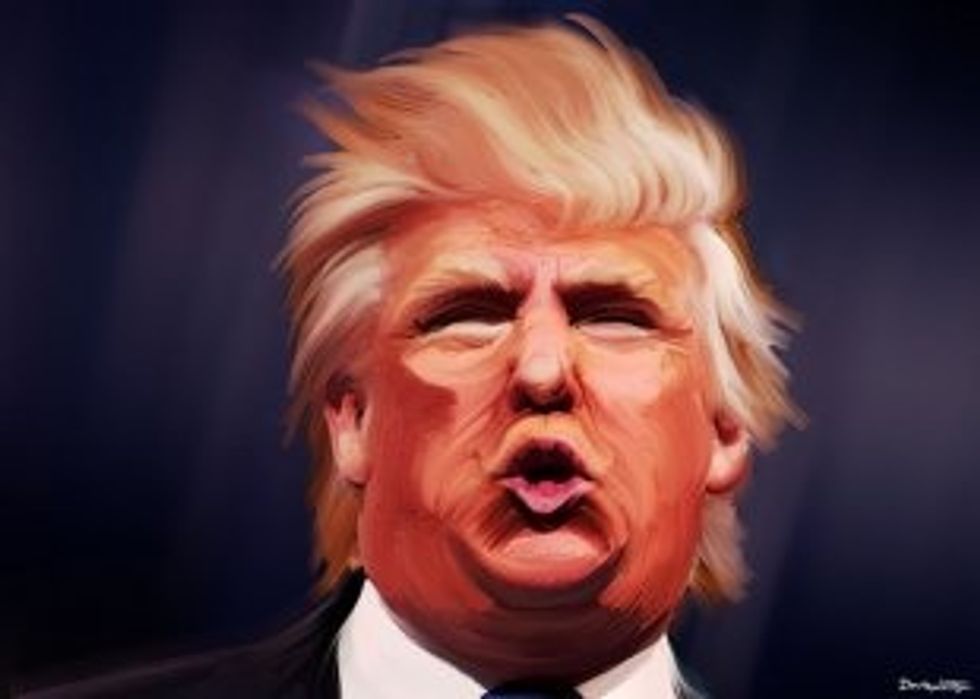 Sometimes, you've got to go through it to get to it.
That's a personal motto with which I have occasionally consoled myself since I was a teenager. It means that for as much as we naturally seek to avoid the unpleasant situation, to find a way over or around it, there are times in this life when the only option is to go through it, to endure the unendurable thing and pick up the pieces on the other side.
That philosophy has succored me through breakups, deaths, and career reversals. I find myself turning to it again to gird for the inauguration of the 45th president.
For years, many of us have sought to avoid, to go over or around, the consequences of the Republican Party's retreat from seriousness. Meaning its studied outrage, its practiced hysteria, its obstructionism, its bigotry, its withdrawal into a facts-free alternate universe, its embrace of human cartoons like Sarah Palin, Ben Carson, and Herman Cain. But avoidance is no longer an option, and the impossible is upon us.
The Great Trumpkin is rising from the Trumpkin patch. Cliff Clavin just got the last laugh on the gang at "Cheers."
The most flagrantly unfit man in history is about to be sworn in as president. And for the first time in my life, I am not optimistic about America's future — at least not its next four years. There is no disaster, up to and including a nuclear exchange, that would surprise me under the incoming administration.
If you need a silver lining, I can offer only this: Assuming America survives the next four years in any recognizable form — by no means a foregone conclusion — I suspect Donald Trump's debacles and the sheer tiresomeness of the man himself, will so thoroughly discredit this strain of Republicanism as to destroy it completely.
Maybe then the country will be in a mood for serious people — Democratic and Republican — with serious ideas again. That's what passes for hope these days. Meantime, I have made a resolution: I will, at all costs, retain my capacity for outrage.
Yes, that will be easier said than done.
The capacity for outrage is like a physical muscle in the sense that it tires from being overworked. And certainly, Trump has worked our capacity for outrage like a drill sergeant.
Shock upon shock, insult upon insult, falsehood upon falsehood, he has been a daily deluge of the unbelievable and the unthinkable until you don't even know what to respond to first. Shall we answer the misogyny? But then, what about the bigotry? Shall we decry the incompetence? Will that leave us time to deal with the ignorance? The man is a white noise of badness.
The danger is that it comes to seem normal, that you stop seeing how truly bizarre it is. One of the things that makes us human, after all, is our resilient adaptability. Whether sickened by cancer, swamped by flood, broken by bankruptcy, or savaged by war, we always find a way to accommodate ourselves to the new circumstance. With good humor and quiet courage, we accept the new normal.
But I refuse to do that now.
Doing it now would feel less like an act of courage and good humor than one of surrender, of forgetting that there was once a time dignity, intelligence, honesty, and statesmanship were traits we desired and demanded in our leaders. But if we forget that, we forget us, and then we are well and truly lost.
Love of country demands better. Martin Luther King once said he was "proud to be maladjusted" to the inequities and inequalities of his time. That works for me.
So I am proud to be maladjusted to Donald Trump.
IMAGE: DonkeyHotey/Flickr