Greece Ends Market Exile With Triumphant Bond Auction
@AFP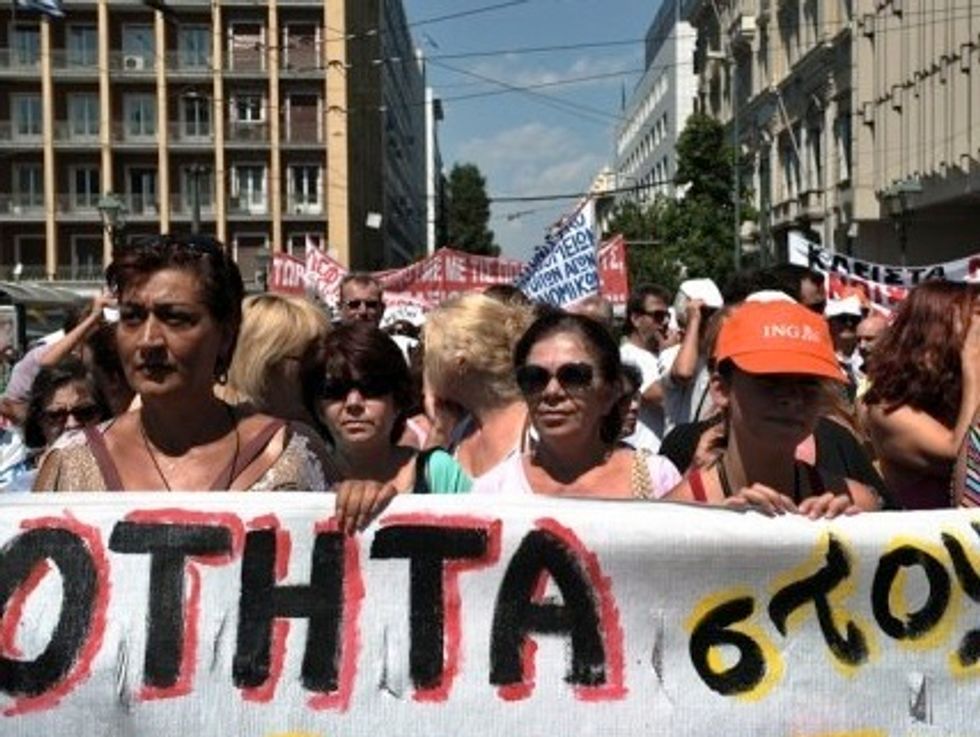 Athens (AFP) – Bailed-out Greece returned to bond markets with a bang on Thursday after a four-year exile, raising three billion euros and sending a major signal that the eurozone debt crisis is fading.
Greece's EU-IMF creditors hailed the move which the Greek prime minister said had "opened the way for cheaper borrowing" for the recession-hit country.
"We have opened the way for cheaper borrowing on the markets tomorrow," Prime Minister Antonis Samaras said in a televised address.
"If all goes well from now on, next time the country will be able to borrow higher sums at lower interest," he said.
The finance ministry said Greece had sold the five-year bond at 4.75 percent interest, with participation of long-term investors outside Greece expected to approach 90 percent.
In Washington, IMF chief Christine Lagarde said the bond issue showed Greece was headed in the "right direction."
"I see the issuance that took place today, which was massively oversubscribed, as an indication that Greece is heading in the right direction," Lagarde told reporters at the World Bank/International Monetary Fund annual spring meetings.
EU vice-president Siim Kallas added: "It is an important sign that the Greek economy is starting to regain the confidence of investors, and reflects the positive effects of the far-reaching reforms undertaken by Greece."
Deputy Greek Prime Minister Evangelos Venizelos told reporters that the sale had been "at least eight times oversubscribed."
The return to the medium-term debt market is a milestone for a country still suffering deeply from the effects of the crisis and resulting austerity reforms after two EU-IMF bailouts.
The last issue of five-year bonds four years ago carried an interest rate of 6.1 percent.
"One year earlier, nobody would expect (Greece) to stage such a fast return to international markets," said Platon Monokroussos, chief market economist at Greece's Eurobank, adding that he expected another debt sale in the second half of 2014.
Another analyst said the appetite for the Greek sale had been "jaw-dropping."
It was timed a day before a scheduled visit by German Chancellor Angela Merkel, and originally aimed to raise 2.5 billion euros ($3.6 billion).
Hours before the sale, a powerful car bomb exploded outside the Bank of Greece in central Athens but nobody was hurt as police had time to clear the area.
The vehicle, a stolen Nissan packed with 75 kilograms (165 pounds) of explosives, blew up around 0255 GMT as it was parked on the pavement facing a central bank building near headquarters, police said.
Internet news website Zougla and the Efymerida ton Syndakton newspaper were informed of the planned attack by telephone one hour beforehand.
The bond issue comes against a background of sharp falls in recent months in borrowing rates for other eurozone countries hit by debt problems. On Thursday Italy borrowed for 12 months at a record low rate of 0.589 percent.
Athens found itself frozen out of debt markets in 2010 after it revealed its public accounts had been falsified, and was forced to seek a bailout from the EU and IMF to avoid defaulting.
In return for the bailout funds, Greece has had to enact a host of deeply unpopular reforms including streamlining its bloated public sector.
The measures have sparked regular strikes and protests in a country suffering a sixth straight year of recession.
The announcement of the return to debt markets came on the same day as protesters launched the first anti-austerity strike of 2014, following five general strikes the previous year.
The strike shut ferry services to the country's world-famous islands, disrupted air travel and closed pharmacies and government offices.
Unemployment in Greece is still at a record high.
On Thursday, the statistics agency said the jobless rate had increased to 26.7 percent in January, a 0.4 percent rise with nearly 15,000 jobs lost in a year.
It added that inflation fell 1.3 percent in March in an annual comparison.
The so-called "troika" of the European Union, the European Central Bank and the IMF first bailed out Greece in 2010 with a program worth 110 billion euros.
When that failed to stabilise the economy, they agreed a much tougher second rescue in 2012 worth 130 billion euros, plus a private-sector debt write-off of more than 100 billion euros.
Fiscal reform under EU-IMF tutelage has brought upgrades to Greece's debt standing by ratings agencies in recent months — but Greek bonds still carry junk status.
AFP/Louisa Gouliamaki