Greece Upbeat About Bailout Deal, Sees One Within Two Weeks
@reuters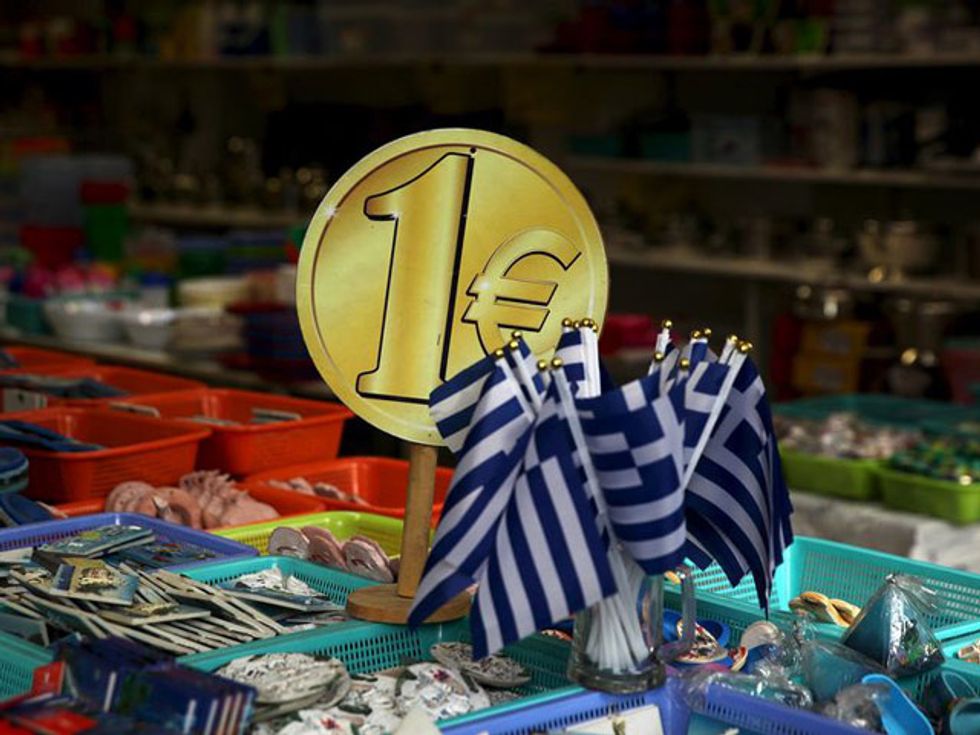 By Angeliki Koutantou and Lefteris Karagiannopoulos
ATHENS (Reuters) — Greece expects to conclude a multi-billion-euro deal with international lenders within two weeks, officials said on Tuesday, and its finance minister said talks were going better than expected.
A bailout worth up to 86 billion euros ($94.5 billion) must be settled by Aug. 20 — or a second bridge loan agreed — if Greece is to pay off debt of 3.5 billion euros to the European Central Bank that matures on that day.
It will be the indebted nation's third bailout since 2010, designed to stave off bankruptcy and keep the country from toppling out of the euro zone.
Negotiations have been tortuous in the past, bogged down in minutiae of reforms ranging from pensions to shop opening hours, but Greek officials were surprisingly upbeat on Tuesday.
"Everything will be concluded this week," Finance Minister Euclid Tsakalotos told reporters after meeting representatives of the International Monetary Fund, European Commission, European Central Bank and the euro zone's rescue fund, the European Stability Mechanism.
He did not elaborate.
Government spokeswoman Olga Gerovasili said drafting of the bailout accord, which requires approval from Greece's fractious parliament, would start on Wednesday.
While acknowledging that target was "ambitious", European Economic Affairs Commissioner Pierre Moscovici has said that a deal is possible in August.
A deal might bring closure to a traumatic six months where Greece came precariously close to tumbling out of the euro zone, imposed capital controls and saw equity prices on the Athens bourse crash after a five-week shutdown.
PRIVATISATIONS
Tsakalotos, who discussed privatizations and bank recapitalization requirements with lenders, said there were "small divergences in views".
"I don't think there will be a problem," he said, referring to the privatization element of consultations. "Discussions have gone better than I expected."
"If the terms of the (EU) summit are met, I think that we will have a deal by the 18th of this month," Gerovasili said.
Greece and its EU partners clinched a last-minute deal in July on a reform program including privatizations and pension reform and scrapping tax breaks for groups such as farmers.
Those reforms, however, still need to be passed by the Greek parliament.
Greek Prime Minister Alexis Tsipras had to rely on opposition parties to pass a raft of so-called "prior actions" in parliament last month when about a quarter of his Syriza lawmakers rebelled, calling the deal a sell-out.
Lenders want, for example, an increase in the retirement age to 67 from the nominal 62 that falls significantly depending on numbers of years worked and family status.
On Monday, Greece and lenders agreed that any pension reforms would not affect individuals who retired before the end of June 2015.
"One of the positives of this agreement is that it has a three-year horizon of steady financing," Gerovasili said.
"This gives us some room to gradually phase them in … because today we are in a difficult financial situation and there must be some time for a small recovery."
(Reporting By Angeliki Koutantou Writing by Michele Kambas; Editing by Jeremy Gaunt/Mark Heinrich)
Photo: Greek flags are displayed for sale for one Euro at a shop in central in Athens, Greece July 26, 2015. (REUTERS/Yiannis Kourtoglou)