Greek Finance Minister Resigns After Anti-Austerity Vote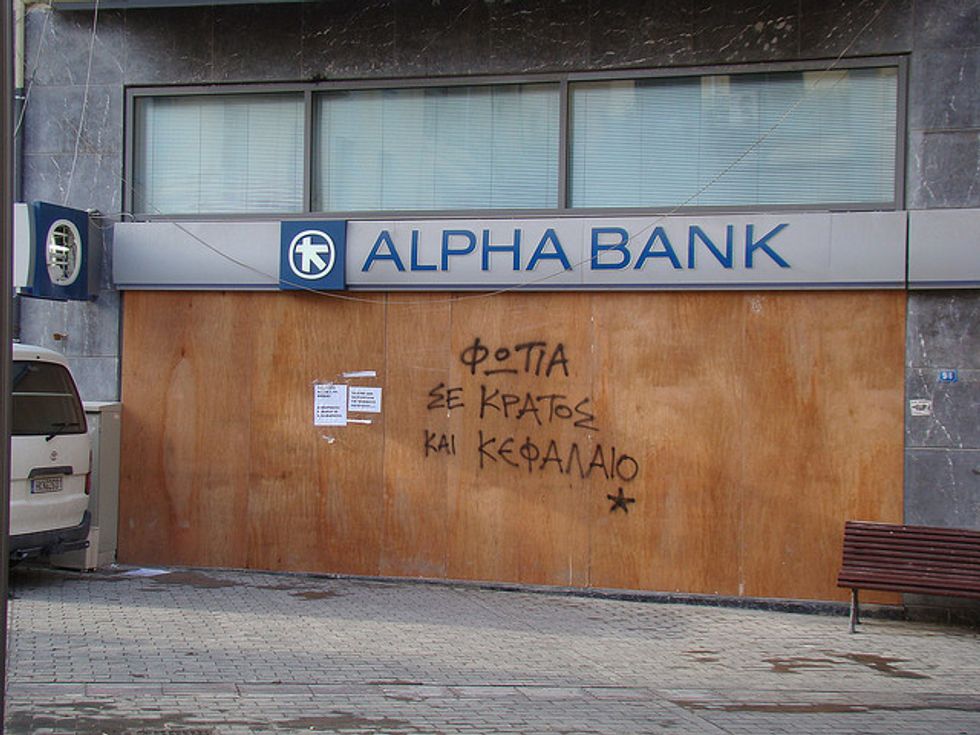 By Henry Chu, Los Angeles Times (TNS)
ATHENS — Yanis Varoufakis, Greece's flamboyant finance minister, abruptly resigned Monday morning despite a national referendum that delivered a rousing endorsement to his anti-austerity policies just hours earlier.
Varoufakis said on his website that he was stepping down with the encouragement of Prime Minister Alexis Tsipras, who, though a close ally, had judged it "potentially helpful" to talks with Athens' creditors if Varoufakis were not on the negotiating team.
The outspoken financial minister is a popular figure with many in Greece, and had become a media star with his leather-jacketed, motorcycle-riding style and penchant for blunt, unfiltered statements.
But those qualities also poisoned Varoufakis' relations with the rest of the "Eurogroup," the club of finance ministers from Eurozone nations, some of whom did not hide their contempt for him. They found his repeated public accusations of "blackmail" and "terrorism" in their negotiations over a bailout package for Greece both arrogant and deeply offensive.
"I was made aware of a certain preference by some Eurogroup participants, and assorted 'partners,' for my … 'absence' from its meetings," Varoufakis said on his blog, in a post titled "Minister No More!"
"For this reason I am leaving the Ministry of Finance today," wrote Varoufakis. "I shall wear the creditors' loathing with pride."
Whether his resignation will help jump-start bailout talks between Greece and its European partners remains to be seen. Athens' demands for less austerity and for some sort of debt relief, which other Eurozone nations have so far spurned, have not changed.
If anything, Tsipras' government will press even harder on those points, emboldened by the results of Sunday's referendum. Greek voters endorsed their anti-austerity approach by a resounding margin of 61 percent to 39 percent.
Tsipras tapped Varoufakis, an economics professor, as finance minister after the radical-left Syriza party swept to power in elections last January promising to end the harsh austerity cuts that have helped drive the Greek economy into depression over the last five years.
Since those elections, Athens has been unable to reach agreement with its international lenders, most of them fellow Eurozone countries, which continue to demand public spending cuts and tax increases in exchange for billions of dollars in rescue loans.
There were widespread reports in recent months that Tsipras reined in Varoufakis during those negotiations because he had alienated the other Eurozone finance ministers.
The talks broke down completely a little more than a week ago when Tsipras shocked his European partners by saying he would put their latest bailout offer to a national referendum _ and would urge Greeks to vote "no."
During the weeklong campaign, Varoufakis continued making fiery statements about his European counterparts. He pledged to resign if the "yes" side won.
On Sunday night, after the scale of the "no" victory was evident, Varoufakis said on national television that it was time for Europe to start "to heal its wounds, our wounds."
Hours later, though, he was out of a job, the voters' strong endorsement still ringing in his ears.
(c)2015 Los Angeles Times. Distributed by Tribune Content Agency, LLC.
Photo via