Greek System Is Standing In The Way Of Tackling Campus Sexual Assault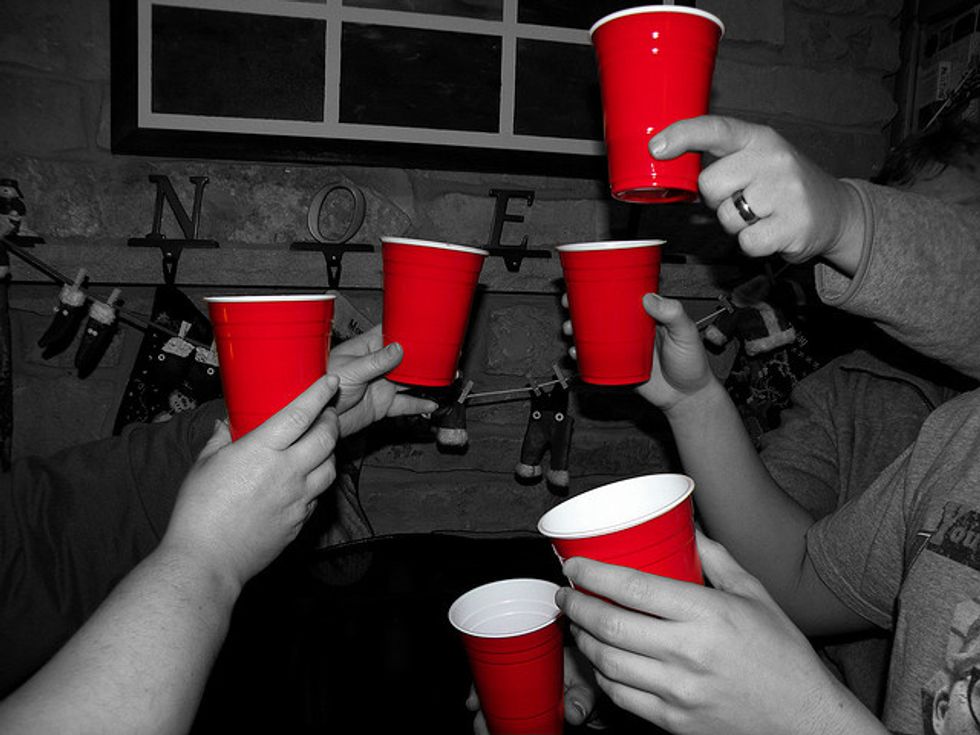 Fraternities and sororities have a choice. Either they can be part of the solution to campus sexual assaults or they can choose to be part of the problem.
Guess which direction the major Greek system associations are going?
They've hired a heavy-hitting lobbyist to advance a bill in Congress that would hamper colleges' ability to investigate sexual assault allegations. The bill, misleadingly dubbed the Safe Campus Act, would bar university administrators from conducting inquiries into such cases until the victims reported the assaults to the police.
The attitude behind the bill seems to be: If the purported crime is so serious, let the police handle it. What's wrong with that? Advocates for survivors of sexual attacks argue that such a law would discourage, not encourage, more victims from coming forward. Given the stigma still associated with this highly underreported crime, that extra onus will surely result in less cooperation from victims.
And never mind that a police investigation could take years. A predator could attack other students and earn their full degree before the courts finish.
Fortunately, there is a better bill, the Campus Accountability and Safety Act, that addresses the problem in the right way and has strong bipartisan support. The bill's principal sponsors, Sens. Claire McCaskill (D-MO) and Kirsten Gillibrand (D-NY) happen to be proud sorority women (Kappa Alpha Theta and Kappa Kappa Gamma, respectively), and they held a press call on Thursday to vent their rage that the North-American Interfraternity Conference (NIC) and the National Panhellenic Conference (NPC) could support such counterproductive legislation.
McCaskill and Gillibrand have a long history of leadership addressing sexual assault. First, they teamed to get better standards and procedures accepted by the military for assaults that occur within the armed services. McCaskill surveyed colleges and universities, finding that 40 percent admitted that they hadn't investigated a single sexual assault allegation in five years.
Changing that dynamic, they believe, is key to making campuses safer. It appears it's also a threat to the college Greek systems.
"We see too many students — accusers and accused — subjected to a campus disciplinary system that is unfair and opaque," the NIC and NPC lamented in a joint letter to Congress this summer in support of the Campus Safety Act. Both organizations have shied from commenting since, letting their lead lobbyist, former Senate Majority Leader Trent Lott, make their case.
Deeper in the letter, the organizations fessed up to another concern. Greek organizations, especially fraternities, feel under attack, with university sanctions occurring upon entire chapters, not just individual members involved in misdeeds.
So apparently this discomfort justifies a law that will insure that fewer victims come forward?
What the NIC, the NPC and the Republican sponsors of their favored bill (Reps. Matt Salmon of Arizona, Kay Granger of Texas and Pete Sessions of Texas) seem to be missing is that McCaskill and Gillibrand's bill has protections for accused, requiring written notification to them of any decision to move forward with a campus disciplinary proceeding within 24 hours of the decision. It also requires universities to enter into memoranda of understanding with each local law enforcement agency that has jurisdiction.
Moreover, the senators' bill would require that all educational institutions use a uniform process for disciplinary proceedings, and it would end the practice of allowing athletic departments or other subsidiary administrators from handling complaints, under threat of fines or losing federal funding.
The Greek system has a long history of bad behavior, from hazing rituals gone wrong to drunk pledges falling out of windows to, yes, rape. The question has been raised more than once whether fraternities and sororities should even exist anymore. Through it all, these organizations have become quite adept at avoiding liability.
I'm a Delta Zeta, and I happen to think that the Greek system does a great deal of good that should not be dismissed. But I believe the Interfraternity and Panhellenic conferences are on the wrong side of this. I know I'm not alone
Indeed, by calling out the terrible legislation the Greek conferences are pushing, McCaskill and Gillibrand are banking on the likelihood that fraternity and sorority members on campuses nationwide — not to mention the nearly 10 million Greek system alumni — probably don't know about it.
But we all know this: Rapes and other sexual assaults are still among the most underreported crimes in America. Victims need more, not less, encouragement to come forward, supported by professionalized processes that are fair to all.
If that shines an unflattering light on some fraternities and sororities, that's a small price to pay for making campuses safer for all.
(Mary Sanchez is an opinion-page columnist for The Kansas City Star. Readers may write to her at: Kansas City Star, 1729 Grand Blvd., Kansas City, Mo. 64108-1413, or via e-mail at msanchez@kcstar.com.) (c) 2015, THE KANSAS CITY STAR. DISTRIBUTED BY TRIBUNE CONTENT AGENCY, LLC
Photo: John W. Iwanski via Flickr