Greenland Ice Loss More 'Local' Than Thought, Climate Study Says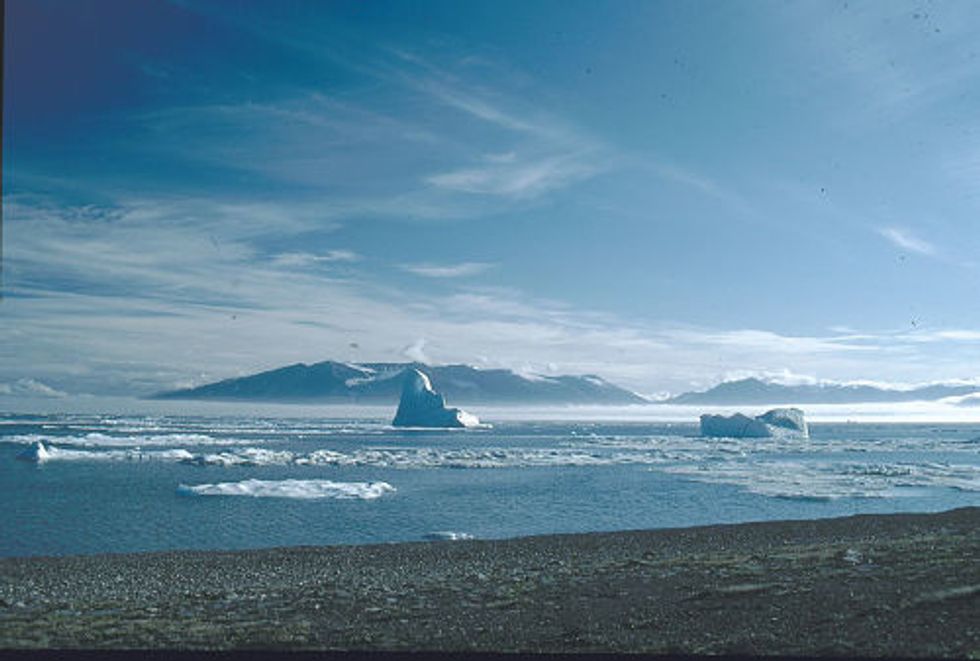 By Geoffrey Mohan, Los Angeles Times (TNS)
When it comes to melting ice on Greenland, climate change experts got everything right but the present.
That means Greenland's contribution to sea level rise this century remains roughly the same — three inches — but where it comes from and how it gets to the ocean are now more clear, according to a new study that crunched 20 years of NASA data.
The findings will make climate models far more precise, according to the researchers.
Until now, the United Nation's Intergovernmental Panel on Climate Change based its estimation of ice loss from Greenland on the four largest of an estimated 242 major outlet glaciers on that land mass, and admitted its modeling was at a "fairly early stage," according to the study.
The new study, published online this week in the journal Proceedings of the National Academy of Sciences, reconstructs ice thickness at about 100,000 sites, at a scale of single glaciers or drainage basins.
"These are billions of measurements, so the actual number of observations is really huge," said the study's lead author, Beata Csatho, a geophysicist at the University at Buffalo, N.Y.
There are about 656,000 square miles of ice on Greenland, or roughly three times the acreage of Texas. If all of that ice melted, it would raise average sea levels about 20 feet, according to the National Snow and Ice Data Center.
Several factors are important to figuring out how much fresh water could be dumped into the world's oceans, where it could potentially alter water cycles that drive Earth's climate. The large-scale fluctuation of melt versus precipitation is relatively well known, but how ice changes locally as it grinds against underlying bedrock "is not well understood at all," said Csatho.
Those local-level dynamics are responsible for nearly half of the ice loss — 48 percent — according to Monday's study.
The researchers used 20 years of NASA's laser-based measurements of elevation changes, which are accurate to about a centimeter. They found that Greenland shed 243 billion tons of ice annually from 2003-2009, but in fits and starts, and hardly uniformly.
Southeastern Greenland, for example, was responsible for nearly half of the overall ice loss — its glaciers thinned rapidly, reaching a peak discharge of 166 billion tons in 2005, according to the study. Two of the four glaciers used in the IPCC model are from that region, Csatho said.
The region's accelerated loss eased, however, as several glaciers and some high-elevation ice masses actually thickened, the study found. By 2009, however, losses accelerated again, while the northwest region experienced an uninterrupted thinning during the six-year time period, according to the study.
Overall, said Csatho, the newly calculated ice losses are close to range projected by the existing IPCC model, which "is more likely underestimating" ice loss, Csatho said.
"IPCC got everything right, but the present," she said.
"The thing to understand is that these models have relied on data sets that are poorly known," said Eric Larour, a NASA-JPL cryosphere scientist who manages the agency's Ice Sheet System Model.
Larour, Csatho and others at Argonne National Lab and the University of California, Irvine, did a bit of mathematical reverse-engineering of climate models and came up with estimates of surface mass gains and losses as well as the small-scale effects of friction between the ice and bedrock.
"Those are very difficult to observe from space, but if you have a model and surface elevations that are observed from space, you can infer those unknowns," Larour said.
"We now can infer the state of the ice," he added. "Now the model matches the observations better, so it's more reliable."
Photo via Wikimedia Commons