Gubernatorial Campaign Strategy Could Pose Risk For Carter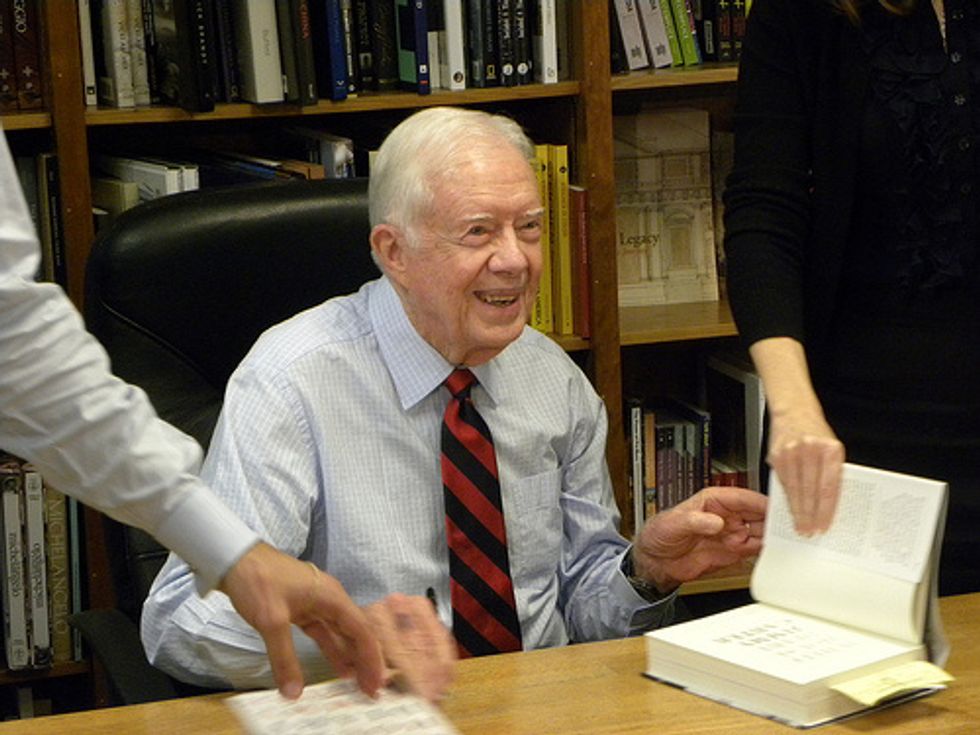 By Greg Bluestein, The Atlanta Journal-Constitution
ATLANTA — The actor William H. Macy has a problem. He's trying to come up with a song to play at an upcoming fundraiser for Democrat Jason Carter's campaign, and now he's learned that former President Jimmy Carter may also attend. Suddenly, that ukulele tune has become more important. "Need courage and better rhymes," he wrote on Twitter.
That hint last week about the Los Angeles fundraiser is the latest sign of the former president's growing role in his grandson's bid for governor. The elder Carter has access to a donor network and the media that few can rival. But his involvement also opens the younger Carter to attacks from conservatives who view his grandfather's one-term presidency with disdain.
Jason Carter, a state senator from Atlanta, has long tried to veer the conversation away from his famous relative in interviews on the campaign trail, saying he's proud of his grandfather's legacy but the race is "about the future and not my family." Yet as November nears, the candidate is increasingly tapping his grandfather's network.
The elder Carter has headlined fundraisers with Democratic bigwigs in New York. He's sent email blasts soliciting donations from the party faithful. And he's hosting a June weekend retreat for the campaign at his Plains compound — at a cost of $20,000 a couple.
This support helps the state senator, who otherwise wouldn't attract national press, keep pace with Republican Governor Nathan Deal's fundraising machine. In his last campaign finance report, Carter outraised Deal by a 5-to-1 clip, thanks partly to gifts from out-of-state donors, who made up 16 percent of the total.
It's also fuel for Carter's critics, who have seized the chance to link the two. While the elder Carter may be personally popular in the state — the candidate's campaign has him polling at a 59 percent favorability rating — Republicans are confident his liberal leanings only hurt his grandson in a state that is now firmly in GOP control.
"This is a rare circumstance in politics where a candidate must embrace his most prominent supporter in order to raise the money necessary to distance himself from his most prominent supporter," said Joel McElhannon, a veteran GOP strategist.
The younger Carter often only mentions his name-brand heritage in passing at speeches and events. During a Thursday evening Democratic fundraiser, he said his family's Georgia roots date to the 1760s and noted that his two children are 10th-generation Georgians. His granddad's name was not invoked.
The younger Carter said Friday that his grandparents "set the standard for honesty and integrity" in politics. "That's the legacy I'm proud to carry forward in this campaign," he said, "especially at a time when our state is so clearly in need of leaders with integrity."
Deal, a former House lawmaker who switched parties in the 1990s, has said he supported the elder Carter's presidential bids in the 1970s . But he has also noted he rarely is asked about his Georgia roots, which stretch back more than a century.
"I don't think that's what's important," Deal said. "I think the candidate should stand on his own footing."
The former president's growing involvement will inevitably draw attention to his more strident views.
His comparison of Israel's treatment of Palestinians to apartheid has fermented a deep mistrust in Georgia's Jewish community that still lingers. And the elder Carter's outspoken views on international and domestic controversies could pose an ongoing dilemma for his grandson's campaign.
Take a symposium the former president headlined in November, days after his grandson entered the race. At the event, Carter said he would counsel his grandson to follow his heart and campaign against the death penalty because he doesn't think it would be an "overwhelmingly negative factor" in the race. (Jason Carter was compelled to issue a statement after disagreeing with his grandfather.)
To some analysts, though, Jason Carter's pivot toward his grandfather is no surprise. Kerwin Swint, a Kennesaw State University political scientist, said comparisons between the two are "unavoidable" and that the help is likely needed for an "all-out fundraising blitz."
They point to other Georgia Democrats making use of their family names. Democrat Michelle Nunn, the daughter of former U.S. Senator Sam Nunn, is using her father's fundraising network in her quest to claim a GOP-held Senate seat. A third Democratic scion, Chris Irvin, is seeking the agriculture commissioner job once held by his grandfather, Tommy Irvin.
Photo: Talk Radio News Service via Flickr