Gun Lobby's Fanaticism Prevails Over Common Sense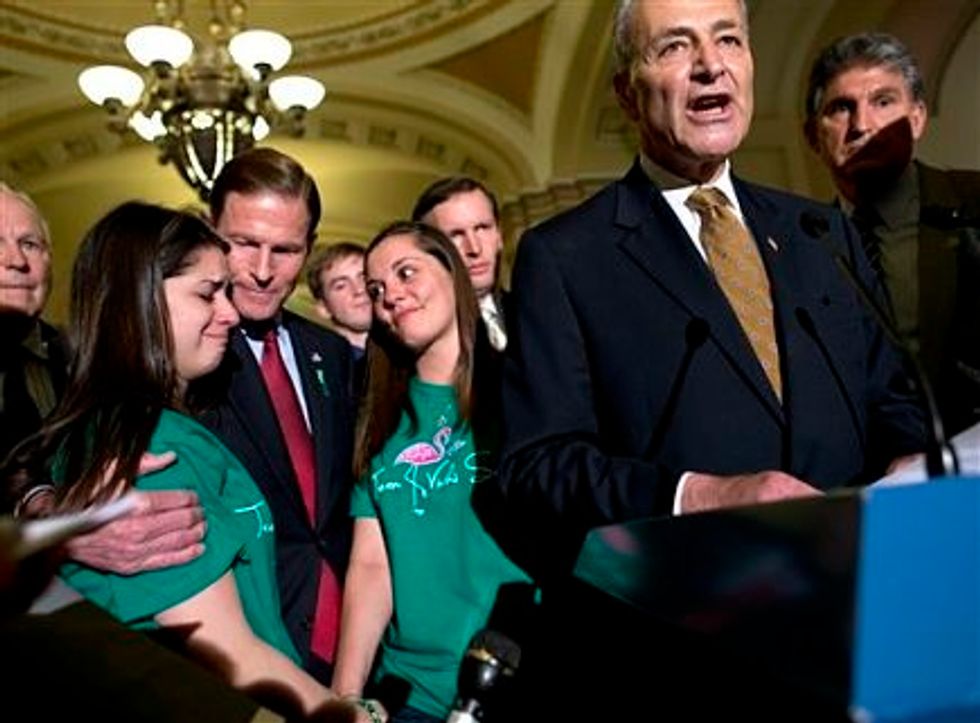 You might have thought that the mangled bodies of 20 dead children would have been enough to overcome the crazed obsessions of the gun lobby.
You might have believed that the courage and exhortations of a former congresswoman — her career cut short and her life forever changed by a would-be assassin's bullet — would have pushed Congress to do the right thing.
You might have reasoned that polls showing overwhelming public support for a sensible gun control measure would have persuaded politicians to take a modest step toward preventing more massacres.
You would have been wrong. Last week, the U.S. Senate sent a stark message to the citizens it is elected to represent: We couldn't care less about what you want.
Fifteen years of highly publicized mass murders carried out by madmen with firearms — Columbine, Virginia Tech, Tucson and Aurora, to name just a few — have changed nothing. Newtown, where 26 people, including 20 young children, were mowed down by a man armed with an assault-type weapon and high-capacity magazines for his ammo, provoked little more than a ripple in the corridors of Washington, where the National Rifle Association and its like-minded lobbies carried the day.
The grip that the gun lobby maintains on Congress is hard to explain. The National Rifle Association has persuaded spineless politicians that it is an omnipotent election god, able to strike down those who don't cower before it. That's simply not true, but even if it were, aren't some principles worth losing elections over?
The proposal that appeared to have the best chance of passage last week was modest enough. It would simply have expanded criminal background checks to include guns sold at gun shows and via the Internet, a step supported by 90 percent of Americans, according to polls.
As its proponents conceded, it would not have stopped the Newtown atrocity. Adam Lanza took his mother's legally purchased weapons to kill her, to carry out a massacre and to then commit suicide.
But expanded background checks would certainly save other lives, since violent husbands and other criminals have been able to saunter through huge holes in the system to purchase guns. Speaking with justifiable anger after the background-check measure went down to defeat, President Obama noted, "… if action by Congress could have saved one person, one child, a few hundred, a few thousand … we had an obligation to try."
In an exhaustive report last week about online purchases of firearms, The New York Times showed clearly why expanded background checks are needed. As the newspaper noted, websites for firearms function as "unregulated bazaars" where sellers offer prospective buyers the following assurance: "no questions asked." Reporters found persons with criminal records buying and selling guns.
It is infuriating that the gun lobby defeated a proposal to rein in that dangerous commerce. And, as usual, it defended its opposition with a lie: The amendment would have led to a national registry of guns, just a slippery slope away from confiscation.
While many discussions of the gun lobby's fanaticism include a nod to the country's frontier origins, it's a mistake to believe this craziness is rooted in history. The lunacy from Wayne LaPierre, head of the National Rifle Association, has a more recent provenance.
When I was a child in Alabama — the daughter and niece of hunting enthusiasts — gun owners didn't demand the right to take their weapons into church or bars or onto college campuses.
But as hunting has become less popular and as the number of households owning guns has declined, the ranks of gun owners have become over-represented by conspiracy theorists and assorted crazies and kooks. They can be easily persuaded that the government is on a mission to confiscate their firearms.
There is little doubt that paranoia is amplified by the presence of a black president, who represents the deepest fears of right-wing survivalist types. So it was probably naive to expect that he could drum up support for more reasonable gun safety measures.
But if 20 dead children can't persuade Congress to tighten gun laws, what will?
(Cynthia Tucker, winner of the 2007 Pulitzer Prize for commentary, is a visiting professor at the University of Georgia. She can be reached at cynthia@cynthiatucker.com)
AP Photo/Evan Vucci