Gun Outfit Hired Hannity And Others As Paid Shills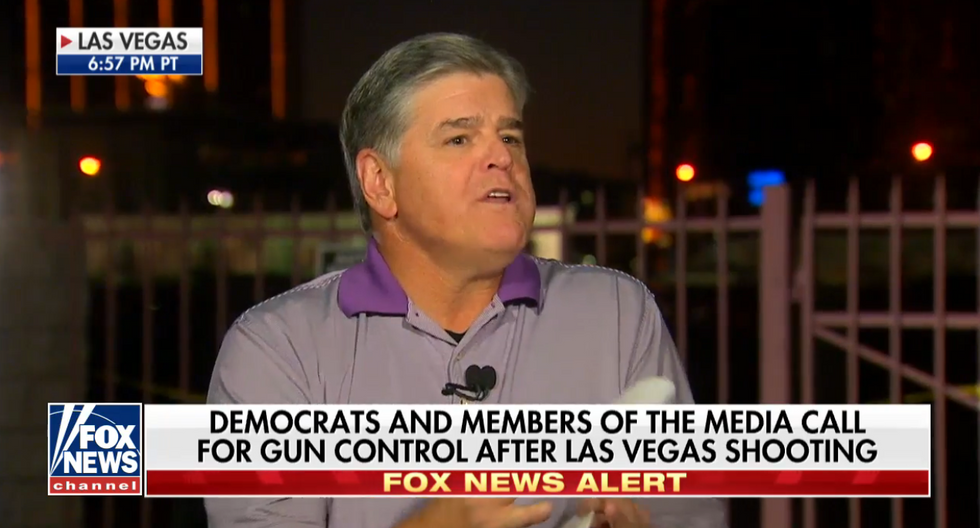 Reprinted with permission from MediaMatters.
Right-wing radio hosts such as Sean Hannity and Mark Levin have been acting as paid pitch people for a company that promises to help train members on how to use guns to "survive a mass shooting." Hannity has been especially vocal about the company and used the recent Las Vegas mass shooting to shill for it on his radio program.
The U.S. Concealed Carry Association (USCCA) is a pro-gun company that sells membership plans featuring"education, training, and self-defense insurance" for gun owners. It also criticizes attempts to enact gun control laws and publishes Concealed Carry Magazine. The group claims to have over 250,000 members and has attempted to grow its membership over the years through numerous advertising buys with conservative media.
Glenn Beck, Sean Hannity, Mark Levin, and Ben Shapiro are all part of the association's latest advertising campaign for a "100% FREE Complete Concealed Carry & Family Defense Guide," which includes tips on "how to survive a mass shooting" and "the safest AND most dangerous places to sit in a restaurant" (the sign-up takes people to a page that urges them to pay for a membership).
The USCCA created dedicated landing pages for each individual host participating in the advertising campaign, including the following identical quote which was cut and pasted for each person:
Prior to the Las Vegas shooting, these media personalities did advertisements for the campaign that aired in late September. Here are those ads, along with their dedicated website URL: ​Beck (ProtectAndDefend.com), ​Hannity (DefendFamily.com), ​Levin (DefendThem.com), and ​Shapiro (DefendMyFamilyNow.com) .
Hannity has continued to tout USCCA as a solution to surviving a mass shooting following the Las Vegas tragedy. During his October 5 radio program, Hannity segued from talking about the mass shooting to introducing "our friends at the United States Concealed Carry Association," saying, "I'm proud to be associated with them. They have offered a family defense guide. You're going to learn — and this is 164 pages — how to survive a mass shooting. How to detect attackers before they see you."
Previously, Hannity used the shooting at a congressional baseball practice in June to push USCCA membership.
The association, which did not respond to requests for comment, features a Hannity testimonial on its websiteunder the headline: "Why Sean Hannity Joined The USCCA… Hear Why One Of The Most Trusted Conservative Voices In America Is A Proud Card-Carrying Member."
Hannity used his October 4 Fox News program to advocate for concealed carry while discussing the Las Vegas shooting. He praised right-to-carry laws and said that "having more citizens that are armed leads to a decrease in violent crime." He did not mention he's being paid by a pro-right-to-carry group during the program.
Despite Hannity's claim, as The Atlantic noted in June, "academic studies have strongly suggested" that right-to-carry laws "lead to higher rates of violent crime. The latest — and, at least according to one of its authors, most comprehensive — was released earlier this month by the non-partisan National Bureau of Economic Research." The study concluded, "There is not even the slightest hint in the data that [these] laws reduce violent crime."
Media Matters previously documented that Hannity repeatedly used his Fox New program to push his radio sponsor's concealed carry agenda without any disclosure about his financial relationship. He similarly used his Fox News program in 2014 to promote the fundraising efforts of the Tea Party Patriots, which sponsored his radio program.