Gunman Opens Fire At Ft. Lauderdale Airport, Killing Five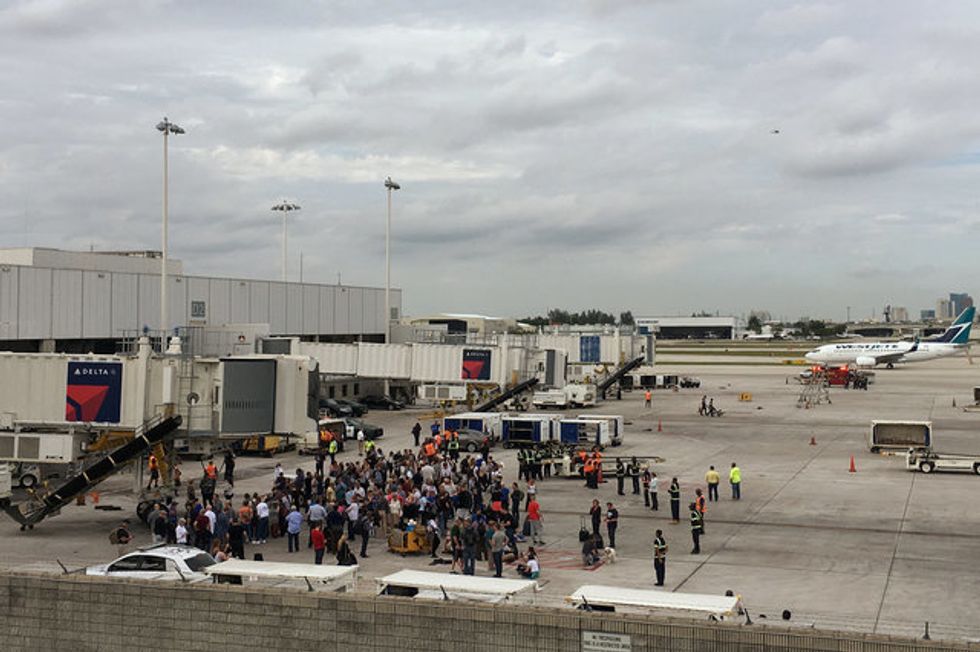 FORT LAUDERDALE, Fla. (Reuters) – A gunman wearing a "Star Wars" T-shirt opened fire at a baggage carousel at Fort Lauderdale-Hollywood International Airport on Friday, killing at least five people before being taken into custody, officials and witnesses said.
Five people died and eight were wounded in the incident, the local sheriff's office said.
Police shot the shooter as he attempted to reload, MSNBC reported, citing witnesses. It said the man, who said nothing, appeared to be in his 20s and was wearing a "Star Wars" T-shirt.
He carried a U.S. military identification, U.S. Senator Bill Nelson of Florida told MSNBC.
The Florida attack was the latest in a series of mass shootings that have plagued the United States in recent years, some inspired by militants with an extreme view of Islam, others carried out by loners or the mentally disturbed who have easy access to weapons under U.S. gun laws.
About 90 minutes after the attack, panic broke out anew with passengers and police running frantically about the airport.
Dozens of police sprinted back and forth with automatic weapons drawn, directing a large group of travelers.
A police officer screamed "Get down, get down!" from a parking garage across the street from the airport terminal, a Reuters reporter witnessed.
John Schlicher, who told MSNBC he saw the attack, described the shooter as a "slender man" who was "directly firing at us" while passengers waited for their bags to come off the carousel.
"I put my head down and prayed," Schlicher said, adding that his wife gave first aid to someone who had been shot in the head. His mother-in-law used her sweater to tend to another victim but it turned out that person was already dead, he said.
The shooter reloaded for a second burst of shooting, Schlicher said, but could not say how many bullets were fired.
Mark Lea, another eyewitness, told MSNBC "there was no rhyme or reason to it."
"He didn't say anything, he was quiet the whole time, he didn't yell anything," Lea said.
Security officials corralled passengers underneath jetways and on the runway apron, according to images on television.
A woman tended to a bleeding, seated man outside an airport building, according to a photo posted on Twitter by a Michigan information technology company.
Air traffic was temporarily suspended.
Fort Lauderdale-Hollywood International Airport is the second largest in South Florida, serving as an intercontinental gateway, with Miami International Airport known as the primary airport for international flights in the area.
HISTORY OF SHOOTINGS
Friday's attack comes nearly two months after a former Southwest Airlines worker killed an employee of the company at Oklahoma City's airport in what police called a premeditated act.
The deadliest mass shooting in modern U.S. history took place in June, when a gunman apparently inspired by Islamic State killed 53 people and wounded 49 others at a gay nightclub in Orlando, Florida.
One of the most shocking took place in 2012, when a man entered an elementary school in Newtown, Connecticut, and shot dead 20 first-graders and six adults.
Attackers from Fort Lauderdale to Brussels have exploited security officials' focus on preventing attacks on airplanes rather than inside airports. In Western Europe and the United States, terminals are easily accessible public spaces.
But at Israel's Ben Gurion Airport, widely seen as a model for security, private companies trained by the national security agency use bomb-detectors, profile passengers and question travelers under the watch of police at the airport's entrance. That approach has its limitations and may just shift the target to another location at the airport, experts have said.
(Reporting by Colleen Jenkins, Jeffrey Dastin, Joseph Ax, Jonathan Allen, Gina Cherelus, Letitia Stein and Laila Kearney; Writing by Daniel Trotta; Editing by James Dalgleish)
IMAGE: Travelers are evacuated out of the terminal and onto the tarmac after airport shooting at Fort Lauderdale-Hollywood International Airport in Florida, U.S., January 6, 2017.   REUTERS/Zachary Fagenson