Gunmen Attack American University In Kabul, Students Trapped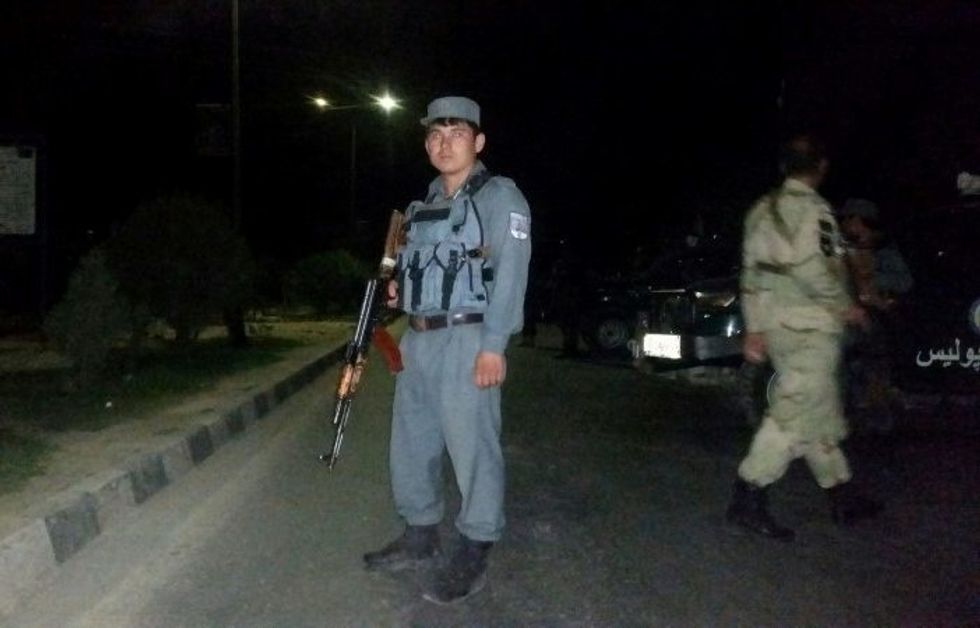 This story was updated at 3:19pm.
KABUL (Reuters) – Suspected militants stormed the Kabul campus of the American University of Afghanistan on Wednesday with some students jumping from second floor windows to escape the gunfire and explosions, witnesses and officials said.
Foreign staff and dozens of pupils were trapped in the compound hours after the attack began at about 6:30 p.m. (10 a.m. ET).
News of casualties was sketchy, but the head of hospitals in the Afghan capital said at least one person had been killed and 14 students wounded in the assault.
"Many students jumped from the second floor, some broke their legs and some hurt their head trying to escape," Abdullah Fahimi, a student who escaped, told Reuters. He injured his ankle making the leap.
"We were in the class when we heard a loud explosion followed by gunfire. It was very close. Some students were crying, others were screaming."
A senior interior ministry official said that elite Afghan forces had surrounded the university and witnesses at the scene said special forces had entered the walled compound where gunfire that had lasted for more than an hour had since stopped.
"There are two gunmen hiding inside the building and a clearing operation is ongoing to eliminate them," interior ministry spokesman, Sediq Sediqqi, said.
CAR BOMB
Ahmad Mukhtar, another student who fled the scene, said the gunmen had got into the university buildings despite security measures including three or four armed guards and watchtowers.
He added that he believed the attack had started at the main gate into the compound.
"I finished my class and was about to leave when I heard a few gunshots and a huge explosion, followed by more gunfire," he said. "I ran toward the emergency exit with other students, climbed the wall and jumped outside."
Kabul police chief, Abdul Rahman Rahimi, told Reuters that the attack began with a car bomb and several attackers had entered the campus.
Islamist militant groups, mainly the Afghan Taliban and a local offshoot of Islamic State, have claimed a string of recent atrocities aimed at destabilizing the country and toppling the Western-backed government of President Ashraf Ghani.
No one has claimed the university attack.
It is the second time this month that the university or its staff have been targeted.
Two teachers, an American and an Australian, remain missing after being abducted at gunpoint from a road nearby on Aug. 7.
Taliban insurgents control large swathes of Afghanistan, and local armed forces are struggling to contain them, especially in the provinces of Helmand to the south and Kunduz to the north.
NATO ended its combat mission in December 2014, but thousands of troops remain to train and assist Afghan forces, while several thousand more U.S. soldiers are engaged in a separate mission focusing on al Qaeda and Islamic State.
(Writing by Mike Collett-White; Editing by Louise Ireland)