Hagel Stands Up For 'Tough Call' To Trade Taliban Prisoners For Bergdahl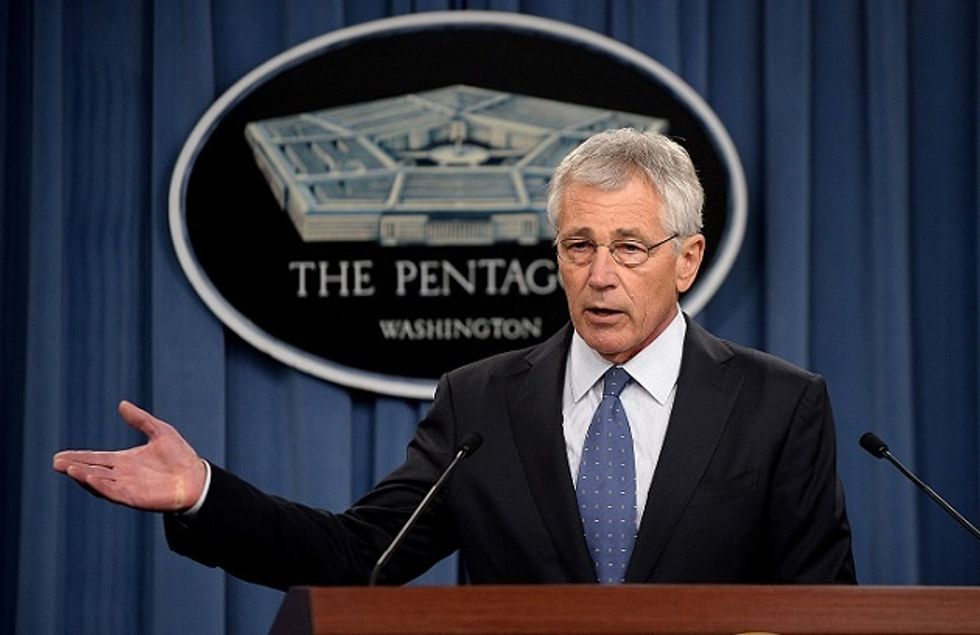 By David S. Cloud, Tribune Washington Bureau
WASHINGTON — Defense Secretary Chuck Hagel on Wednesday defended the swapping of Army Sgt. Bowe Bergdahl for five Taliban prisoners, insisting that the exchange was the "last, best chance" to get him back and did not violate a long-standing U.S. policy against negotiating with terrorists.
Hagel, in the first testimony to Congress on the controversial swap, dismissed Republican complaints that Congress was not informed about the prisoner swap ahead of time, calling it an "extraordinary situation" that required secrecy until after Bergdahl was handed over in eastern Afghanistan last month.
His appearance before the House Armed Services Committee comes after a week of questioning by lawmakers of both parties about the deal reached by the Obama administration for Bergdahl.
He remains at a U.S. military hospital in Germany undergoing counseling and is facing an investigation into whether he deserted his Army unit before he was taken prisoner.
In sometimes sharp exchanges with Hagel, Republicans on the panel argued that because Bergdahl was believed to be held by a terrorist organization, the deal to free him breached U.S. practice not to negotiate with terrorists.
Rep. Howard "Buck" McKeon, R-Calif., called the prisoner swap "deeply troubling" and "unprecedented" — a criticism echoed by several Republican lawmakers on the panel.
"How is it the United States could have been in negotiations with the Haqqani network, a listed terrorist organization, and it not conflict with our policy that we do not negotiate with terrorists?" asked Rep. Michael Turner, R-Ohio.
Hagel insisted that the U.S. had engaged only in "indirect negotiations" with Qatar acting as intermediary, and even then only with Taliban officials, not with members of the Haqqani group, which has close ties to Taliban leaders. It has carried out some of the most deadly attacks in Afghanistan in recent years.
"We didn't negotiate with terrorists, Congressman," he told Turner.
Pentagon general counsel Stephen Preston, testifying with Hagel, conceded that the Taliban, which ruled Afghanistan during the 1990s before being ousted in the 2001 U.S. invasion, is "not a conventional nation state" like those that held U.S. prisoners of war in past conflicts.
The deal to get Bergdahl "falls within the tradition of prisoners exchanged by opposing forces in time of war," Preston said, citing the case of Army helicopter pilot Michael Durant, who was captured by Somali militants in 1993 in a battle in Mogadishu in which 18 U.S. soldiers were killed.
Durant was returned in a "quiet arrangement" with Somali warlord Mohammed Farah Aidid in which he was exchanged for Somalis captured by the U.S., Preston said.
But Turner challenged that account, citing news reports that quoted Aidid as saying Durant was released as a "goodwill gesture" and then-President Bill Clinton as denying there had been any deal.
Hagel conceded that the administration "could have done a better job" at keeping Congress informed about the negotiations to free Bergdahl, who had been held captive nearly five years after leaving his base in eastern Afghanistan without permission.
"We grew increasingly concerned that any delay, or any leaks, could derail the deal and further endanger Sgt. Bergdahl," Hagel said. "We were told by the Qataris that a leak, any kind of leak, would end the negotiation for Bergdahl's release."
Members of both parties criticized the administration for not notifying Congress in advance of the prisoner transfer, with McKeon and others contending it violated a U.S. law requiring 30-day notification before any prisoner can be moved from Guantanamo.
Hagel insisted that the U.S. did not know until hours before Bergdahl was turned over that the Taliban intended to comply with the deal, making it impossible to comply with the 30-day requirement. In addition, Preston said, Department of Justice lawyers had assured them that Obama had the power to transfer the Taliban prisoners without notifying Congress ahead of time, citing his constitutional powers as commander in chief.
"We did not know until the moment Sgt. Bergdahl was handed over safely to U.S. Special Operations Forces that the Taliban would hold up their end of the deal," Hagel said. "The president's decision to move forward with the transfer of these detainees was a tough call. I supported it. I stand by it."
Qatar has promised that the Taliban prisoners will be kept in that country for a year, but Hagel refused to go into further details about security assurances that the U.S. has received aimed at preventing them from threatening the U.S.
"If any of these detainees ever try to rejoin the fight, they would be doing so at their own peril. There's always — always — some risk," Hagel conceded.
Olivier Douliery/Abaca Press/MCT