Hagel's Exit From Pentagon Still Leaves Administration Divided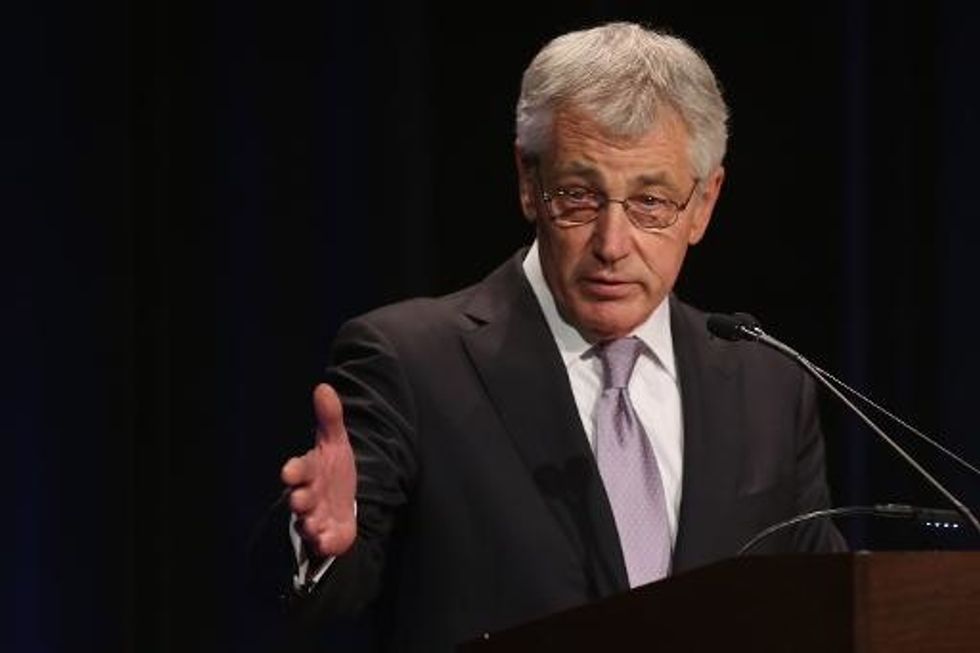 By W.J. Hennigan and Christi Parsons, Tribune Washington Bureau (TNS)
WASHINGTON — Defense Secretary Chuck Hagel's resignation Monday amid pressure from the White House clears the way for a new Pentagon leader but still leaves the administration divided over the issues that helped lead to his downfall — most notably how to approach the intertwined problems of the Islamic State militants and the civil war in Syria.
Hagel's exit starkly illustrates how much national security priorities have shifted in the past two years. When he was appointed, administration officials expected him to focus on ending expensive ground wars in Iraq and Afghanistan and handling a massive budget retrenchment at the Pentagon.
In an announcement at the White House, Obama praised Hagel's leadership in overseeing those matters, but said "it was an appropriate time for him to complete his service."
White House officials had grown increasingly dissatisfied with him as the military's focus shifted to renewed combat with the Islamic State militants who have taken control of large swaths of Iraq and Syria. Hagel often appeared ill-at-ease when trying to publicly articulate administration policy on that fight.
The high-profile departure means Obama is in the hunt for his fourth defense secretary in six years, a total matched only by Harry S. Truman, who created the position in 1947.
Hagel's rift with Obama began to emerge in late October when a blunt two-page memo Hagel wrote about Syria surfaced. In it, he warned the White House that the overall plan in Syria could collapse because U.S. intentions toward Syrian President Bashar Assad were unclear.
Obama has called on Assad to step down but has refused to authorize using military force, including a proposed proxy army of rebels, to remove him.
Hagel never mentioned the disagreement publicly and evaded questions about the memo.
Administration officials acknowledged that the president was ready for Hagel to move on so he could name someone else to lead the Pentagon. But White House aides denied that Hagel and Obama no longer see eye-to-eye about important matters of foreign policy.
Obama did not pressure Hagel to leave because of the memo, White House press secretary Josh Earnest said. The two men "arrived together at the determination" that someone else would be "better suited" to lead the Pentagon, Earnest said.
The president's search for another defense secretary was not lost on ranking Republicans in Congress.
"When the president goes through three secretaries, he should ask: 'Is it them, or is it me?'" said House Armed Services Chairman Howard P. "Buck" McKeon, R-Calif.
Rep. Mac Thornberry, R-Texas, vice chairman of the committee, accused the White House of micromanaging the military.
"Secretary Hagel's successor must be a person who is strong enough to stand up against such attempts, who is willing to speak up for our men and women in uniform, and who is prepared to advocate for what it takes for them to succeed in the missions they are assigned," he said.
Hagel, 68, was the only Republican in the upper echelon of Obama's circle of advisers. He and Obama forged a friendship in the Senate, where both were critics of the Iraq war.
Hagel won a bitter Senate confirmation battle in February 2013 but never fully fit in with the White House security team, a close-knit group whose most influential members were part of the 2008 Obama presidential campaign.
He never displayed the brash personality that earned him maverick status as a Republican senator from Nebraska who took controversial positions and delivered blunt assessments on issues.
At congressional hearings on the strategy against Islamic State, Hagel often took a back seat to the chairman of the Joint Chiefs of Staff, Gen. Martin Dempsey, who frequently offers frank answers to lawmakers' questions.
Speaking at the White House alongside the president, Hagel said the post was the "greatest privilege of my life." He said he will remain defense secretary until Congress confirms his replacement.
A nominee will be named "in short order," a senior administration official said.
In addition to fighting Islamic State, Hagel's successor will oversee a host of challenges across the globe.
A resurgent Russia continues to provoke NATO allies in eastern Europe and has successfully annexed Crimea from Ukraine. The Taliban has stepped up terrorist attacks in Afghanistan, which led the Pentagon to plan a broader role for troops next year. And it has begun a multibillion-dollar effort to overhaul nearly every aspect of the military's nuclear forces, which have been stung by a series of scandals and mishaps in recent years.
The next defense secretary is in for a difficult task, said John Pike, director of GlobalSecurity.org, a website for military policy.
"From a military standpoint, the White House wants to do as little as possible until their two years are up," he said. "They want to ride it out and hand over their problems to the next administration."
Obama has been looking at several candidates to run the Pentagon. Two said to be under consideration are Michele Flournoy, a former military adviser, and Ashton Carter, a former Pentagon official who was on the short list when Hagel was chosen.
Flournoy would be the first woman to hold the job, the kind of history-making choice that appeals to Obama, who tapped Eric H. Holder Jr. as the first black attorney general and nominated a successor to Holder, Loretta Lynch, who would be the first black woman to run the Justice Department.
Regardless of who the president chooses, the confirmation process could become a proxy debate over the president's military strategy.
The Republican majority taking control of Congress in January has already promised greater scrutiny of the fights against Islamic State and in Afghanistan.
Republicans have repeatedly criticized Obama for declining to leave a residual military force in Iraq when he called an end to combat operations in 2011, which they contend led to the rise of Islamic State. They also blame him for not providing Syrian rebels with arms earlier in the civil war when it might have been most beneficial.
Any nominee will have to navigate complicated politics, satisfying both hawkish Republicans and anti-interventionists in the party such as Sen. Rand Paul of Kentucky, as well as liberal Democrats who have gained a new foothold in the party leadership after the midterm elections thinned the ranks of red-state moderates.
AFP Photo/Chip Somodevilla