Haider Al Abadi Named To Replace Maliki As Troops Take To Baghdad's Streets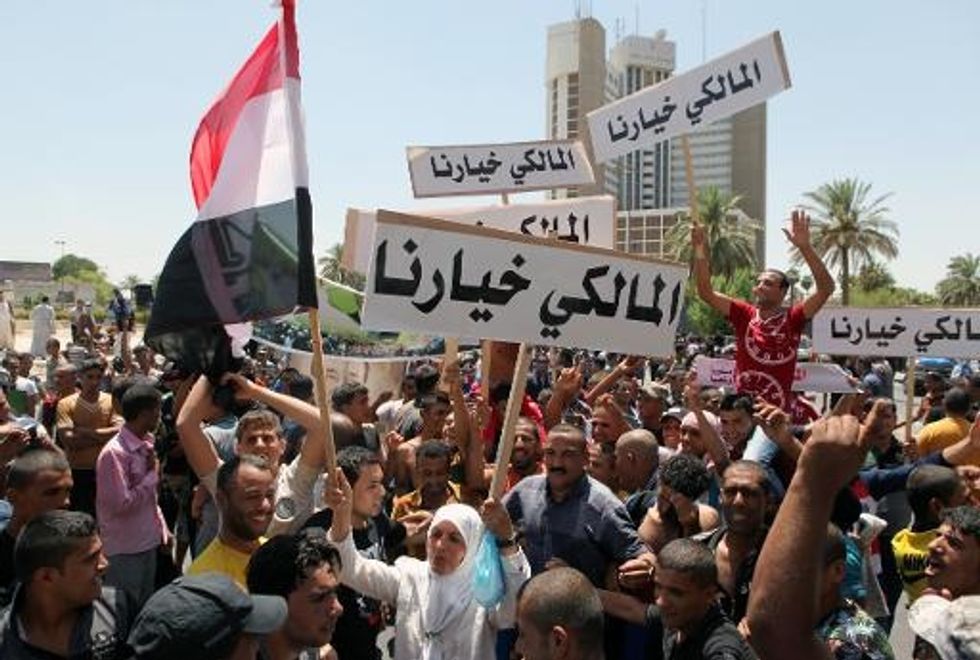 By Adam Ashton, McClatchy Washington Bureau
BAGHDAD — Iraq's political crisis deepened Monday, with Prime Minister Nouri al Maliki entrenching himself in the capital's International Zone while the coalition his political party belongs nominated a rival to succeed him as head of the government.
The country's highest court reportedly ruled against a demand by Maliki that his State of Law party, and not the National Iraqi Alliance coalition, be given the task of choosing the prime minister.
That ruling cleared the way for the alliance, parliament's largest Shiite Muslim political bloc, to nominate former Maliki ally Haider al Abadi to become prime minister. The alliance forwarded the nomination to Iraqi President Fouad Massoum Monday afternoon, and Moussam announced the nomination shortly afterwards.
Abadi, who is a member of Maliki's State of Law party and a former party spokesman, was named only hours after Maliki announced in a late-night address that he would file a legal complaint against Massoum for failing to appoint a prime minister from Maliki's party by an earlier constitutional deadline.
At the same time, Maliki called on elite special forces to reinforce the sprawling government complex known as the International Zone, which houses parliament and Maliki's home.
Main roads in the city were closed and troops were out in force both on foot and in trucks mounted with machine guns. Nicholay Mladenov, the United Nations special envoy to Iraq, released a statement Monday urging Iraq's military to stay out of the political dispute.
Maliki's moves also drew a sharp rebuke from Secretary of State John Kerry, who is traveling in Australia. U.S. officials have lobbied for weeks for Maliki to step down, contending the country needs a new leader to unite Iraq against the threat posed by militants in the Islamic State.
"We stand absolutely squarely behind President Massoum (who) has the responsibility for upholding the constitution of Iraq," Kerry said.
Kerry said Maliki's actions could lead the United States to withhold further military assistance just days after American jets and drones began launching air strikes against Islamic State positions in northern Iraq.
"One thing all Iraqis need to know, that there will be little international support of any kind whatsoever for anything that deviates from the legitimate constitution process that is in place and being worked on now," he said.
By tradition, Iraq chooses a Kurd to be president, a Shiite lawmaker to be prime minster and a Sunni to be speaker of parliament. Massoum, a Kurd, asked the National Iraqi Alliance to nominate a prime minister but the broad coalition failed to settle on a candidate until Monday. The deadline was Sunday.
Maliki has become a divisive figure in the country. Sunni Arabs accuse him of becoming a dictator while favoring the country's Shiite majority over the large Sunni population that dominates Iraq's west and north. Sunni extremists in the Islamic State have taken large swaths of territory in that region.
Maliki counters that he's defending the country from Sunni terrorists who launch suicide bombing attacks and attempt to seize territory from his government.
Thousands of young men marched through central Baghdad Monday morning, chanting their support for Maliki while toting portraits of the prime minister. Many of them appeared to take buses to the city's Firdos Square to participate in the rally.
"All of the nation is with you, Nouri al Maliki," they chanted.
They were encircled by Iraqi soldiers and police, some on foot and some in trucks with mounted machine guns. The security forces tried to stay out of photos and videos being taken by Iraqi reporters at the rally.
The Supreme Court ruling against Maliki recalled a 2010 decision when Maliki clung to office despite not having won the most votes. In that case, Maliki argued that the National Iraqi Alliance, and not his party, should be selected to choose the prime minister because its coalition of Shiite parties had more seats than a rival bloc.
In deciding Monday's case, the court let the 2010 decision stand.
McClatchy special correspondent Laith Hammoudi contributed to this report.
AFP Photo/Amer Al-Saedi
Interested in world news? Sign up for our daily email newsletter!