Hard Cider Makes A Comeback, In Sacramento And Beyond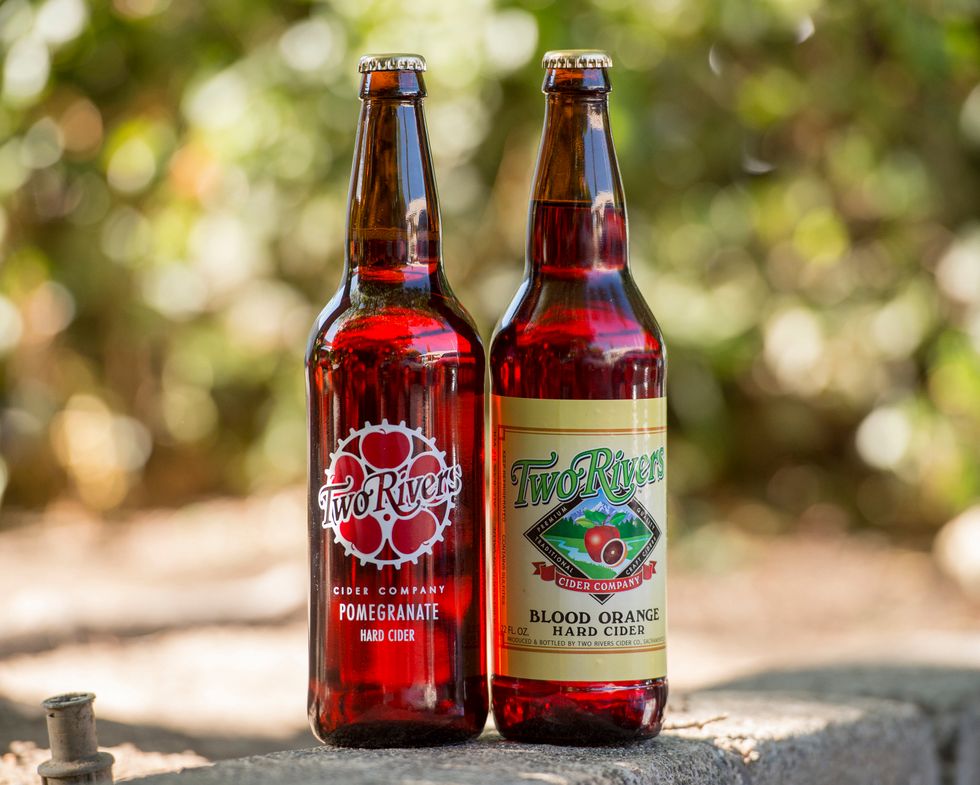 By Debbie Arrington, The Sacramento Bee (TNS)
Up against an oversaturated craft beer market, brewer Vincent Sterne saw opportunity in apples. The fruit grows near Sacramento, Calif., offering a ready supply of ingredients, and he was looking to enter a field with less competition.
So he switched from brewing beer to fermenting hard cider. His decision has now put him on craft cider's leading edge.
Hard cider is enjoying the early days of a renaissance, according to makers and marketers, evolving into a hip alternative for drinkers seeking something new and refreshingly different.
"With our proximity to Apple Hill, it made sense," said Sterne, owner of the Two Rivers Cider Co. in Sacramento. "I jumped into it feet first."
That was almost 20 years ago, and Sterne's Two Rivers has since become a pioneer among local modern cider makers. Now it's hard-pressed to keep up with demand. Nationally, cider consumption has exploded by fivefold in four years, particularly in apple-growing regions such as Northern California and upstate New York.
"We used to beat on doors to get people to try it," said Wayne Forbes, one of Two Rivers' cider makers. "Now people are beating down our door to buy it."
Americans have rediscovered a beverage that used to be a mainstay since the arrival of the Pilgrims. A century ago, hard cider was more popular than beer and stayed that way until 1920 and Prohibition, which banished the sale and production of most alcoholic beverages, including cider.
"Johnny Appleseed wasn't planting apples to eat; they were apples for cider," Sterne said. "Anybody with apple trees could have a cider press on the side."
During Prohibition, three-fourths of America's apple orchards were cut down, and cider makers no longer had enough fresh fruit when the alcohol ban was lifted in 1933. With few exceptions, only culinary apples grown for cooking and eating fresh remained.
Today, consumers are gravitating back to hard cider because it represents a sustainable, locally grown, gluten-free alternative to beer.
"It fills a niche no other drink does," said Dave Sipes, cider maker for industry leader Angry Orchard Hard Cider.
And it tastes good. The often fruit-forward flavors found in hard cider can be more appealing to young drinkers, especially women.
"Demographically, cider drinkers are 50-50 male and female," said Alan Shapiro, creator of Cider Summit, which organizes major regional tasting festivals devoted to cider. "That's different from beer festivals that are usually 70 to 80 percent men."
A recent Cider Summit attracted more than 4,000 patrons to San Francisco's Presidio to sip ciders by 45 makers from throughout California and the Northwest as well as some nationally distributed ciders.
"At least three-quarters of the people who came are cider curious," Shapiro said. "They're not cider geeks _ yet. They heard cider is getting popular again and want to taste different things, just like specialty beers attracted new customers in the late 1980s."
Rapid growth is attracting some big players. Angry Orchard, a division of Boston Beer Co. (makers of Samuel Adams), launched in 2012 and now controls 60 percent of the nation's cider market. The company recently purchased a 60-acre apple farm in New York's Hudson Valley, the Napa Valley of cider making.
"It's still a tiny fraction of the beverage market _ less than 1 percent of beer _ but it's got a tremendous upside," said cider maker Ryan Burk, who writes Angry Orchard's online blog.
Today's hard ciders offer far more than apple juice with a kick. Modern takes on this once-familiar alcoholic drink are rocking the adult beverage world.
"The craft cider market is still in its infancy," said Jason Mussetter, who distributes six cider makers through his Auburn, Calif.-based company. "It's still just a small percentage of total beer, but it's growing rapidly. Sacramento is in the top five markets for craft ciders. We have access to so many amazing products here."
A natural accompaniment to farm-to-food cuisine, hard cider is the original branch-to-bottle beverage. Interest in cider has pumped up demand for heirloom apples, including varieties that were almost lost during Prohibition. To meet its demand, Angry Orchard imports some of its apple juice from Europe.
"Last year, I paid 10 times (what he paid before) to get my apples," said Sterne, who buys cherished Gravensteins from Sonoma, Calif.
Later this year, Sterne plans to open a Two Rivers tasting room next to his tank rooms, housed near Sacramento City College. He's already expanded his cider-making operation to more than 3,500 square feet and needs more room. Two Rivers made 70,000 gallons in 2014, but will easily surpass that this year. It takes about six weeks to ferment a new batch, which may be further aged in barrels.
While most consumers know the basics of beer or wine, the cider industry has to overcome some basic misconceptions such as how cider is made and what it tastes like, experts say. Hard cider is not brewed like beer; it's fermented like wine.
"I'm normally not a big sweet-drink guy, but the drier ciders really piqued my interest," Mussetter said. "You can drink a pint or two and not get sugar-bombed. It pairs great with food. … And when you taste one like Common Cider's Blackberry Sangria or Hibiscus Saison _ holy cow! You realize this is something really cool."
Thirst for hard cider has spurred a rush of new cider houses, principally in apple-growing regions. Cider tradition is particularly deep-rooted in New York's apple country and other parts of the Northeast and Great Lakes states.
Like wine, its variations can be endless, influenced by blending and terroir. (Yes, where the apples grew matters, too.) The best cider apples have puckery tannins that add to their dryness and complexity.
Today's hard ciders bear little resemblance to former sugary-sweet sippers (remember wine coolers?). They start with apples, yeast and optional natural flavorings. They may be barrel-aged or racked repeatedly like Champagne. The results can be dry and light as any sauvignon blanc or as complex as the best meritage.
But the kick is closer to beer _ under 7 percent alcohol. With its apple juice base, hard cider contains no grain, but does boast several vitamins and antioxidants.
Like wine, hard cider pairs well with food. It also can be used in cocktails as an evocative mixer.
"People don't know how to classify it," Sipes said. "It's not a beer, it's not really a wine. It's a category all its own."
(c)2015 The Sacramento Bee (Sacramento, Calif.) Distributed by Tribune Content Agency, LLC.
Photo: Two Rivers Pomegranate Hard Cider and Blood Orange Hard Cider. (Jose Luis Villegas/Sacramento Bee/TNS)