Harrison Ford Back To Star Wars With New Sci-Fi Film
@AFP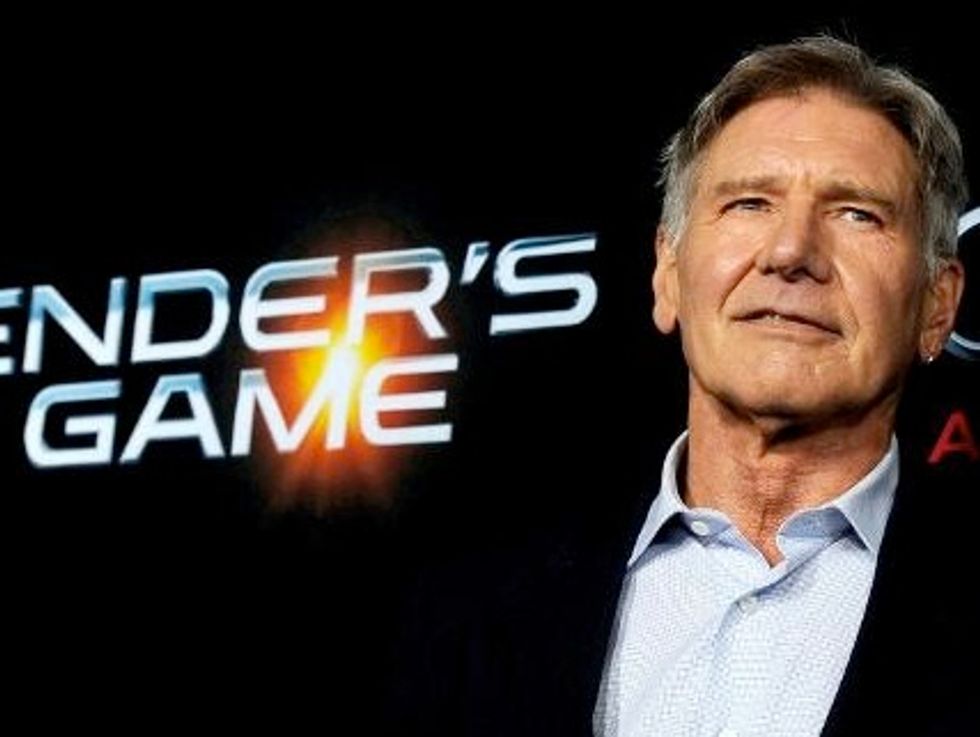 Los Angeles (AFP) – More than 30 years after "Star Wars," Harrison Ford has returned to inter-stellar space battles in big-budget sci-fi spectacular "Ender's Game."
But the 71-year-old insists it's the human relations rather than hi-tech wizardry that drew him to the project, developed from a novel by Orson Scott Card and directed by South African "X-Men" director Gavin Hood.
"It doesn't matter to me whether I go back into outer space or not," he told reporters in Beverly Hills, ahead of the movie's U.S. release Friday. "The job is the same and I don't have any sort of genre preferences.
"I'm just looking for a good story, a good character, whether Earth-bound or not."
In a film which will resonate with "Star Wars" fans recalling the young Luke Skywalker and the crusty Han Solo, Ford plays Colonel Graff, training a group of children and teenagers how to protect the Earth from an alien invasion.
The best bet to save the world is Ender, played by Britain's Asa Butterfield, who starred in Martin Scorsese's 2011 drama "Hugo."
Timid, but with an exceptional gift for military strategy and tactics, he becomes the hero of a film in which inter-galactic battles are played out in space and in a simulated game world.
It is almost Ford's first sci-fi film since the last "Star Wars" movie, apart from a role in 2011's "Cowboys and Aliens."
And science fiction has changed quite a bit since director George Lucas released the initial trilogy of the cult movie franchise in 1977 — as Ford explained as he presented his latest movie.
"When we were making 'Star Wars,' they were putting together space ships out of plastic model kits of cars and boats and trains and gluing them all together, and then putting them on a stick and flying them past the camera.
"And it worked. It was fine. Add a little music and you believed that big spaceship coming over your head," he said.
Computer Generated Imagery (CGI) can achieve incredible effects, but the veteran Hollywood actor warns they should not be abused.
"Often in those cases I feel you lose touch with the human characters and what it is that they would feel and how they might feel, and that's still the most important part.
Into his seventh decade, the actor is in fact busier than ever, with three other films released this year: "42", "Paranoia" and "Anchorman 2: the Legend Continues."
But the legendary "Indiana Jones" actor, while one of the most famous actors in the world, dismisses the label of "icon."
"An icon means nothing to me. I don't understand what it means to anybody actually. It seems like a word of convenience.
"It seems to attend to the huge success of certain kinds of movies that I did, but… I don't know what an icon does, except stand in a corner quietly accepting everyone's attention," he joked.
The hit 1985 novel on which the film is based has a lot of violence, which is instrinsic to its story. But the movie's director said he approached that aspect carefully.
"I wanted the violence to feel real but not indulged," Hood told AFP.
"I hope I found the balance… the story is about (Ender) struggling with his own capacity for too much violence. So if you don't show the boy with the capacity for too much violence, you can't tell the story. So it's tricky."
Young actress Hailee Steinfeld, nominated for an Oscar in 2011 for her role in the Coen Brothers' "True Grit," plays Ender's best friend Petra in the new movie.
She is also circumspect about violence.
"I don't think Gavin's intentions, anybody's intentions were to make things violent. It was just to make it exciting and adventurous and daring," she said.
AFP Photo/Kevin Winter